Which Surgery is Right for Me?
Several types of weight loss surgeries are commonly performed and can lead to successful weight loss. How do you choose the one that is right for you? Patient needs to consider and discuss their individual situations with their surgeons before deciding on the procedure that they feel is best for them.
This page has some of the factors to consider when you're deciding on which weight loss surgery to get. You'll notice that Cost is not on this list. It should not affect this life-changing decision about your health!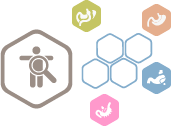 Speed of Weight Loss: The gastric bypass and biliopancreatic diversion with duodenal switch (BPD-DS) have the fastest initial weight loss. Some patients can lose 5 to 7 pounds per week shortly after surgery. That can be good for patients who are in severe discomfort from joint pain. Fast initial weight loss may also be easier mentally for patients who need to see results quickly to stay motivated.
Starting Weight and Health: The adjustable gastric band (lap-band or Realize band) is a more common choice for patients who have a lower starting BMI. The vertical sleeve gastrectomy (gastric sleeve) is an increasingly common choice for higher BMI patients. The gastric bypass is known for improving blood sugar control quickly, and many patients with type 2 diabetes choose this procedure.
Long-Term Results: The gastric bypass and lap-band have been used for years and are well established. The gastric sleeve and sleeve plication are newer procedures. Clinical trials are still gathering scientific data on their long-term results and complications, although it looks so far as though weight loss from those surgeries is similar to that of lap-band or gastric bypass. The gastric sleeve can be converted to a BPD-DS if weight loss isn't satisfactory, but it cannot be reversed. The gastric bypass can be redone or a band can be added ("band over bypass"). The gastric band is reversible if necessary, so any of the other weight loss surgeries can be tried if the band doesn't work.
Adjustability: The adjustable gastric band is the only option that's easily adjustable. Filling the band increases restriction to help speed weight loss, and decreasing the fill volume of the band reduces restriction to let your esophagus heal if you get esophagitis or to let you increase your nutrient intake when needed, such as during pregnancy or when you're sick. The other surgeries are not adjustable.
Maintenance: The adjustable gastric band requires more attention. You need to visit your surgeon each time you want an adjustment (fill or unfill). This can happen several times in the first year. If you have trouble getting time off work to see your surgeon, the lap-band may not be for you.
Fear of Needles: Adjustments require your surgeon to stick a needle in your access port near your belly button. You might feel a small prick or have topical local anesthesia applied so you don't feel anything. However, if you have a fear of needles, the gastric band may not be for you.
Fear of Implanted Medical Devices: The gastric band, connection tubing and access port are all permanently inside of you if you get the lap-band. The gastric sleeve or gastric bypass don't require permanent medical devices, and may be better choices if you worry about malfunctioning parts.
Restriction and Malabsorption: All of the surgeries are restrictive; they reduce your stomach size so you fill up faster and can't eat as much. The gastric bypass and BPD-DS are also malabsorptive. They reduce the calories that you absorb from food to help you lose weight faster. They also prevent you from eating sweets because high-sugar foods can cause shakiness, nausea, vomiting and diarrhea from dumping syndrome after these surgeries. If your sweet tooth caused your obesity, gastric bypass and BPD-DS might be better choices for you.