Vertical Banded Gastroplasty
Vertical banded gastroplasty, or VBG, is also known as stomach stapling. It has been used for decades and is among the older bariatric surgeries. Most VBG surgeries are still open procedures.
The surgeon creates a small pouch using a stapler and closes off the remaining 85% of your original stomach. The surgeon inserts a mesh band or silicone ring to seal off the large part of your stomach from the small pouch. The large pouch is no longer usable.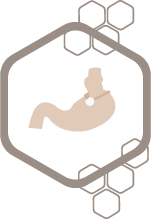 Advantages and Disadvantages of the Vertical Banded Gastroplasty
Advantages of the Vertical Banded Gastroplasty
Can be converted to gastric bypass or duodenal switch
Reversible
Less risk of nutritional deficiencies compared to Roux-en-Y gastric bypass
Disadvantages of the Vertical Banded Gastroplasty
Requires a mesh band or silicone elastomer ring to be implanted to form the small stomach pouch
Higher vomiting rates than other bariatric procedures
Usually performed as an open, not laparoscopic, procedure, leading to higher risk for infections from surgery
Possible Complications/Risks of the VBG
Post-surgery vomiting and nausea
Dehiscence (splitting of your surgery wounds)
Infections from surgery
Heartburn
Weight Loss and the VBG
Weight loss after the vertical banded gastroplasty can be less than with other surgeries.
About 50% of excess weight lost (EWL)
Weight loss tends to plateau after two years
Loss of 25% of BMI
The procedure is restrictive.
Restrictive: Immediately after surgery, the stomach pouch holds only one tablespoon, or one-half ounce, of food. The smaller stomach size prevents you from eating as much in one meal.