Daily Eating Pattern and Sample Meal Plan
Each day, you can aim to limit yourself to a 1,200 calorie diet.
A 1,200-calorie diet would include:
7 or more servings of protein
3 or more servings of vegetables
3 servings of fruit
3 servings of starches
3 servings of fat
At least 1.5 liters (6 8-ounce cups) of fluids, separate from meals and snacks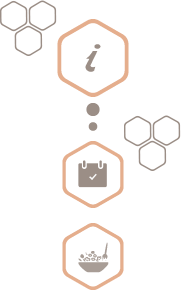 These servings should be divided up according to the meal plan recommended by the surgeon or nutritionist. That might include three meals and up to three snacks.
A sample day might look like this:
Meal
Types of Food
Foods
Breakfast

1/4 cup egg substitute or 4 egg whites, scrambled
1 ounce low-fat cheddar cheese
1/3 cup oatmeal
1/2 tablespoon peanut butter

Snack 1

1/4 cup fat-free cottage cheese
1/2 English muffin

Lunch

protein
vegetable
fat
fruit

salad with 1 cup chopped lettuce, tomatoes and cucumber
1 ounce cooked, peeled shrimp, about five large shrimp
2 tablespoons light salad dressing
1/2 tablespoon peanut butter

Snack 2

2 ounces canned tuna mixed with 2 teaspoons reduced-fat
mayonnaise
1/2 cup cooked broccoli

Dinner

two proteins
vegetable
fruit
starch

2 ounces grilled chicken breast
1/3 cup cooked barley
1/2 to 1 cup cooked green beans
1/2 cup unsweetened applesauce

Snack 3