Roux-en-Y Gastric Bypass
Roux-en-Y gastric bypass (RYGB) is the most common type of gastric bypass weight loss surgery.1 It is usually laparoscopic. It is reversible if necessary, but is designed to be permanent.
The surgeon first divides your stomach, leaving a smaller upper portion and stitching shut the larger remainder of your stomach so that it can't be used any more.2 Normally, food in your stomach empties to the upper portion of the small intestine. In RYGB, the surgeon attaches the small stomach pouch to a place lower down on the small intestine, thus "bypassing" the majority of your stomach, the duodenum (upper portion of your small intestine) and at least part of the jejunum (middle portion of your small intestine).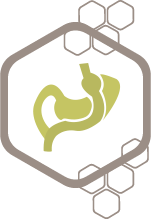 A long-limb RYGB procedure bypasses more of your intestine; in this case, the surgeon attaches your newly formed small stomach pouch to a place even lower on your small intestine. The long-limbed RYGB procedure can lead to faster weight loss because of greater nutrient malabsorption (fewer nutrients absorbed).
Why is the procedure called "Roux-en-Y?" The gastric pouch is called the "roux limb," and the "Y" shape is formed by the three arms coming together at a junction. The three parts are:
The small stomach pouch that holds food
The large stomach pouch that secretes digestive juices
The far portion of the small intestine that the two portions of the stomach are connected to
Buchwald H. ASBS 2004 consensus conference statement: bariatric surgery for morbid obesity: health implications for patients, health professionals and third-party payers. Surgery for obesity and related diseases, 2005;371-381
Advantages and Disadvantages of the Gastric Bypass
Advantages of the Roux-en-Y Gastric Bypass
No bands, staples or other foreign objects in your body
An established procedure with more research on safety and effectiveness than the vertical sleeve gastrectomy and sleeve plication
More weight loss in the first year than the gastric sleeve and the adjustable gastric band (lap-band)1
Reversible if necessary (but not easily)
Can be revised to a longer-limb Roux-en-Y gastric bypass if an initial short-limb procedure does not lead to expected weight loss.
Quick improvements in your health, especially in your blood sugar control with better insulin resistance, lower blood sugar levels and possible resolution of diabetes
May be a good choice for individuals with a sweet tooth because sweet foods are not typically tolerated
Disadvantages of the Roux-en-Y Gastric Bypass
Higher risk of nutritional deficiencies due to malabsorption than the lap-band, sleeve plication and vertical gastric sleeve
Weight regain can occur after a couple of years if appetite levels increase and/or the stomach pouch is stretched
High-sugar and high-fat foods can cause dumping syndrome, with symptoms of shakiness, nausea, vomiting and diarrhea
Stomach pouch can be stretched if patient overeats, leading to less restriction and less effectiveness
Complications are less frequent, but are more likely to be serious
Possible Complications/Risks of the Gastric Bypass
Intolerance to certain foods
Gastroesophageal reflux disease, or GERD, with severe heartburn
Nutritional deficiencies due to low food intake and nutrient malabsorption
Dumping syndrome
Staple line leaks from the stomach and intestines where they were cut and stitched during the procedure
Vomiting, nausea, diarrhea
Strictures
Weight Loss and the Roux-en-Y (RYGB)
Rapid weight loss in first 6 to 12 months
About 65 to 70% of excess weight loss (EWL) within 2 years
Often more than 100 pounds lost
Many RYGB patients regain about 20 or more pounds after the first two years of weight loss
The RYGB is restrictive and malabsorptive and it affects your appetite hormones.
Restrictive: Right after surgery, the top portion can hold only about one ounce, or two tablespoons, of food. This forces you to have smaller meals you fill up faster
Malabsorptive: With RYGB, food doesn't go into your duodenum, which is where a lot of nutrient absorption usually occurs. Absorbing less protein, fat and carbohydrate leads to fewer calories and faster weight loss.
Hormonal:1 2 changes in your hormones after RYGB can decrease hunger.

Ghrelin: a hormone that causes hunger and whose levels decrease after RYGB
PYY: (neuropeptide YY) a hormone that reduces hunger and whose levels increase after RYGB
GLP-1: (glucagon-like peptide 1) a hormone that reduces hunger and whose levels increase after RYGB
Mechanick MD, Kushner RF…Dixon J. American Association of Clinical Endocrinologists, The Obesity Society, and American Society for Metabolic & Bariatric Surgery medical guidelines for clinical practice for the perioperative nutritional, metabolic, and nonsurgical support of the bariatric surgery patient. Obesity, 2009;17(S1):S3-72.