Food funerals and nerves.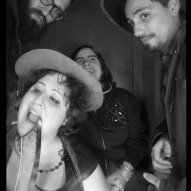 The day is coming up!  A week from this Wednesday!  I'm getting nervous, but mostly in a good way.  I've told all my close people, and everyone is supportive so far; I've got a few people praying for me (well, mostly for the surgeon and his team), which is a comfort.
I've been having "food funerals", though I'm on the fence about that concept in general... in some ways, it doesn't seem like a good idea to have "one last...." if it means binging on things.  That kinda defeats the purpose of the pre-op diet you were on to develop good habits.  But I've been doing them.  Indian food one last time.  Baking one last cake for myself.  One last ice cream.  I begin my pre-op liquid diet on this coming Friday, so I'm kinda going a little crazy with the last meals, almost on the verge of a binge - though, encouragingly, I've been able to control the urge to binge so far, avoiding situations that would cause that behavior.
Speaking of the 5-day pre-op liquid diet, I think the thing I'm getting most nervous about is being HANGRY for those 5 days before the surgery, but I have to remind myself that it will be worth it, and in doing so, I hope I can keep my attitude from being totally rotten.  But BOY do I get hangry.