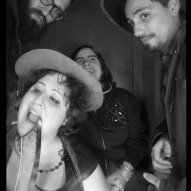 I met with my surgeon today for my pre-op appointment where he showed me what he would be doing, how long it should take, the risks involved, and the diet to follow.  He told me I had lost a total of 32 lbs so far and asked if I wanted to drop out and lose the weight on my own; when I told him I still believe I need the help, he told me he agreed with my decision, and so the countdown begins!
There will be a 5-day liquid pre-op diet (no 2-week liver shrink diet like I feared, thank goodness), and then the regular diet progression of clear liquids - full liquids - purees - soft foods.  I'll be "eating" only liquids for a total of almost 3 weeks, and that is what I am looking forward to the least.  That seems like such a long time, and I know it's going to be hard.  I'm going to be drinking a lot of broth and V8 to break up the sweetness of the protein shakes.
I need a water bottle to help me meet my hydration requirement, but it's hard for me to find what I want.  I want a stainless steel bottle, it would be nice to have a sippy straw or lid, but I don't want something that can get moldy, but it would be nice to have a filter bottle, otherwise I need something large because I get squeamish about drinking unfiltered water; It might also be nice to have a bottle that reminds you to drink water, but nothing too expensive.  Obviously I can't have all of these in one bottle, so I just don't know.  A silly thing to think so much about, haha, but drinking water is going to be my life for a while.
Anyways, I'm getting totally pumped!  Starting to tell a few more people about the surgery, making sure I have a good support base and people praying for me.  So far, everyone has been supportive - I haven't gotten any back-talk from anyone, which is encouraging.  At the moment, I don't care if they are secretly judging me in their hearts, as long as they don't plague me with their opinions.  I know I'm doing the right thing, and I don't want to argue about it or have to justify myself to anyone.  I'm a bit of a sensitive person, so, even though I won't be changing my mind, I get extremely anxious when there's conflict, and I don't need a hit to my morale at this time.  I'm just trying to live my life.
Wow, this was a long and boring entry, but writing this stuff out really does help me, I don't expect people to be as interested in it as I am.