Last Days and Second Thoughts.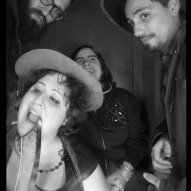 Surgery is the day after tomorrow!  
I'm starting to second-guess myself about the surgery - I know it's pre-surgery nerves, but it's still very real.  I think the thing that is bothering me the most is that I won't be able to eat like I used to.  Like, it's hard for me to imagine being able to be satisfied with just 1/2 cup of food.  I am a total foodie.  The delight of my life has been delicious, high quality food; I believe that the human sense of taste is one of God's kindest gifts, given for our pleasure.  How can I enjoy gourmet meals if I only get a tiny taste?  I know this is silly, I'm just used to bigger portions and eating fast as if I haven't eaten in days... once I am able to feel full quickly (imagine, actually being able to feel full?) and when I'm forced to really slow down and savor a meal, a small portion isn't going to be so bad.  But I am freaking out a little bit.  I just have to tell myself it will be worth it, and it won't be as bad as I think.
At this point, it's hard not to hope (and maybe even expect) that the surgery is going to show results immediately.  I'm not going to walk out of the hospital a thinner person, it's going to take maybe a year to get to goal weight, or maybe I'll never even reach my goal weight.  This has to be okay with me.
An update about the liquid diet - this is my 4th day on full liquids, and I think I'm doing okay.  I can't watch food shows/videos or anything because it's making me crazy and a little depressed, but I am not as hangry as I expected.  I am a bit grumpy, no doubt, but I've been able to stave off hunger pangs with protein drinks, soup, and V8.  The thing I haven't been able to prevent is migraines - I've got the family curse (it runs in my dad's side of the family).  One of my biggest migraine triggers is HUNGER, so I woke up this morning with a migraine; I've been expecting this, and I'm impressed that I haven't had one yet, but it was time for it to pop up.  Thankfully, my migraine medication is okay to take, which is helpful even if I can't take any effective pain killers (no blood thinners).
Alright, so, tomorrow - clear liquids and bowel prep; Wednesday, surgery!!