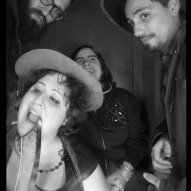 Well, I'm back!  The surgery was Wednesday, but they made me stay until today (Friday)... not because I wasn't doing well, but because it is a requirement of the surgeon.  I was actually impressing all the nurses with how well I was recovering.  I was up and walking within a couple hours, absolutely determined to progress.  AND the gas pains were surprising!  It's really unfortunate that there isn't really anything they can do to help with the gas pains except encourage walking, but the drugs did a great job with the incision pain.
It was very boring at the hospital - I thought I had loaded my mp3 player with audiobooks, but of course that wasn't working.  There was TV, but there was nothing interesting on it.  I pretty much sat around staring at nothing for hours, ugh.  Eventually, I remembered to text my people to let them know I was alright, and I was able to get some sleeping medication to knock me out.  Everyone at the hospital was so nice and incredibly helpful, I felt like I was being taken great care of.
The surgeon said that my liver was HUGE, and that, without weight loss, I'd have cirrhosis within 5 years... yikes!  It is a good thing I was able to have the surgery - just another reason that I NEEDED to do something drastic.
I'm getting a little nervous about hydration - 64 oz seems like a lot of liquid now that I can only take in a tiny bit of water at a time.  So far, I haven't been able to get down much liquid at all, it feels a little uncomfortable and gets all gurgly, but I will keep trying.
Well, anyways, I'm back and well!