Going slow, getting bored.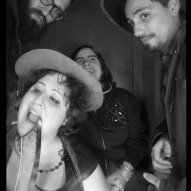 Being an invalid is so boring.  I want to go out and do something, but my body isn't ready at all.
Thankfully, I haven't had much pain (other than the gas pains, which, thankfully, I was able to get rid of while still in hospital).  Even in the hospital, my pain was relatively minimal, so I'm doing okay without the pain killers so far.  I've been able to take my psych meds - most can be broken in half, so I only have to crush one of them.  I've started taking my chewable vitamins, and there are no issues with those so far.  All-in-all, It looks like I'm doing well!
I'm a bit concerned about getting enough liquids in - I may be trying to push to hard, but every time I take a sip of something, it hurts a little and gurgles.  I've tried hot, cold, and lukewarm, salty, sweet, plain water.  I'm hoping that this will get better because I don't want to end up in the hospital with dehydration.  A bit of me kinda wishes I was still in the hospital for that reason... Not that it was particularly pleasant, but it was nice to know that I wouldn't get dehydrated because I had an IV in.  I don't know why dehydration is such a concern for me, perhaps because I've never been good about getting in my fluids.
I haven't felt what I would call real hunger yet, so that is a relief, but I am craving foods that I can't have yet - specifically, refried bean puree spiced with taco seasoning!  I don't know why I'm craving that so much, but I'm just really looking forward to it.  I'm getting very very bored with clear liquids - I'm not enjoying broth like I thought I would, which is a shame.
I'm feeling pretty down, probably because I'm so bored.  Watching TV in the middle of the day makes me so uncomfortable!  I'm kinda regretting the decision just a little, but when I remember what the doctor said about how big my liver was and how close I am to having cirrhosis, I know I've made the right choice.  I mean, I know I made the right choice, anyways, but thinking about food is getting me down.  It's not all about food.  I have to remember that, even though my life revolved around food before, it doesn't have to  - I can find other ways to be fulfilled.
Looking forward to getting back to roller-skating and eating something with some spices in it!