Saving money and kind friends.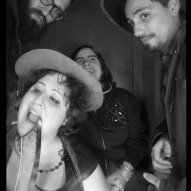 Boy, I did not realize how much money I was spending on food.  Now that I've been on liquids for almost 3 weeks, I haven't spent basically anything.   I mean, I was already stocked up on protein and vitamins before the surgery, and I will eventually need to spend money on that.... well, and I will need to start spending money on food this coming Wednesday when I move on to purees.... BUT STILL.  I used to eat out every day (and not cheap fast food, but real restaurants), and it's no wonder I was kinda living paycheck to paycheck.  But, boy, I did eat some delicious things.
At any rate, that isn't the only thing I've noticed.  Sitting around at home and at work, HUNGRY, I've been constantly thinking about food.  My relationship with food, my future with food.  Pre-surgery I was telling myself and others that eventually I'll be able to eat everything I want again, just smaller portions.  Now I am realizing that that would be a complete mistake, that eating like that is why I'm so unhealthy in the first place, and I would be undoing the benefit of this "extreme measure" I took to get healthy.  I love to bake, but I'm going to need to be careful now.  I'm coming to terms with the fact that I will probably never eat sugar the same way again - I will need to be extremely careful and use low-calorie options whenever possible and avoid candy (which I used to binge-eat); I'm kinda okay with this... I've been addicted to sugar, but my true love is UMAMI (savory flavor).  So it will be harder for me to avoid fats like butter and olive oil, gravies, fancy cheese, coconut milk (in its role in Indian food).  I am a foodie, and I want big, rich, complicated flavors!  Thankfully, there are tons of calorie-free spices and low calorie condiments, but I'm not a good cook yet - something I will now work on, since I have no choice.
So, I am nearly 50 lbs down from my highest weight when I started this journey in June - 14 lbs down since surgery.  The power is off in my town, so I went to the city to a spice shop and treated myself to some delicious, aromatic spices.  A fancy taco seasoning for the refried beans I'm going to eat on Wednesday (when I start purees), some Garam Masala for when I want to make something that tastes like Indian food, and a couple little tasters of spice blends to experiment with.  One of the first non-food rewards... though, maybe it kinda IS a food reward.... but anyways, it doesn't involve calories going into my mouth.
Healing-wise, I'm doing very well.  So far, I haven't had anything that disagreed with me, haven't accidentally over-stuffed myself, haven't caused myself much pain.  The worst part right now is the itching and scabs at the incision sites, which I have a compulsion to pick at.  Thankfully there are still steri-strips there as a physical block to my wandering itch-seeking fingers.  I hope to start purees on Wednesday (my 2-week surgiversary), but I might try some very liquidy purees ahead of time.  I'm antsy to get started on real food, but I need to make sure I don't injure my healing stomach.
Some friends of mine have been very kind to me - they are elderly people (and very very thin), and they said that they don't know what I'm going through having never struggled with weight, but they care about me and understand that it is going to be a difficult process and wanted to offer me actual money for meeting my goals!  I was floored.  I told them that that wasn't necessary, but thanks for the thought, but I think they might actually do it, saying that it'll be for my upcoming trip to Germany so I can be healthy and active and ready for anything.  What kind, kind friends.  AND My pastor and his wife, those dear people, gave me an incredible, thoughtful gift - a weighted blanket!  I've always wanted one, I find the weight so soothing and comforting both for my body and for my anxious/depressed brain.
I have been shown so much kindness lately, it has brought me out of the self-pity and has reminded me to be thankful.  And I am.  I'm also thankful for quick healing and no complications.