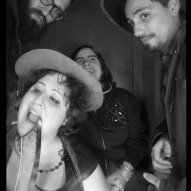 Changing HOW I eat is so hard.  I mean, I knew it would be hard, but now I'm actually IN it.
I should have been working on it earlier, this frantic eating.  Whenever I have food in front of me, it's like I haven't eaten in days, I just frantically shovel food into my mouth.  Now that I'm doing purees (and starting soft foods), the same thing is applying - I go into a frenzy when there's food around!  It is taking almost everything in me to slow down.  In fact, I have had two soft food meals so far in which I over-stuffed myself because I wasn't eating slowly enough.  Ugh, that feeling, nauseated and uncomfortable, but also just so so "hungry".  In fact, I am still feeling the effects over 24 hours later.  I know that it's not real hunger, it's just an automatic reaction to having food around, but it feels so real and keeps me shoving food in my mouth even when I don't want to.  I am hoping that I can improve in this area, that I can quiet my food desperation and appetite, but I know it's going to take work and willpower on my side - something I've always had trouble summoning on my behalf.
I have not been doing well with hydration.  My skin is dry and flaking and my mouth and eyes are dry.  But it's hard to drink water because I feel nauseated and it still kinda hurts my stomach.  Waiting 30 minutes before and after food is NOT working out for me - I just can't seem to get enough fluid in!  I don't know what to do.
Exercise is also something I'm failing at.  I haven't done any form of exercise since I got back from the hospital.  Like, what am I thinking?  I know this is an important part of my new lifestyle, but I forget (because it wasn't a part of my previous lifestyle) or I just keep telling myself I'm healing and I'm too exhausted from not eating.  Or my skating rink is closed, as if that's my only option for exercise.  So many excuses.
Other than these things, I do seem to be doing well.  My incisions are healing nicely, I really haven't had any intolerances to anything.  I'm just falling behind on things and being a bad bariatric patient.  I'm working on it, I need to put more into my efforts.