Content Count

399

Joined

Last visited

Days Won

1
97 Followers
About LaMonica
Rank

~LaMonica


Birthday

01/21/1984
About Me
Biography

My name is LaMonica and I was banded 5/23/2008. Had some complications, so I am restarting this journey as of 7/15/2013!!

Gender
Interests

Music, writing, the internet, games, hanging out with friends, watching movies

Occupation
City
State
Zip Code
Recent Profile Visitors
The recent visitors block is disabled and is not being shown to other users.
I was banded on 5/23/2008....ended up losing about 110lbs healthily...then I started having complications. I ended up with band too tight, was unable to eat, all the while going through a horrible divorce. I neglected my band, didn't see my origina surgeon before leaving Dallas (my home for 9.5 years) and returning to my hometown of Houston. Financially, I am still trying to recover from the divorce. Emotionally, I am so much better because of it! However, my esophagus was extended and I had to be completely unfilled in 2011. The doctor I found that didn't require a huge transfer fee was a horrible doctor...he ran his fill appointments like a cattle call and I never got individual attention. I became even more depressed with the rapid gaining of weight, and gave up.

Now, 7/1/2013, I have gained back 80 of the 110 I lost, and I really want to start this journey again. With help from my family, I think I have found a new doctor with more reasonable pricing and I plan to resume getting fills on 7/15/13. Looking back at my progress pictures make me really sad, but I also know that I can do this again. So with a more positive attitude and a new doctor, I am hoping to get back down, but not as small as I was when I was unable to eat. Hoping for the best!

Weight on Day of Surgery:
280 lbs
Surgery Status:
Post Surgery
First Dr. Visit:
03/22/2008
Surgery Funding:
Self Paid
LaMonica's Bariatric Surgeon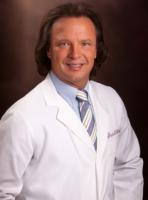 4351 E. LOHMAN AVE., STE 409
LAS CRUCES, New Mexico 88011