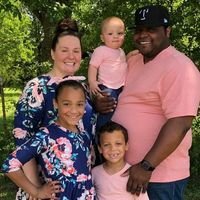 I'm excited about 2014. I accomplished a lot in 2013 and I can only imagine what god has planned for me in 2014. In 2013 I moved back to Texas, started a new job that is actually using the degrees I have, learned to relax and not to worry about everything, got back in church and got my momma to go with me. I bought a new car, went to Destin Fl, swam with dolphins, made the decision to have the lap band surgery and lost 58 pounds, several sizes and gained a lot of confidence. The clothes I'm wearing now are from 6 years ago back in my college day. My knee pain is pretty much gone. I no longer have the excuse of not being able to do something because of pain. I hoped that by having surgery I would be able to decrease my BP medicine but so far I haven't been able to do that but I'm okay with it. Even though it's not decreasing I feel great.
 
2013 was a great year for my church family. They started in March in the Holiday Inn conference room but by September we had a building and the congregation is continuing to grow. We have had several baptisms in Jesus' name. It's amazing how god works the church needs an accountant and guess who has a degree in accounting? That's right this girl. We need a music ministry and god provided it to us. 2014 is going to be full of a lot of learning and remodeling for the church.
 
I normally don't do this but In 2014 I have the following goals:
 
1) Get down to 140 lbs.
2) Better my relationship with god.
3) Learn more about non profit accounting.
4) Grow professionally.
5) Grow emotionally.
6) Run a 5k.