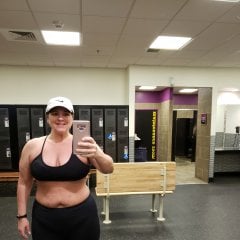 After about 5 minutes at Dr. Gagne's office the other day, I decided I am really glad I chose him as my surgeon.
For starters, having the surgery at Butler instead of going down to Pittsburgh is a big plus.  Especially since I have no idea how I am getting to and from the hospital, so if I have to get the male child or my uncle to do it, I am way better off doing through Butler.
Talking with Dr. Gagne...he is very matter of fact, straight forward, yet seems to be very understanding.
I had printed off my diary pages from MFP, put them in a binder for him and he said to just continue to eat as I have been doing because it was very good along with the exercise I have been doing.....proof positive that i need the surgery when he sees the work I am putting in and yet not so much as 1 ounce has been lost since my appointment the beginning of the month at Dr. Reyer.
With regard to the holidays coming up....he said not to deprive myself, but by the same token please realize I am not going to the electric chair so please do not go overboard.  LMAO  
Kelli told us that since Highmark has a change in medical policy, there is no more 6 month wait.  So I asked for an approximate of when I could possibly have my surgery if that is the case...they will be submitting it the day after New Years when it takes effect.  LOL  
This is going to fly!!!!