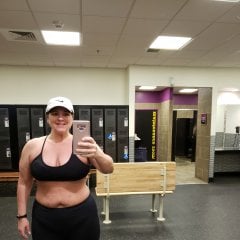 I thought I should start journaling this whole experience in a safe place, so here we go.
On October 1st, I had my appt with my PCP Dr. Reyer and as usual, gained weight yet again.  Dr. Reyer suggested that we try yet another diet.  I left there just bawling because i have had enough.  I am at my highest weight EVER, feel like crap, look like crap and I truly can not stand it anymore.  I am sick and tired of being sick and tired.
It was on that ride home that I decided that I needed to look into weight loss surgery.  When I got home, I immediately went online to see if my insurance covers WLS.  That is a big fat no.  My husbands employer does not have the rider.
So that night was spent looking into Mexico as an option.
The next morning on my way to work, I realized that open enrollment is coming up.  Let's see if my insurance covers it.  In to HR I went and sure enough, my employer does have this on the insurance!!!!  
I started looking into Doctors that are covered on both my current insurance and my future insurance.  Narrowed it down and scheduled to go to both of their seminars.
On 10-11, I went to Dr. Gagne's seminar at Butler Memorial Hospital.  Luckily, I got there very early since i went straight from work.  I was the first one there as the Dr and Kelli his coordinator were setting up.  That gave me a 30 minute opportunity to sit and talk to them one on one.  At that point, I realized I didn't need to go to the other seminar, this was who I wanted to be my Dr. and coordinator.
On 10-24, I had my first appointment with Dr. Gagne.  Kelli let me know that with my changing insurance, there would be no problem and also that my future insurance had just changed it's medical policy last month and there is no longer a 6 month weigh in period.  Now the only wait I have is for Highmark to kick in!!!
So on that note, on November 7, I have appointments with both the dietitian and my pysch evaluation and then go back to Dr. Gagne on 12-12.