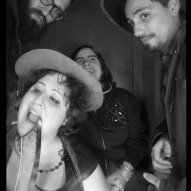 Well, it looks like I've met all my requirements!  Woooo!  I see the surgeon next Thursday, and I'll be ready for him to send all the info off for insurance approval.  This is very exciting!  I hope that he'll set a date for my surgery at that point...
I'm going to start slowly buying things I know I'm going to need after my surgery; today I ordered a "fancy" scale (which was an affordable off-brand, but which I have read is accurate) and some leggings (since my pants are already falling off me).  My biggest problem is that I'll really get into something then GO ALL OUT and buy everything I need for it in one go... and then I'm broke for weeks until I build my finances back up.  So I'm working on doing it slowly, just getting one or two things that I can afford within my budget for the week.  I am pretty excited about this - it seems like this surgery is not only going to improve my weight, it may also force me into healthy habits that I wasn't expecting, like practicing self-control and discipline.  I already feel the improvements, I'm making positive changes in my behavior.
My mother is also obese and would like to have the surgery, but she is now 66 (in a youthful way, though), and I hear that some doctors won't operate on older folks.  My surgeon does sometimes take older patients, depending on the patient.  I hope my mom gets the help she needs, it would be good for her, a diabetic, to make such a change - I want her to be around a lot longer.