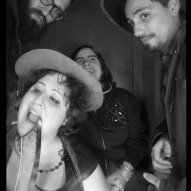 Last night I went to one of the required Support Group meetings, and I wasn't sure what to expect.  Turns out, all the people there were also pre-op, and the group leaders were very encouraging.  We talked a lot about the sleeve and it's benefits and some about the band - looks like most of the people getting surgery from Dr. Hanna have the sleeve, which is encouraging because that is the procedure I want; I definitely do not want the band.  I mean, what if my insurance runs out?  I won't be able to come in for adjustments and would be stuck with a foreign object in me!
At any rate, the best part was... at the end of the meeting they spoke about how hard it has been to get a psych evaluation, and I was presented with other options... so I'm going to get my evaluation done at the beginning of July, which means that all of my requirements will have been met by the end of July!  This is such a relief for me.
So I see the surgeon again on Tuesday - can't wait to find out how much weight I've lost and possibly get a tentative surgery date!