Deep hunger and exercise struggles.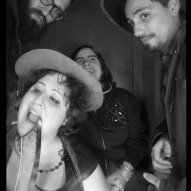 I had my colonoscopy/upper-endoscopy last Thursday, and the prep for that was a struggle - I think my body registered the Miralax solution as a poison because I could not keep it down, and I got a migraine from not eating.  But the procedure went fine, except... and this is so embarrassing... I think I ended up singing during it!  I know I was all drugged up, but I am so mortified about singing a love song while there was a camera in my colon!
Anyways, ever since then, I have been eating like a crazy person again.  Just always feeling that deep, deep hunger, and I'm struggling to control myself.  The other day, I ate more than double the amount of calories I was supposed to, ugh.  I think it may have to do with the fact that I'm feeling very depressed lately, and I have always tried to use food to comfort myself (like many of us here, I'm sure).
I'm also struggling with the exercise portion of this diet.  At the beginning,  I took a 30 minute walk, and my lower back seized up after about 10 minutes - and, of course, I had just gone down a steep hill, so I HAD to continue around the loop to get home via a much easier hill.  That was very very painful, and I've been afraid to walk more than 10 minutes ever since.
I do, however, go rollerskating twice a week, which is AMAZING exercise, low-impact, and it doesn't hurt as much even when I skate for an hour.  But there is a huge fire happening in my area, and the fire department is using the parking lot of my local skating rink, so they're closed for a few weeks.  What will I do?  I love to skate.
Hopefully I can knock this depression soon and just get on with life.  Just wish I could skate it off.