Homemade Whey and Homemade Cottage Cheese

Entry posted by kulita ·
561 views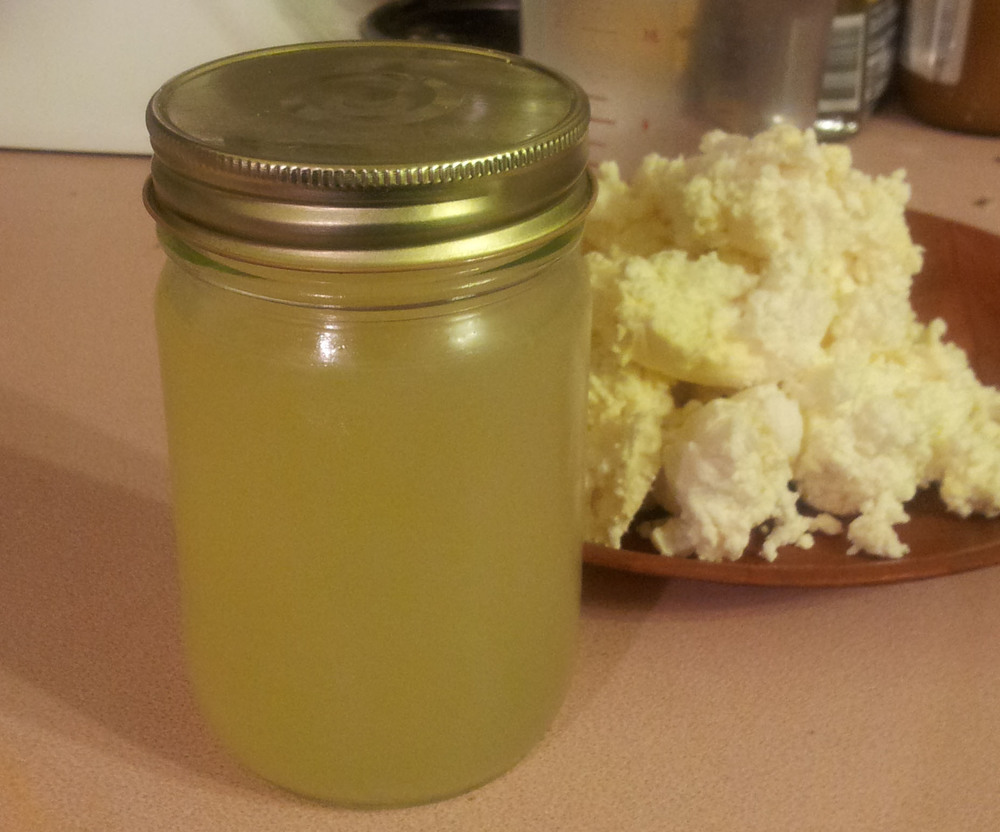 For those who are looking for an alternative to the powdered whey or just want something a bit more natural, this recipe is for you!
Prep Time:10 min
Cook Time: 30 min
Inactive Prep Time: 3-4 hours
Ingredients:
1 Gal Pasteurized 2% Milk (grass fed is best)
1/2 cup white vinegar or fresh lemon juice
1 ½ tsp salt (for the curds)
½ cup of half & half
Kitchen or tea towel
Any flavoring or spices you want
Directions:
Get your milk to slowly heat up on med to low heat. Watch for this so it doesn't get too hot. Heat to 120 degrees F.
When you notice a lot of bubbles around the rim of the sauce pan gently add the vinegar or lemon juice and stir it around. The mixture should separate pretty quickly into curds and whey within 2 minutes. If it doesn't separate just add a little more vinegar or lemon juice a Tbsp at a time waiting 2 minutes between each Tbsp until it begins to separate.
Remove from the heat once they start to seperate. The curds are the solid looking things and the whey is the liquid. Cover the pot and allow it to sit at room temperature for 30 minutes.
Get a strainer and place a tea towel/kitchen towel in it. Below the strainer place a bowl or other container that will allow you to catch the whey and keep it separate from the curds. Allow to drain for 10 minutes.
Gather up the edges of the cloth and rinse under cold water for 5 minutes, squeezing and moving the mixture the entire time. Once it has cooled, squeeze the cheese into the cloth as dry as possible and put into a mixing bowl. Combine the salt and break down the curds into bite sized pieces. Add the half & half and store in a tight lid container in the fridge.
Place the whey in a tight lid container in the fridge. Once it has completely cooled add any flavoring ingredients. Some suggestions for flavoring: Nutmeg, cinnamon, honey, chocolate… just test it out and see what works for you. The taste is a little different for some people, and it can be diluted with water, or juice. It has a slight tang to it and many who enjoy yogurt, kefir, and buttermilk will mostly enjoy the fresh whey. Additionally, this can be used to make mashed potatoes.
These are the same products many of us buy in the store except the whey is not dehydrated and both the whey and cheese won't have any weird additives in it.
Yields about 13 cup of whey and about 3 cup of curds
Whey is about 3.3 grams of protein per oz
Curds is 2 grams of protein per oz.