Unjury and Syntrax Nectar Desserts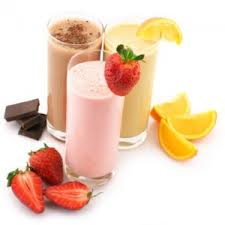 Need to to mix up your protein shakes and try something different?
There is a clear liquid protein broth from Unjury called Chicken soup and it REALLY good.. BTW you can eat this one warm, and it taste EXACTLY like how you would want homemade chicken soup to taste.
If you like chocolate, try Syntrax's Nectar in Chocolate Truffle. With water it tastes like a YooHoo, with milk it tastes like a Wendy's milkshake.
I also have The Nectar in Vanilla Bean torte (23gm protein) and I mix it up with 2 oz of blueberry kefir and 4 oz of milk (9gm protein). Kefir is 99% lactose free and has just as much protein as milk.
If you like fruit juices try Unjury's Strawberry Sorbet. Mix it with water, lemonade, or milk and yogurt (strawberry cheesecake). I have made this one so many ways even into ice pops!
Of course all of these items are 0 carb and 0 fat too. Samples of the Nectar can be purchases at Vitamin Shoppe and Unjury through Unjury.com
Looking for sleeve & bypass recipes from someone who actually had it AND tastes YUMMY?… go here… http://theworldaccor...e.blogspot.com/