Are You a Half-Fast Loser?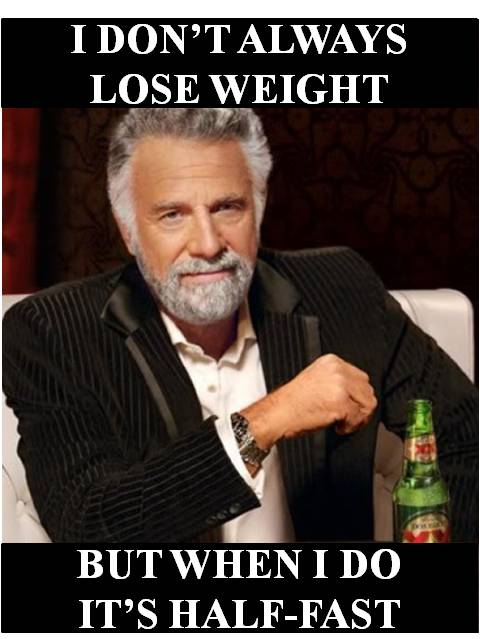 Fast loser, slow loser, I am a half-fast loser! On average, I lose about 3 lbs each week. But on the other hand, I'm eating good and haven't really had to exercise hard. I walk 5 days a week and am working my way up to 5 miles per day. I've managed to get to 5 miles only 2 times since I've started. Knee and hip pain sometimes interfere with my walking.
How I wanted to be one of those posters who could say they lost 100 lbs in 6 months, but it doesn't look like it's in the cards for me. But I try to be satisfied with a steady down tick of the scale.
If I can maintain this downward pace, I'll be down 150 lbs in 10 months. That would be freakin awesome! That would put me at my lowest weight since high school - 27 years ago! And at 190 - my ideal body weight.
Jeeze, until I wrote that last sentence, I hadn't taken time to do the math! 190 seems like a weight someone else is, not me. I don't know if I can handle being normal. It seems like one of those daydreams that only comes true in the movies.
Ok, back on topic - the one thing most fast losers don't mention in their posts is, what they had to do to have such fast results.
Did they workout 7 days a week on the treadmill for hours, living on Unjury and water? Or do they have a naturally fast metabolism?
Or are they just attention whores, looking for approval and praise?

***Disclaimer, I know of no one that has lied about their weight loss! And no animals were harmed in the writing of this post. But my cat thinks I'm starving him!***
Anyway, the whole point of this post was supposed to be, be satisfied that you are losing weight - whatever the speed! If you want to lose faster: move a little more, eat a little better, and stick with the guidelines from your NUT.
Oh, and don't forget to have a support group like the good folks here on verticlesleevetalk. You don't have to post anything, it helps me just seeing that others have the same questions and concerns keeps me from feeling alone.