I had to sit down and CRY!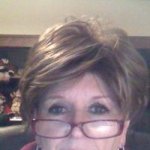 OK, this is the LAST time I am going to try and update my blog! I have written this three times, and each time when I hit the "Post" button, it disappears! If it doesn't work this time, forget about it.
I have been saving my loose change since Christmas, and took it to the bank last week in anticipation of flying home earlier this week. ($320.00!!!) As soon as hubbie picked me up at the airport, I told him I wanted to go to The Blond Genius. It is a retail store in West Des Moines, IA that specializes in fitting anybody in jeans and making them look good with a great fit. They are pricey, but they always look good. Their slogan is "We Can Fit ANY Body!"
So we headed to West Des Moines, and I went in ready to spend my cash. I told the sales clerk I had lost about 80 pounds recently, and didn't know what size to try on, but maybe to start with a size 16 or 14. She brought four or five pair into the fitting room and I started to try on jeans. She asked to see each pair, and finally she said "these are all to big on you, let's try something else." She brought back a bunch of jeans and I tried on size 12s! I thought "never, no way, no how". But guess what? They zipped up easily and looked GREAT! I was so thrilled, I had to sit down right there in the dressing room and cry for joy! (Am sure the sales clerk thought I was Crazy, Nuts!) I don't think I have ever worn a size 12. I went from children's sizes to a size 16 womens with no pause in between for smaller sizes! A 12, I can't believe it! How great is that! I am thinking of making a sign that says "I wear a Size 12 now!" and hanging it on my back just so the world will know!
When my husband came to pick me up at the airport, he drove right by me, he didn't recognize me at first! Had to back up the car when he realised it was me. I have to say, my sleeve is the best thing I have EVER done for ME! Anyway, all you VGSers who are in a stall or not loosing as fast as you want, hang in there, the (NSV) rewards are SO worth it!