Entry posted by Jim1967 ·
303 views
the sweet spot that is known as the green zone. Some are lucky and never have to worry about it and some of us have to figure out if we are really in it or not or if it even exists. Since my last fill on Jan 29th I can certainly say it exists. I can easily go 5 hours with need to eat and I never have the cravings or desires to snack. Jan 29th I weighed 346 and this morning I was 313. Today I also had my one year follow up visit and the Center was happy with everything they seen and heard and they feel I am in a very good place right now. They decided that they only need to see me every 6 months but if I have any problems at all with anything or think I need adjustment then call sooner and get in.
I still have a long way to go in my journey but sometimes it is good to take a step back and look at the big picture. My Doc took all my measurements this morning and then gave me this print out for a little perspective.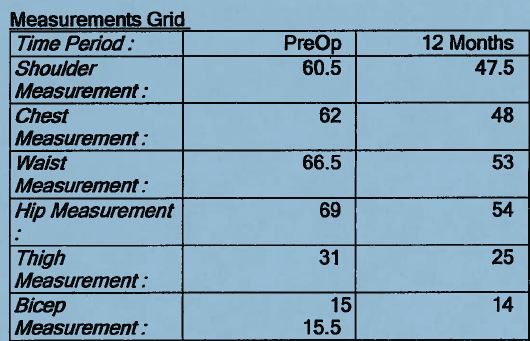 I am 93lbs from my personal goal but I am more motivated then ever.
My advice to all the new folks considering this option. Patience...this trip requires a lot patience but if you're true to yourself and follow your Docs advice and guidelines you can be successful. With anything there are ups and downs but you have to grind through the low points. Lapband surgery one day and weight loss the next does not happen. It can take some time for the ball to really start rolling.