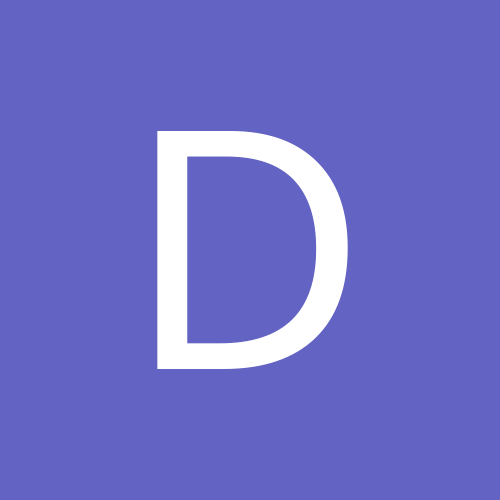 Content Count

92

Joined

Last visited
Everything posted by dl2418
Cadbury eggs are my weakness! That yummy creamy goodness covered in chocolate....yeah, those are the ones! None for me this year, no birthday cake or icecream or green beer for me this year either!

I went to GNC looking for Isopure to give it a try. The worker there said that for bariatric patients, the Amplify was her best seller and that she rarely had returns on it and those that she had were to exchange for a different flavor. So have any of you tried it and what's your take?

I had originally thought I'd be banded in February as well. But, that's not going to happen. I will be banded on march 17, 2010. As you can see from my sig, this has been over a year of trying to lose the weight after I was denied, only to lose and gain it back and then some...as is the classic yo-yo. For more about me and my journey, check out my blog. A Fat Chick Gets Skinny

I am also being banded on the 17th! I just got the date today!

I just got the phone call from Triwest! It was my second attempt as a year ago, I was denied. However, this time, I am approved! So now I'm just waiting to hear back from my surgeon's office to schedule a date!!! :wink:

I asked about mine (I use the patch) because I take it continuously for another condition. They said it wouldn't be an issue. The last thing I want is to have to deal with Aunt Flo while I'm recovering from surgery.

Thanks! I should hear back from the coordinator at my surgeon's on Monday at the latest with a date! I can't wait.

#1. Surgery date? Not sure yet.... #2. State you live in? Kansas #3. Doctor/Surgery Center? Dr. Bernsten at Tallgrass #4. Insurance or self pay? Tricare #5. Age and height 30+ and 5'1" #6. Current weight and goal weight? 230/140 #7. What was your deciding factor for having this surgery? I want to be a better mom, a more active mom, and I'm just plain tired of being fat despite everything I've tried before. #7. Do you have the support of family and friends? yes #8. Concerns and questions? Finding a decent tasting high protein meal replacement for the liquid phases and getting my whole family to eat better.

About a year ago I went through the process and was denied because my comorbidities weren't severe enough. So I tried diet, excercise and to at least maintain. However I've gained about 15 pounds which puts me at the low end of being 200% over. Lack of energy, lack of self esteem, joint pain and GERD has of course gotten worse with the weight gain. I go in one week from today to reweigh and update H&P and resubmit. I'm currently on prednisolone for an allergic reaction, so hopefully that weight gain will come into play before my appt. Tuesday. Wish me luck!

I never had the sleep study done. But I've noticed since my weight gain, I can feel how heavy my chest is and just rolling over in bed can make me breathe heavy. :tongue2: I'm hoping for approval but would do the sleep study if it would get me qualified. The arthritis in my knees wasn't bad enough, blood pressure not high enough and I'm not diabetic. So at 100lbs overweigh my co-morbids weren't severe enough. But now I'm closer to being 200% over, so hopefully I won't need the comorbids.

1.What is your current and goal weight? Current 230/Goal 140 (much below that and I look ill) 2.What is your surgery date? Not scheduled yet. Resubmitting since I've gained weight. 3.What is your age? 32 4.Where do you live? KS 5.Where are you having surgery? Turning Point Bariatrics 6.Who is your Doctor?? Dr. Bernsten 7.Insurance or self-pay? Insurance 8.What was you "deciding factor" for having this surgery? Dieting and excercise just result in yo-yoing. I have kids and want to be thin and healthy enough to do all the fun things they want to do and deserve to do.

I hope to be a January 2010 bandster.....

So we submitted again and Tricare wanted radiological reports of arthritis. I am 100# overweight by the MetLife table for medium frame. I've been treated with Enbrel for psoriatic arthritis, have GERD, benign hypertension and thankfully radiological evidence of mild osteoarthritis. Letters from two doctors recommending Lap-band as the way to deal with these issues. My husband is coming home from Iraq in a few months and I don't want to have to gain 10# just to meet the 200% overweight criteria. Vibes I get approved please.

Thanks for the vibes! However, I was denied, again.

Thanks! It was resubmitted 4/29 and is still showing as "Pending Review" although revision of gastric port and gastric band adjustment have been "approved". Figure that one out!

I was Prime. But due to issues with my PCM and difficulty with access to appointments for the kids, we're now Standard. We pay more but it's so worth it. MetLife minimum ideal body weight for my height is 115. I'm at 218, so "borderline" on the 100#. I think that's why they want the x-ray reports and not just the letters, office notes from my doctors. *sigh* Morbid obesity runs in my family and while I can't blame it all on genetics, two have already had gastric bypass and I'm trying to get it under control while I can....

Thanks, Karen. However, with Tricare it's about being 100# overweight and two co-morbidities or being 200% above ideal body weight. My BMI is 40 but Tricare doesn't care about that. I'm hoping now that they have the X-ray reports they requested, as well as everything else we submitted, it will be enough.

So about a week ago I got the call saying Tricare wanted more info. Well I couldn't get into my PCM until Wed. I got a letter from Tricare today saying that my banding was not approved. (by the way there's still nothing on the triwest site, I've been looking since it was submitted). So, can anyone give me advice on how to appeal? They wanted a letter from my PCM stating that the joint pain from arthritis was interfering with ADL's or X-rays showing arthritis. However my PCM didn't want to do the X-rays because even with arthritis the X ray may not show abnormal and he agreed to write the letter. Should I get records from my dermatologist who prescribed me Enbrel for my psoriasis (which can cause arthritis) as well as the letter from my PCM? Any advice on how to go about this and get it approved would be greatly appreciated. Has anyone had it denied still after appeal?

I am Tricare Prime and my biggest hurdle so far was getting the prior auth from my PCM to get my psych eval done. Once my surgeon got that, they submitted and I got a phone call a few days later stating that Tricare wanted more information. Either X-rays showing arthritis or a letter from my PCM or ortho that the joint pain was interfering with activities of daily living. I had an appt. yesterday with my PCM and he said he'd submit a letter because X-rays may not show any abnormalities. Hopefully it will be enough to get the approval as well as the GERD. We'll see.....I weighed 220 so I met the 100# overweight for my height.

I really like your idea of Shrinking Shamrocks!

I am Tricare Prime and am going through the process at the moment. My biggest hurdle was getting my PCM to get the prior authorization for my psych eval. Seriously! Once they finally got to it, it took less than 48 hours to get it! :tongue2: I am in the Triwest region. I had to get the referral to the surgeon from my PCM. My surgeon requires the free seminar. Once I attended that and sent back the paperwork they gave at the seminar, I was able to schedule my initial consult. It was postponed twice because of things on their end. I met with the surgeon, finally got my psych eval and it should be at Tricare now....just waiting to hear if it was approved. I am 5'1" and weighed in at 220. I have GERD and my blood pressure is borderline at this point. We will see what Tricare says. **keeping my fingers crossed** The nurse at my surgeon's office that handles all the insurance stuff says Tricare is the least predictable and every time she thinks she has them figured out, they do something to surprise her.

Well I had to do a 200 question MBMD, then the MMPI II that was was over 500 questions, a one hour interview with her. Then she reviewed the results of my tests and another 40 minutes for review. Now I just hope Tricare approves it!!!

So finally, after months of trying to get my prior auth from my PCM, I got it and my appointment with the psychologist is tomorrow. According to the psychologist's office I will be taking an MPMD, and MMPI II in addition to the one hour interview. However, I think Tricare Prime is only covering the interview. So I have a call into my surgeon's office to see if the other testing is required by them, or just other insurances. Regardless, if it's a requirement of the surgeon's office, then I will suck it up and pay out of pocket. Also I've had my initial consult with the surgeon and once they receive my psych eval, everything will be submitted to Triwest for approval. How harmful would it be to try to start losing weight now, on my own? Just making healthier choices similar to what I'll have to do after the band and working out more? Or do I need to stay fat until the day of surgery?

Well, that was a long 4 hours! But after doing the testing, and the interview, she says I'm good to go. :bored: So she will send the paperwork to my surgeon, who will then submit my case to Triwest for approval. I should know something next week as the approval time is about 72 hours. Keep your fingers crossed for me, please!!!!!