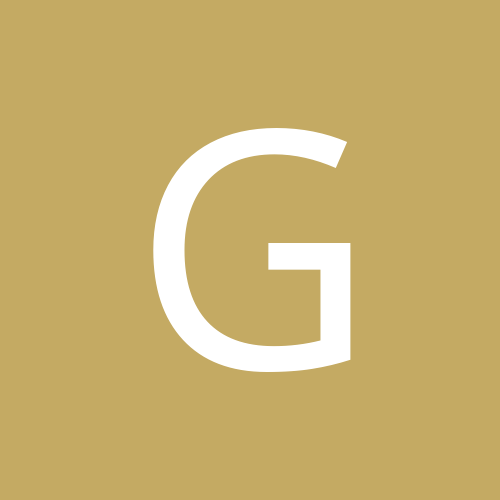 Content Count

228

Joined

Last visited
Everything posted by gigito2
I can't say any more than what's already been said. But I still want you to know that you have many, many people here praying for you and your family. God bless!

I just read your paper and I think you made a lot of good points. Would love an update on how you're doing. Thanks for sharing your well thought out ideas.

I have found that mixing "chocolate Mousse" flavored Bariatric fusion in a weak decaffeinated coffee solution actually tastes pretty good. I drank it full strength pre-op and since I'm just about a week post op, I'm now doing just 1 scoop in 8 oz of weak decaf coffee. You might have to add just a touch of stevia or something, depending on how you like your "Café Mocha". Before I get slammed, decaf coffee/tea still retain some diuretic properties, but not nearly as much as regular. My bariatric team was ok with it - considering I'm getting in way more than what I need to fld wise. I also make sure to drink 3 8 oz glasses of milk with the Bariatric Fusion for the added 8 gm of pro each.

You're good, Puddles! Wishing you much luck with your surgery. Shouldn't long now.

Puddles - it's from the time you start your doctor supervised program, so for you, from July forward. Good Luck!

OKC Pirate - it's generally true that consuming excess Protein won't harm healthy kidneys, but it can in fact, further impair damaged kidneys. Excess protein does force your kidneys to work harder and can cause problems for people with existing medical conditions.

Very nice. thanks for all the effort you put into this, and thanks for sharing with us.

When Dr. Oz started caring more about the money he would be getting from all the bogus supplements he recommended, I lost all respect for him. Why a well regarded cardiac surgeon would go down that road is a mystery to me.

I'm not drmeow, but I believe the rationale is that with her high blood pressure, the sleep apnea adds a second co-morbidity, therefore the BMI requirement gets lowered to 35.

Seriously?!? You asked about Type I DM with a BS of 35 & she didn't know or get back to you?!? While a label of "nutritionist" doesn't imply any specific level of education or licensing; that is just beyond the pale. Perhaps you should mention this to your surgeon? She (your NUT) definitely should not be counselling anyone... To get back to the original question - my NUT was not the greatest, but would seem like a genius compared to PP's! She also recommended all sorts of foods with artificial sweeteners and other ingredients I consider almost harmful to one's health. When I asked how she could consider them "healthy" she changed tactics and proffered using instant brown & wild rice (just 2 examples). Sorry - what's the point of that? And I'll pass on using Aspartame & the like in the Quest for "health". Just sayin... She also told my son (who is going thru the process as well) that he should change his career because he's a shift worker and mentioned that he probably couldn't give up caffeine forever. Right - like that's gonna happen.... (He's in his mid-forties & makes a good living.) In the end, I think it's up to us, as educated consumers, to follow the advice of the professionals - but also to know the difference between a professional & someone who may not know his/her head from a hole in the ground.... Research & education are good things - especially under the guidance of a good physician. @@VSGAnn2014 I had four consults wit my dietician/nutritionist. It was good information for beginners in WLS. Protein and Water requirements. Vitamin supplements. food portions and stages. My team from our hospital is great. With this exception. All answers are cookie cut for people in the weightloss stage. Its a one size fits all. I talked to my dietician at a meeting. I asked about my blood sugars dropping to 35. I'm a type one diabetic. She did not know. Took my information and said she would call me...Never returned my call I talked with the same nutritionist at another meeting. My hair loss is ridiculous at this point. I'm over a year out and its still falling. She gave me the cookie cut answers that we all get. Biotine, protein intake.. i had to explain how far I'm out again and I have tried more that what she had mentioned. She took my contact information said she would call me back ....Still have not received a call back.

I am so happy for you!!! I hope you will continue to do as well with your recovery. Considering all you've been thru in the past, you're golden now! Best of luck.

On my plan sugar alcohols do NOT count. The way it was explained to me is that they're from artificial sweeteners and therefore do not spike blood sugar as much.

I'm so glad you asked this question and will be checking out all the answers. Thanks to you, OP - and to those who have answered.

Great questions and I'm interested in the answers too - although I'm still in the pre-op stage. Still learning all I can.

I use almonds with good effect. Here's an article you can read: http://www.peoplespharmacy.com/2013/06/10/almonds-ease-acid-reflux/ Thank you; however, I am not on any medications right now so I am afraid to start any at this point. I was hoping for non- pharmaceutical remedies

Amen, Sistah! Wishing you all the best as you move forward.

Please - no flames, but check this out: https://www.youtube.com/watch?v=WNWamNhTNOY It dispels some common myths. There are also some good videos by Dr. Matthew Weiner on the same subject. I love his book: A Pound of Cure". I'm simply offering another perspective and please feel free to discuss with your MD.

What does it do for your hair?