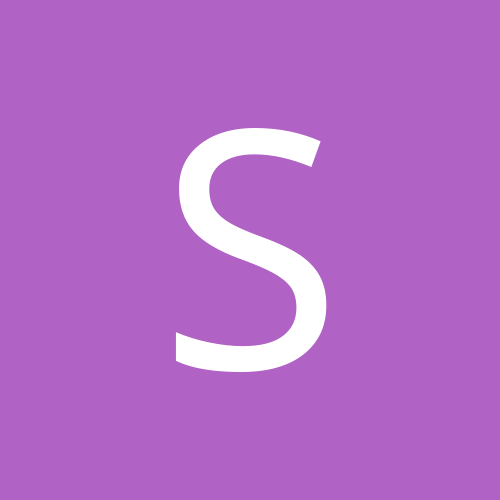 stepheff
Gastric Sleeve Patients
Content Count

52

Joined

Last visited
stepheff

reacted to a post in a topic:

Goodbye lasagna

Jencovi

reacted to a post in a topic:

ONE YEAR SLEEVE-AVERSARY !

vdub_tx

reacted to a post in a topic:

ONE YEAR SLEEVE-AVERSARY !

You will get there! I have done a flux where I have went up 5lbs and then back down those 5lbs. It is part of the learning process I think. Being really aware of what I am eating is really kind of cool and something that is still new for me. I am very concious of making sure I get my Protein, something I would have never cared about before. You got this! You can do it! Look at the great achievements you have already obtained! Keep up the great work!

Hi and Thank you! I have a "home gym" setup. I ride my workout bike and I do the weight machine. I am not at the stage of where I need to tone things up I will be focusing more on resistance bands and weights now You will do great!

meamo

reacted to a post in a topic:

ONE YEAR SLEEVE-AVERSARY !

VSGAnn2014

reacted to a post in a topic:

ONE YEAR SLEEVE-AVERSARY !

CoffeeGrinDR

reacted to a post in a topic:

ONE YEAR SLEEVE-AVERSARY !

Kay__S

reacted to a post in a topic:

ONE YEAR SLEEVE-AVERSARY !

Georgiagirl27

reacted to a post in a topic:

ONE YEAR SLEEVE-AVERSARY !

Rubydoobie

reacted to a post in a topic:

ONE YEAR SLEEVE-AVERSARY !

You will be so pleased with everything! I went to the informational meeting in April of 2012 and was sleeved January 2013. I had to do dietician visits for 6 months and that kind of stuff too due to my health insurance. I heard more insurances are not requiring this now. What I wish I would have known- How painful it was to have my GB removed How DISGUSTING oral pain meds are How much gas pains I would have That I wouldn't be able to drink freely right after surgery How much I hate Protein shakes Things I knew, but took getting the surgery to really know How great I would feel after being sleeved (a couple weeks later) How pleased I would be ONE year later How in tune I am with my body How I am able to be healthier and how close of attention I pay to what I eat How I can exercise and have endurance How I can play with my kids more and be active How I am no longer the "fat friend" The amount of confidence I have gained I am now able to drink Water freely and drink easily 7-10 20oz cups a day. The things that were "taken away" at first slowly come back, but it is a second chance to be in control. I have control over food and my health and I couldn't be happier. I hope you have a seamless journey, but be prepared for some bumps! Let me know how your journey goes! Let me know if you have any other questions! Take care and well wishes to you!

Good for u..I'm so glad I took the time to read ur sorry..I was sleeved in August and every word that came out of ur mouth sounds like I've said it. It's not easy..I still struggle everyday. My kids love the new healthier me.my husband doesn't love me anymore or any less. I'm 187 and started at 260. It's nice to not walk through the door and feel normal.I am doing so much more with my life..I can see people from years high school and feel good about it..good luck with the next year..how's ur skin lol If I have to take some sort of struggle in life I am totally fine with this being it! My kids love their more active Mom as well Sometimes I find myself sitting with a crowd of people and thinking how nice it is to not be the "fat one". I love buying clothes off the rack and not going for the clothes at the back. My skin isn't terrible, but not pretty. I won't wear a 2 piece any day soon or ever. I have 2 children and they did some serious work on me I am taller and pretty young so my surgeon said my skin will go back better then if I had waited 20 more years. I hope this response finds you well and keep up the great work! Cheers to healthy moms!

You are looking so healthy and fabulous!! Well done :-) I think the above is a great question to ask because I find people commenting on my weight loss in many different tones. Most are very supportive and positive however some struggled with the changes in my appearance and confidence levels and almost grieved for the loss of 'fat' me even though I'm the same person! I swear a grieving process with the anger, guilt, etc etc lol Would love to hear your experience? I have one particular friend who almost seems jealous of my progress in a way that she says I am too thin and I need to stop. I didn't tell anyone about my surgery aside from my parents and husband and this one friend. Only telling her and this being her response makes me feel okay with only telling her as I can't handle too much negativity. I have so many people who support me being "healthier" though! Keep being you and the best you possible!

I have heard "you need to stop losing weight you're too thin" but only a couple of times. I just say if you knew how much I weighed you wouldn't think so. I also look much different with clothes on lol. No body really questioned the time it took for me to lose weight as I have more gradually lost over the past year. I would hit my stalls and stay at the same weight for 4 weeks sometimes. I just let people know I look SOOOO skinny because I used to be SOOOOO fat You just know when to stop eating! You can't possibly imgaine fitting anything else in! I try not to ever let myself get to that point, but if you eat something that expands (i.e. oatmeal, rice) the fullness comes after. Also, in the beginning a lot of stuff made me vomit. Now I can virtually eat anything. I have milk when I am feeling I need something as it curbs my appetite and gives a good amount of protein. If you stick with protein rich foods they seem to make you feel fuller, longer. I was never good at protein shakes so I had to figure out other things besides shakes. Best of luck to you and know at the end of the day the person who has to be happy with you is.....YOU! You are doing what is best for you! Please message me if you need support or have any questions!

My journey began long ago, but on January 11th, 2014 I was one year out from surgery. It has been an incredible journey with many highs and just as many lows! I remember back to the day I had surgery when my husband asked me if I'd do it all over and my response was "NO!". It sucked not being able to even drink Water, well I could drink water, but not as I could the day before surgery. I remember taking small painful sips of everything. Being fat was so much easier. I still to this day think being fat is so much easier. The sleeve is not "the easy way out" as many people who are uneduacted on the procedure believe. If it was easy more people would do it. It takes a lot of work for the preliminary processes and after is even more work. I have so much respect for people who take the initiative to do what is best for them in all aspects of life and in my life my initiative was to live a much longer, healthier life for myself, my kids, and my husband. I do not regret the surgery ever. I have temptations and yes sometimes wish I could go to the buffet and eat like it's my last day on Earth, but knowing what is right and what I put in my mouth has an effect on my tomorrow is what guides me to make the right decisions. I would love to be able to answer questions for anyone who is questioning the procedure and I challenge those who tell me it's the easy way out. I as a mother, wife, friend, and RN support those in the same spot I was one year ago and encourage everyone to do what is best for you! You are in control and determine your happiness and future! On January 11th, 2013 I weighed 273lbs On January 11th, 2014 I weigh 168lbs I included a before and after. The after is from a couple of months ago!

Nothing is a slider food for me as I eat very small amounts of ANYTHING and feel STUFFED! I was sleeved 1/11/13 -- I thought by now I'd have more room or tolerance, but I got nothing! No complaints I am only about 30lbs from goal

Same thing happened to me and I LOVED water prior to surgery. I can tell you it gets better. I am now able to drink water again and back to drinking and loving it. This didn't happen until I was like 6 weeks out. I was sleeved 1.11.13. Good luck to you!

I agree with Sleeveofsteel! Really involving yourself in care centered facilities is the best learning experience. I am a nursing assistant at a hospital and have learned SOOO much! It is a lot of studying, but I also did an alternative program. Really focusing on preparing for the final boards seems to be the key. In the end after getting through the classes that is the end goal! I have loved the school experience and really took in the clinicals and skills. I always volunteered to do IV starts, NG tube placement, etc-- for experience alone! Take it all in! I had to go from a .8 to a .6 my last two semesters to make room for all that I had going on, but other than that I managed! What program are you planning on doing? Keep on keepin' on You got this girl!!

Thanks! I had no doubts that you would get it! And heck yeah on the raise! We better meet for dinner someday

At the most 1/2 cup. I was sleeved on 01/11/13. My sleeve seems to be much smaller then others though. I can hardly fit anything in there. I've had a lot of weightloss success though I don't think there is a right answer here as everyone is so different!

It's a lot of work, but worth it. I graduate next week with my RN I am as fresh out of nursing school as they come! I love the field!

As of today I have lost 63lbs and I was sleeved on 01/11/13. I only told my parents, my husband, and one friend. I have chosen to keep it to myself and if anyone asks I tell them exactly what you plan to. Eating better and exercising. This is not untrue whatsoever. And please don't say it is the easy way out! It is SOOOOOO not easy! It is harder than any diet you have ever tried. It is physical, mental, emotional...... I remember I was day 3 post-op and my husband said would you do it all over again.... I said no. I struggled with not being able to drink a lot of water like I did pre-op. Now 3+ months later I don't regret it one bit, but trust me it is not easy at all! Please message me for any questions. You can do it and you can tell anyone who you want or don't want to! It is all about YOU!!

What ended up being the outcome? I have a lot of cramping and almost burning with eating and drinking about 5-10 minutes after I take a bite or drink. This is new and I am 3 months out. Never any problems. Wondering if it is a bug or something I should be worried about. Thanks and hope all is well!