Entry posted by Jim1967 ·
497 views
Tomorrow marks 1 year since I started my journey. Oct 12, 2011 was the day I walked into my Surgeon's office and introduced myself and told him I was ready to make a change and a life long commitment to myself. I had at this point been researching the band for about 6 months off and on and had attended an informational seminar a month earlier. That day I was weighed in at 488lbs and they took all sorts of measurements and pictures along with a thorough physical. They sent me on my way with no promises of surgery until I met all the requirements and criteria. One of those requirements was to lose minimum 5% of my weight. They explained the need to shrink the liver for a safe surgery.
I hit that 5% goal which was 24lbs in less then two months. Weight Center was surprised and impressed but I told them that losing is not hard. Keeping it off is hard.
I was also given a laundry list of testing that had to be done along with meeting a 3rd party Doctor who had to clear me for the surgery. Also on that day I met with the in-house Nutritionist and was given a pre-op diet to follow along with a schedule for Nutrition classes. It was at that appointment they confirmed I needed to complete a 6 month mandatory monitored diet due to insurance policy.
November 28, 2011 the first Monday after Thanksgiving I spent a good chunk of the day at the hospital for the following tests
Upper GI

Abdominal ultrasound

Cardiac Echo

Chest X-ray

EKG

Blood work

On December 1, 2011 I returned to the office for a Psychological Evaluation and another follow up with the Nutritionist.
Between January 9, 2012 and February 13 I attended a 6 session (we met once a week) class called the Hungry Head. Hungry Head program is to help one distinguish the differences between head hunger and real hunger and to develop skills to manage urges to over-eat. This class also allowed me to meet my mandatory requirement of attending 6 pro-op Support Meetings. I found this class to be an eye opening experience and it really allowed me to take a long honest look at myself. I was a binge eater. I would plan binges. I would go to the store on the way home from work and buy soda, cheese its and ice cream. I would finish a meal and wonder when and what my next meal would be. Eating in front of t.v. was just plain bad for me.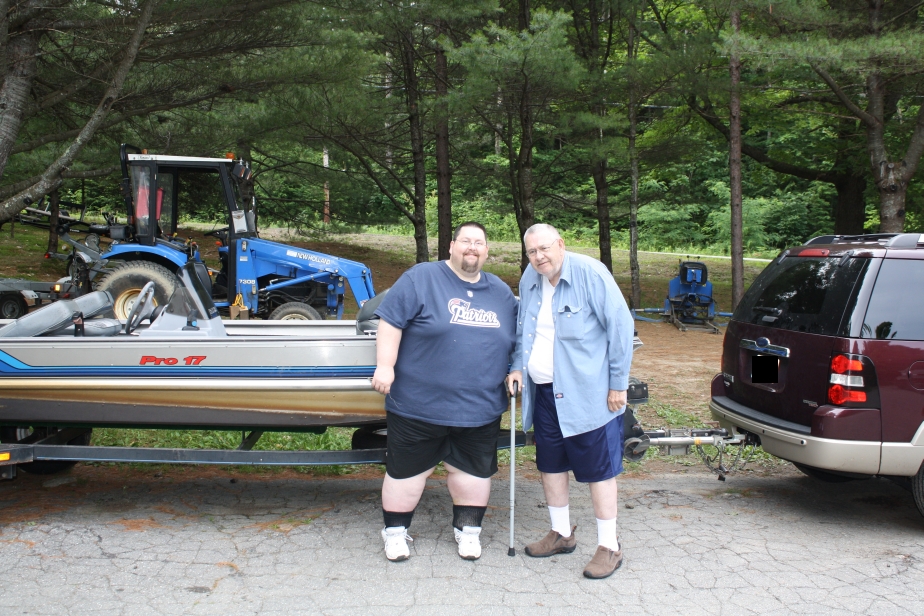 I am the one in the Patriots shirt standing with my Dad. We were just wrapping up a fishing trip. This picture was taken in August of 2011. I have no real idea how much I weighed in this picture but it was taken two months before my consult appointment in October. So if I wasn't 488 here I was darn close.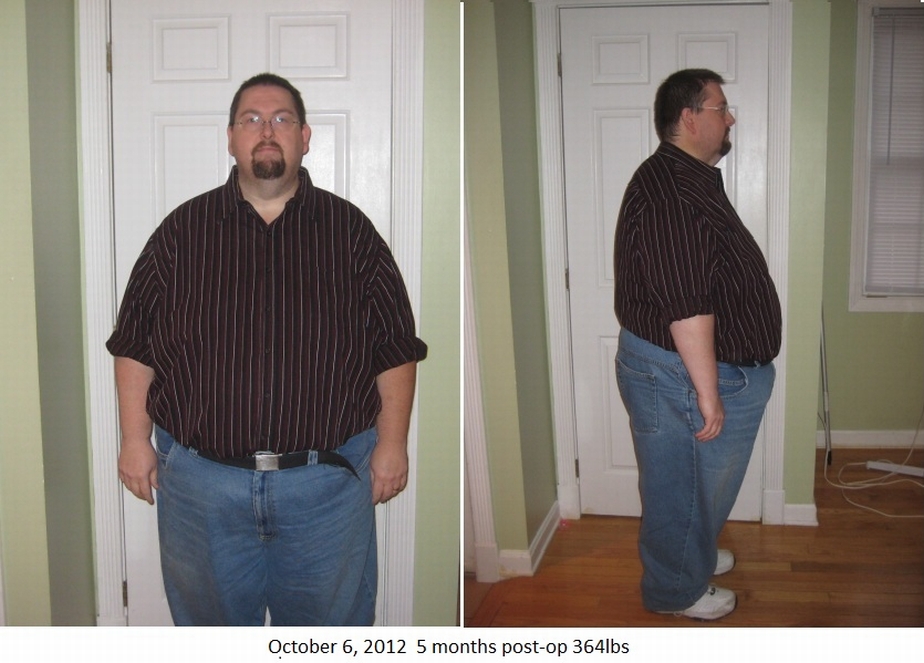 This is a more recent picture. Weighing 364lbs down 124lbs.
I seems like it took forever to get to Surgery day but wow what a fast year it has been. It was well worth it..wait strike that! I am worth it and I would do this again in heartbeat. Even at 364lbs I have a new lease on life and it can only get better from here.
If you read this far I thank you i know I tend to ramble. I will close with a quote posted by Chris Powell from ABC's Extreme Makeover: Weight loss Edition
"You will never change your life until you change something you do daily". - John Maxwell
Words to live by and I'm still trying....