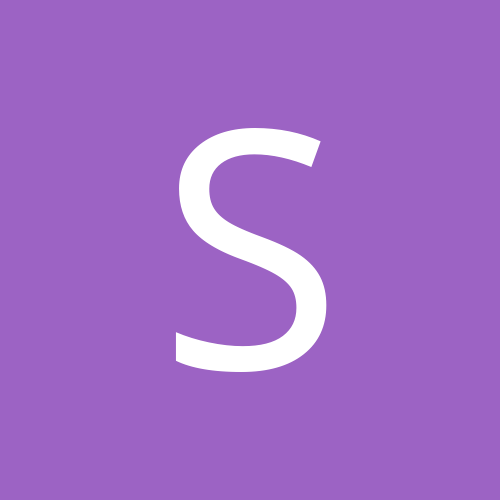 stacyiam
LAP-BAND Patients
Content Count

128

Joined

Last visited
Everything posted by stacyiam
Thanks for all t his info -- I STILL get stuck on a regular basis and it is always when I am really hungry or have waited too long to eat.

I am new :-) Surgery date: Nov 14th Highest Weight: 266 lbs Preop diet starting weight: Not required Surgery weight: 255 Current weight: 220 Goal weight: 185 _

You are TOO FUNNY! So does the 3rd boob come with the band installation -- cuz if it does I need to get a partial refund :-)

my understanding is if the liquid goes down ok then you should be fine -- also I read somewhere that the band will get looser as you lose weight? Is this true???? I had a fill where liquids passed with great difficulty and I had a .5 unfill. So SO much better...

Just keep your eye on the prize -- try to make the good choices & work to limit your intake. It was after my 4th fill that I felt like the band was working -- before that it was willpower. I was banded 11/14/08 and I am now 41# down and the first 20 was ME -- that last 20 has been the band -- with me playing along nicely :-) You will know when the restriction is right. You will feel satisfied after a yogurt or 1/2 baked potato. I have NEVER left food on my plate before so this is a brand new world for me. You are early out -- just TRY to be good. Because it will come :-)

Becky -- I went in today and we removed what I had put in last time -- .5. When I got to the car I grabbed my coffee and had a NORMAL drink.... What a relief. This will slow me down with the loss but I would have a reasonably good day and the next day I was really worried about being dehydrated. I have already had a 20 oz bottle of H2O and I am good. I can stand 2# a week if I know it is healthy. I had no energy -- BUT bless the band -- allowing us to re-regulate as needed. My dr. said we can go back up if needed next month but .5 is TOO much. Maybe add .2 -- I am going to try to just stay here for a while and get in my groove. :-) I also had that feeling where you could actually feel the food passing through -- not comfortable. Maybe you just need a very slight unfill -- it is crazy how a micro amount makes a HUGE HUGE difference. Even my attitude is better :-) --- don't think the band does that but DREADING eating does, keep me posted as we're on this crazy journey together :-)

I am almost the same -- I had a fill about 10 days ago and I love the restriction BUT sometimes it is just TOO tight. I get concerned about being dehydrated???? I can drink a LITTLE warm liquid in the AM and I got down about 1/4 cup cream soup yesterday p.m. and some mushy broccoli and potatoes last night. I have lost almost 7# -- which I LOVE LOVE LOVE... Maybe I also need a .1 unfill just to make the liquids easier?????

Just had another fill and I am TIGHT -- I REALLY have to think when I am eating and eat deliberately BUT I am down 5# since my fill last week :-)

Congratulations! I also had a hard time just wanting to drink enough Water --- but stick to it and keep it with you so you get your Fluid down... I did liquid for 10 days. BUT that included blended homemade Soup -- I made a yummy mexican soup and then just used my hand blender to make it liquid -- it helped with the monotony of the same stuff and no "crunch" to the food. I used all the spices I like and it was GOOD! Try that and maybe you'll find it is better... There is no "too much talking" on the board --- we are in this to help one another out. Keep us posted :-)

I was in that place not too long ago -- but I finally have a fill that is right for me. My surgeon does once a month... I have 5 cc in a 10. Just try to be good and stay on track until you hit your spot, because when you do you will "get it". I really wondered if I had a band at all until I got my last fill. NOW I get it... It WILL come just try to develop those good habits now --- chew chew chew when eating and drink your water throughout the day. It will come -- I promise, you just have to get the right 'fit" for you... Good luck and keep your eye on the PRIZE!

Edwina, When I first got my band temp didn't matter for me. BUT since I have gotten an effective fill, warm things seem to be better for me (like Lonestarloser) especially in the morning when my band is tight. In the afternoon and evening I can have just about anything. I would like to get so that my band is a bit tighter in the p.m. as well. THAT is when I get tempted!

You will be fine -- just get lots of yummy liquids that you LIKE!!! I got bored really fast with the JELLO!@#@#

Take a pillow with you for the car ride home -- just to rest on your tummy. I took NO PAINKILLERS after the hospital, just regular tylenol. I had a very good recovery experience. Be sure you have the fluids/supplies at home so you don't have to run to the store. As far as the surgery -- I was very nervous but the staff was really nice. I just don't remember much of it at all. I don't remember the recovery room AT ALL I woke up in the same room that prepped me in... The facility is beautiful and new and clean. Not crowded or crazy at all... My husband and Dad went with me. Just be sure you have someone to help with your kids for the first 2 - 3 days (if you have kids). My 2-yr-old was a bit difficult#@$ GOOD LUCK TO YOU!

That's where I had my surgery -- I was in at 10, surgery at 12, home by 5:30!!!

Tortilla soup -- no chips though and BLEND BLEND BLEND. The flavor is REALLY yummy so you don't feel deprived :-)

I had a fill last week and it was hard for my dr. to find the "spot" so she kind of dug around to find the port. I had to go back in for a .5 unfill in the afternoon. I was sore for 2 days but now it is fine. I had circular bruise as well. I feel ok and this fill is WORKING!!!!:thumbup:

I just had my first fill that WORKS too! I went on for my 3rd fill which put me up to 5cc in a 10. All day I wouldn't even keep Water down -- it just kind of sat in my throat. Not terribly uncomfortable but it just very SLOWLY went down. If I burped it just came up. I finally called my dr. at 3 p.m. She told me to come back and she removed .5. Now I can swallow liquids fine but I now know what all of those handouts/discussion were regarding tiny bites -- eat slowly -- avoid XYZ, etc. is all about. I can eat 1/5 of what I ate before and be really SATISFIED. NOT stuffed. I was beginning to REALLY doubt whether this band was going to work for me but I now understand the SWEET SPOT! I think I am going to taste SUCCESS for the first time :-)

Mine are $50... yep -- 450 IS excessive.

For me will Dell-Humana, the first 2 months are included as art of the after-care. My fills after that are $50 each.

I am 26 down since 11/14. I still don't have good restriction all day -- only in the morning.

I was banded on 11/14 w/ Dr. Marquez. From start -- initial visit to surgery was about 3 months. I did not have to do the 6 month diet - Humana did not require that. It just took that long to get the appts. scheduled -- go ahead and find out who your ins. will accept for the the psych eval. and make an appt. as it took a long time to get in...

I have noticed that I am tight in the morning -- I grabbed a Christmas cookie this morning and got STUCK -- on a tiny bite. BUT by afternoon I can eat ANYTHING & I don't feel full. Go figure... I cannot wait until the holiday temptations are past -- I have 3 kids so it is very hard NOT to have those things around.

SAdie -- What is Medifast? I haven't heard of that. I keep seeing these "fullbars" on TV and think maybe i should try that. But I thought the band would help me TO feel full without still seeking out other interventions. Still frustrated.

you are right Sadie -- if you haven't been there you don't get it. My thing isn't sweets but salty/crunchy. My dr. has never been overweight either... I had a fill on Friday and I can already tell that this one isn't gonna do it. But my dr. seems upset when I weigh exactly the same as I did before -- and I am thinking HALLELUYA I didn't GAIN!!!

It makes me feel better to know that I am not alone. I was banded 11/14. I got my 2nd fill yesterday, I am at 4cc in a 10. I know I am not there yet but I do feel a bit more restriction. You guys are great -- you get it. It is hard to talk to my fabulously thin friends who DON'T!!! A wonderful holiday to each of you and the best gift we can give is a healthy life to ourselves and our support to each other. Thanks for your supportive words!