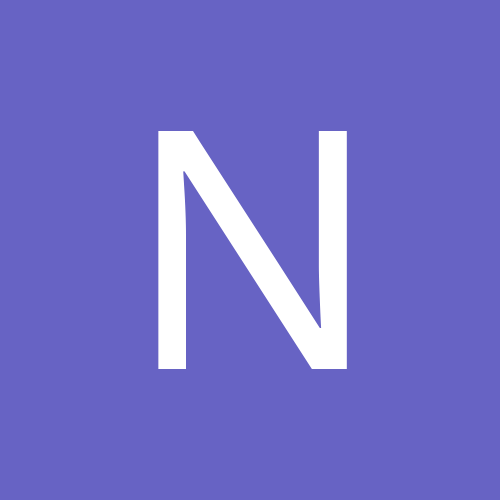 NewMe_2021
Gastric Sleeve Patients
Content Count

49

Joined

Last visited
Everything posted by NewMe_2021
Man, I remember my 2 weeks pre-op liquid diet. It was ROUGH. My program had me on 5 shakes a day and I could supplement with 1 single serving of sugar free jello and broth. I would hold onto the broth for dinner so it would feel more comforting and give me something to look forward to after drinking all the shakes. By the time I got to my second week I started blending my shakes with some ice and eat it with a spoon. I kept a countdown on post its and tried to stay really busy. I also tried really hard to focus on the ultimate goal of surgery, which, helped a lot. Life will be different after surgery and some things will be easier, but, others harder. As much as it is a physical journey it is a mental journey even more. Keep plugging away! Every day is one day closer!

Happy to see this thread! Since having surgery in June, my 2nd child moved out leaving just my "baby" (he's 16) home with my husband and myself. Like any 16 year old, he is often gone leaving just my husband and me home for dinner. I'm quickly finding that my desire to cook complicated meals is fading fast, which, has been really surprising! I really find that I have less interest in food, mostly because I know I'm going to eat less than a half cup of it and it's just not that big of a deal what I eat now...it's just food/fuel. This feeling has been both empowering and challenging to get used to. On nights where I'm not cooking and there are no leftovers I tend to opt for: Oscar Mayer snack plates (meat, cheese and a few triscuits), pre-cooked chicken skewers I found at Costco with a veg, pre-cooked chicken or salmon patty tossed with some canned green beans, frozen meals (typically Healthy Choice or Real Good which lasts for two meals), greek salad with tuna (cucumber, onion, tomatoes, red bell pepper topped with some light dressing and fat free feta cheese), pre-cooked chicken breast bites (from costco) and a quarter of an apple or just a couple slices of good deli meat with some cheese and grapes. These are options I use for meals most days of the week. Between these and my eggs for breakfast I have no issues eating 80-90g of protein a day (which is on the high side for my program) without having to resort to a shake. Unfortunately, I am not one of the folks that can do a shake daily. I find I can do non-dairy shakes occasionally, but, more than that and my stomach starts to stage a revolt! Be persistent, try different things and hold on to the things that will work for YOU!

I'd say this is definitely my top struggle as well. I am trying to focus more on putting my fork down, chewing very thoroughly and counting to 30 before I eat another bite. I can definitely tell afterwards when I am unsuccessful! I just keep reminding myself I am continuing to learn how to eat and as long as I keep striving for improvement I am on the right path.

I found early on that shakes were not going to be a staple for me. After 2 weeks of having 5 a day preop, followed by 4 weeks of having them multiple times a day post op I was more than done with them. I am not someone that likes to eat sweet things that often, plus, I developed some dairy issues after surgery. I tried the protein waters, but, did not like how my mouth felt afterwards. After talking with my surgeon, he is totally fine with these not being a staple in my diet. I focus on getting my protein in via food I chew. The things I turn to most often are - egg whites (I have an intolerance to whole eggs), all types of meats and seafood in all different forms cooked in a variety of ways, Quest chips, protein bars (occasionally), cheese, magic spoon cereal, beans, unflavored protein powder added to soups or fat free refried beans. I easily hit my goal of 60-80 grams a day. I do have some non dairy shakes I keep in the house for the rare times I don't have any time to grab a non shake options, but, I honestly try to avoid doing this as much as possible.

Hi all! I had my surgery 6/11, so, just over 4 months post op. I'm down 64 pounds so far and the difference is amazing. I've been doing before and after pics every month and am so pleased with my progress. I've officially shrunk through my whole back log of clothes that were too small in my closet and have had to venture out to do minimal shopping. I'm trying not to invest a lot in clothes right now because I know they won't fit in a few months. I second what ShoppGirl said - I have alarms set up on my phone at specific times that go off every day to remind me to eat. My plan has me eating 3 small meals and 2 snacks, so, just like ShoppGirl, I'm eating about every 3 hours as well. I had gotten to the point with shakes that I literally just can't drink them. They upset my stomach and are just kind of revolting by the end. I think it's because I was on them for 6 solid weeks between my pre-op and post-op diet. I have worked really hard to ensure I am getting 60-80g of protein a day without them and am able to do that consistently. How's everyone doing on vegetables? I feel like by the time I get through my protein I only have room for maybe a couple bites of any vegetables I may have on my plate. This makes me a little sad as I've always loved veggies. Just curious how everyone else was doing in this area.

Before I had surgery I heard about so many people not being hungry and was fully expecting that to be the case for me. Imagine my surprise when I started hearing my belly growl and start to feel light headed because I WAS hungry within a couple weeks of surgery! I have found that my hunger is much more manageable now. I do start to feel hungry about 3 hours after I eat, but, find that if I get distracted or busy by something it's very easy to put off eating. I try to be very diligent about ensuring I eat every 3-4 hours/5 meals a day (per my program) because I eat so little at each meal it's hard to hit my protein goals if I don't eat when I'm supposed to. I think it's different for everyone, so, don't be worried if your experience isn't exactly the same as others.

Hi all! So great to see so many successes! I had my surgery 6/11 and am down 61 pounds so far. I have shrunk out of a lot of my clothes at this point and have lots of overflowing bins to donate. The challenge is really trying to find clothes that do fit! I go into stores and feel like I don't know how to shop and I don't want to spend too much on clothes that won't fit for very long. I've also been experiencing hair loss for the last month. I'm hoping it either slows down or stops soon as it gets kind of annoying to be shedding so much hair everywhere not to mention I'm not sure how much more covering up I can do. I am so incredibly pleased with my weight loss so far. Being able to fit in smaller spaces, sit in chairs without worrying about if I will fit or hitting my hips on the arm rests, being more active, being able to bend over easily...there are just so many things that are better!

Oh my gosh, yes! I've definitely dealt with that as well on two separate occasions. I would have a moment where I would look at the delicious food on my plate and think "just one more bite" and was in complete and total misery afterwards. The way our bodies react to that definitely make it something I want to avoid. I remember being up and walking around the last time with my eyes to the sky saying "please let this pass quickly...I swear I will NOT do this again" LOL It is DEFINITELY a celebration when you recognize when to stop and actually do it! Remembering that just because is is "our portion" doesn't mean we have to eat it all. Such incredibly valuable lessons we are all learning. I really feel like mastering all of this and really listening to our bodies is going to lead to success in the long term!

Holy moly....I have been learning some valuable lessons about eating too fast this week. It's been a really busy couple of weeks with lots of highly emotional things happening. This has resulted in quick meals and I found myself eating quickly and not pausing enough between bites. I was starting to feel these waves of discomfort in my chest just below my sternum for 30-45 minutes after eating. I was starting to get concerned and reached out to my nutritionist and she explained what I was feeling was my esophagus working to squeeze my food down into my small stomach. Basically I was eating too fast causing things to "back up" and making my esophagus work harder which was causing the discomfort. Lesson learned. I've been very committed to setting the timer on my watch and pausing between bites. Since doing that, no discomfort at all. Eating slowly is definitely something that I have to really put forth a very focused effort on. It is amazing to watch people during meals when I do this. I never realized just how FAST everyone eats. It's like a whirlwind and they are done. Meanwhile there I am, putting my fork down for what feels like eternity. I am looking forward to this habit feeling like second nature and now FULLY understand why it's so important on making it happen.

Hi all! So nice to see so much activity on the thread! I was pleasantly surprised last week when I found out my program had changed their post-op guidelines and that I could officially move to all regular foods this week. It is so nice to eat food that has texture to it. My weight has been coming off at a nice pace. I'm officially 45 pounds down from my highest weight. I go out most nights for a 2-3 mile walk with my husband and dogs and find the walks are definitely getting easier. I still struggle to get my calories up to the 600 minimum they want me at, but, have been meeting my protein goals every day. My nutritionist seems most focused on my protein and as long as I'm meeting that she seems satisfied. I have a feeling the calories will figure themselves out as I get settled in my new normal eating. I did go out to dinner with my husband for the first time in months. It was a tiny bit stressful just figuring out what to eat. We went to our favorite Mexican restaurant and he was on "chip watch" and ensured they never made it to the table. We wound up ordering a single order of seafood fajitas. I put a couple shrimp, 2 pieces of crab, 2 scallops and a tiny bit of refried beans and guacamole. That was plenty for me and my husband had the rest. In the end it was nice to be able to go out and know that I could navigate a situation like that. Overall I am loving my success so far. I haven't had any issues and every food I eat seems to sit fine. I've even had foods I couldn't eat before that I find I can eat now, which, is a pleasant surprise. I have far fewer headaches, have fewer digestive issues, sleep better, have been getting rid of lots of clothes that are too big and just feel so much better all around. I'm excited about what the future holds and all the other things I will be able to do.

Hi all! How's everyone doing? I'm a little over 3 weeks out now from my 6/11 surgery and I am in the final 6 days of my full liquid diet. I'm getting excited to move to purees on 7/12. Really, just for some variety in my days. I feel like I have mastered my current food schedule and am definitely looking forward to some veggies! I still have surgical glue on my belly which is starting to become annoying as it slowly begins to peel off. I'm really resisting just pulling it off at this point. My biggest challenge right now seems to be learning how to navigate the weekends. I often go out with my husband to run errands and things that I think would only take 1-2 hours somehow wind up taking much longer and I wind up missing a meal. I know that I should probably pack a bag and take it with me, but, for some reason I don't even think about it. So, something to work on for sure. We are headed out for a long weekend of camping and hiking this weekend to celebrate my daughter graduating and I am relieved to be feeling as good as I am. I was a little apprehensive of the trip given the timing, but, my activity has been pretty high and the doctor had no issues with me going. I'm still going to be cautious and not do some of the more strenuous trails we have done in the past and will have my camelback and shakes to keep my hydration up. I've lost 30 pounds so far which has been exciting. I received so many compliments from my in-laws the other day I took a current photo to compare to my before and was shocked at the difference.

@SethSnap and @ckrackley just checking in on you guys and how your diets are progressing. I had my VSG 6/11 at UC Health and have 12 days left of liquids. It seemed like we were all on similar post op diets, so, wanted to check in. Have you both transitioned to purees at this point? If so, how has that been? I'm starting to feel like this liquid phase is never ending LOL.

Hang in there...I kept reminding myself that lots of people have this surgery and don't have any issues. I had researched my surgeon and felt good with my choice and had to trust his skills to get me through. The rest is just one day at a time. The first several days will be rough, but, after that things will improve. Deep breaths!

17 days post op. Everything seems to be going well. I certainly have a very simple routine of eating. Between the 2 week pre-op liquid diet and the 4 week post op liquid diet I am definitely finding myself longing for "real" food. I think I currently have every variety of low fat soup that can be strained at this point. Popsicles help some, but, I look at what people post about what they are eating and am slightly envious. To say I'm looking forward to finally eating pureed food on 7/12 would be an understatement. I know it's temporary, but, lately, it's been hard. I finally put my scale away after no loss last week. I'm just going to keep focusing on the day to day and keep the faith that it will all work itself out. It definitely adds to the frustration of still doing liquids.

Today will wrap up my first week back to work. I'm finding my groove with sipping through the day and actually eating when my alarms go off. I only had one day where I felt wiped out and was able to step away and slept for a solid hour and a half. I'm thankful I have the flexibility to do that right now. I've been having a hard time drinking my shakes since they are so daggone sweet. This morning I decided to mix half of my shake with an equal amount of Fairlife milk and have found it to be much more manageable. It's far less sweet and the nutrition is about the same. I think this will be my go to from now on. Maybe I won't dread drinking them as much. Two more weeks and I can finally add in some pureed foods, which I am really looking forward to!

First day back to work today. My mental focus has been spot on regarding work (things are nuts this week), so, no issues there. I'm still feeling pretty good and haven't had any issues with being overly tired like I thought I might. The biggest problem for me is simply REMEMBERING to take constant sips, to eat when my alarms go off and to get up and move occasionally. I never thought this would be an issue, but, I can truly see how people forget to eat throughout their day. Alarms are definitely essential as I get so lost in what I am working on and since my stomach doesn't growl to say "hey, feed me" I could easily just keep going. A new little adjustment this week. I have been able to keep my calories over 600 for the last several days and have found this is helping some with the tiredness I have at the end of the day. Not sure I will hit the top end of the range they were aiming for this month, but, maybe it will be more possible next month with purees.

I have been surprised to find that I do have some hunger first thing in the morning and then throughout the day. I try drinking some water if it isn't my time to eat yet, which, seems to help some. I'm on liquids until 7/12, but, feel fortunate that I do get to have yogurt and cream soups. I'm really quite over my shakes at this point. They are so sweet it's getting hard to get them down. I may start trying to have them later in the day and stick to some soup first thing in the morning. Definitely counting down the days until pureed food.

Glad to hear things are moving along. I can understand your concern about the impact on work. This is the busiest time of year for my job. Being on the liquid diet was definitely a distraction at times, but, I took the time to really dig in deep at work and distract myself. Not sure how my first day back tomorrow will go. Should be interesting as I definitely don't feel quite 100% for the detailed work that needs to get done.

Hang in there! I promise the gas pains will get better. They are the worst. By the time I hit my 3rd day I was feeling better and every day after that I saw gradual improvement. Big hugs ❤️

Checking in from my 6/11 surgery. After about 10 days off from work I'm headed back for at least partial days. I still get pretty wiped at the end of the day, so, I'm happy I'm still working from home and don't have to worry about a commute. Recovery has been going well. I finally have my calories up around 600. Never thought it would be so hard to figure out how to consume that few calories. They want me to aim for 600-800 for the first two months. I'm on liquids until 7/12, so, my days consist of a couple shakes, a greek yogurt with protein powder split across two snacks and 6 ozs of campbells healthy request cream of chicken. Water hasn't been an issue and I've been getting out for a slow walk daily.

My surgical team confirmed before I left the hospital that everything on the liquid stage can count towards my liquid intake. I'll be on fluids until 7/11. I'm definitely focused on getting them in. Really don't want to have to go back for dehydration. It's a very slow go to get it in. The doctor also said not to expect to hit the liquid goal right out of the gate as it's a slow process to build up to that goal. Also, I am so glad to hear I am not alone with trying to figure out this new stomach. The gurgling had me kind of concerned last night and made me pretty paranoid about the yogurt I tried. I am so looking forward to thing getting easier! Got to sleep in my own bed last night. While it certainly wasn't 100% comfortable I did get more sleep than the night before. Turning over in bed is quite the adventure. I'm so used to being self sufficient and handling things it's been hard to step back and let others manage the house for me. Overall though it is so much better being home!

Hi all. Surgery was yesterday and all went well. All the gas settled in my chest which made sleeping impossible last night. I was discharged this morning. Aside from the gas pain and pain from the surgery I had a lot of nausea. I've been focused on water and popsicles today. I thought I had prepared myself for what small sips would be like but boy was I wrong! There is a definite technique for learning just how much water your new stomach will allow. I ate a little Greek yogurt tonight with no chunks and my stomach was gurgling like crazy. I have no idea if that means it is hungry, full or just learning to function again.

Congrats to everyone who has had surgery so far. Sounds like everyone is doing well for the most part. My big day is tomorrow! Honestly, I've been so swamped at work trying to get everything wrapped up I have had very little time to even think about it. I'm hoping to pack my bag tonight and then figure out how to stay really busy tomorrow morning. I have to take a Celebrex tonight, wash again with a special soap in the morning and then drink a GED mix at 10:30am. Surgery is at 1:30 tomorrow. I'm glad to finally be here. A little nervous about the actual surgery, but, I know everything will be ok. I'll try to check in when I get home from the hospital to update everyone! @t0bell@ can you tolerate ice chips or maybe suck on a sugar free popsicle? I'm wondering if that very small amount of liquid slowly melting might help your throat feel better and may be manageable from a swallowing perspective. Gotta keep those fluids going so you don't get dehydrated! It will get better, hang in there!

@Sch902right there with you...my sister in law had vsg surgery in December and she was allowed to have oatmeal during her pre-op. Never thought I would be so jealous over oatmeal LOL. You are right...it is temporary! Just have to keep on keepin on at this point! @Jessyr702 My plan is 5 Glucerna Hunger Smart Shakes a day with some broth, SF jello/popsicles and tea added in as needed. My program gave me several shakes to choose from, so, I was limited on what I could drink. Their reasoning is that all my nutrition is coming from the shakes and they wanted ones that had the best nutritional profile. I originally wanted Premier Protein, but, they said while those are a great shake if I'm drinking 5 a day it would be too much protein for my kidneys. So, saving those for post op. Down to 3 days of liquids. Last night I decided to turn my shake into something I could tolerate. I filled a blender cup with ice, added the shake and blended till smooth. I ate it with a spoon, which, was a nice change. I think the ice helped to dilute it to the point where I didn't feel like it was sticking to my mouth. Whatever it takes at this point! Started washing with my Hibiclens and taking my Gabapentin today. Getting close!

Four days left to go! My pre-op diet is starting to get to me. Nothing but liquids for 14 days starts to make drinking the protein shakes quite the challenge. I'm starting to find there are days where I just am not hungry or cannot stomach another shake and basically have to choke them down. I can definitely understand not ever wanting to drink this type of shake again. I'll definitely be purchasing different ones for post op. The impact on ones digestive track on a diet like this is a real thing and has caught up with me during the final days on the pre-op diet. At this point I would rather just not have to drink 5 a day and maybe just have to drink 2 and just not eat. Just have to limp across the finish line! Friday is right around the corner!