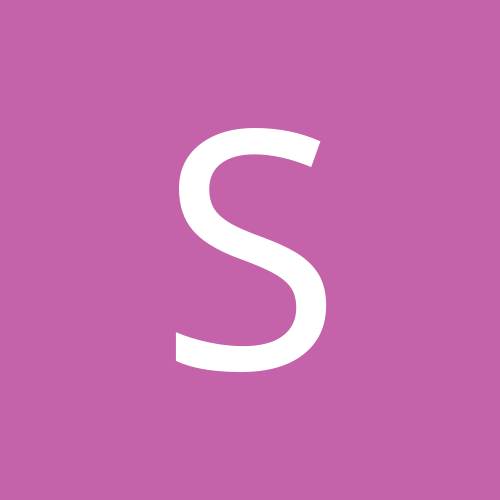 SAS11
Gastric Bypass Patients
Content Count

53

Joined

Last visited
njlimmer

reacted to a post in a topic:

Favorite Grocery Products

The Quest pizza came from the freezer section of my local grocery store.

GreenTealael

reacted to a post in a topic:

Regrets

I'm writing this because I think I just need someone to listen. I had my surgery on 11/03, and now, almost 3 months later, I regret it deeply. But I don't regret it for the same reasons that most people regret it. My surgeon says that I'm doing well. I'm getting the result that I wanted, and I didn't go into this with any unrealistic expectations. I've found plenty of foods that I can eat, and truth be told, I can eat foods that a lot of BariatricPal surgery patients can't. I was concerned before surgery that I'd have trouble tolerating potatoes, bananas, and eggs. I like all of those and have always eaten them frequently. Fortunately, I still can. I've had no problems with any of them, and I really enjoy putting meat, cheese, and vegetables on a very small potato to get protein, calcium, and potassium all in one place. I've found lots of other foods that I enjoy post-op too, including foods that feel totally normal to me. I don't feel at all like I'm not enjoying food. I think I'm enjoying it just as much as I ever have, even though it's in tiny amounts. But I didn't have serious nutrition problems pre-op anyway, so it makes sense that I don't have them now. So, why am I regretting my surgery? The greatest regret comes from being constantly on my period. I had normal menstrual periods pre-op. Never had a problem with regularity despite having polycystic ovarian syndrome and uncomfortably heavy periods. But now, I never stop bleeding. Or, almost never. I'll have maybe two days between periods, and it will start again. All that my surgeon can tell me about this is that, "Sometimes, it happens." That doesn't help me. That doesn't give me any relief from the exhaustion and constant PMS that comes from having so many periods. I'm also feeling like my body isn't mine. I feel trapped in an alien skin that's nothing like my own body. I'm constantly thinking about my body and looking at myself. I'm constantly thinking about the numbers related to food: calories, protein, etc. to a point that I can't think about much else. I'm enjoying food when I do eat it, but at times when I'm not eating it I'm doing mental calculations related to it. Honestly, I'd rather have my same body as before than deal with all of this distress. I was happy before. I liked my life. Nothing was wrong. I feel like I've brought a lot of misery upon myself by having this surgery. Thanks for listening.

I try not to eat this one very often because it's so high in sodium, but sometimes my spouse and I will eat this on date night. 1/4 of the pizza is enough to satisfy me.

These come in a lot of flavors, and they have become an almost daily snack for me.

I eat these three things together for lunch almost every day. One salmon burger patty, 1/4 cup of the organic brown rice (after it is cooked), and 2 tbsp of the sugar free barbecue sauce.

These satisfy my cravings for breaded chicken. I try not to eat more than one per week, but they're pretty tasty.

When I'm craving a cheeseburger, I enjoy these. I try not to have more than one a week, but they're enough to satisfy the craving.

I have found several great foods recently, and I'm going to post each in a different comment. I absolutely love these muffins. They come in multiple flavors. I eat one every day after I've gotten all of my protein in.

Yes, I had the bypass. Honestly, if I'm still feeling like I am now at the time when things slow down, I could see myself panicking. I've never really had a specific goal for this in mind numbers-wise except to get as small as possible. My own goals (pre-op, anyway) had been more about quality of life issues. It's relevant that I do have an addiction history, including highly restrictive eating. I wouldn't say that I've ever felt addicted, though, to hyper palatable foods. I gained nearly all of my weight a few years ago while I was dealing with a chronic illness and wasn't able to be active, and the rest of it when I was studying for a clinical doctoral degree and had wild hours of nonstop work and no time to cook. My own history hasn't included very much, "I'm overeating this food because it's tasty." Its been much more of, "I'm eating Chinese takeout because it's 11:30pm and I just now stopped working," and, "I'm sick, stuck in bed/on the couch and depressed, and there's nothing to do except eat."

Thanks for all of the input so far. I can't quote summerset's post for some reason, but to answer your question: yes. I think if I hadn't talked to friends who have had this surgery or seen anything online about other people's experiences, I'd still have this fear and anxiety. I don't want to be able to eat as much as I can eat right now. I don't like that I can eat a whole medium potato and tolerate it perfectly well. I don't like that tonight I tolerated a full serving of shirataki noodles in a soup with a full serving of canned chicken. I *wish* that I could tolerate only 2-4 bites of food. I know that my fear of eating is irrational, and because it's irrational facts don't counter it in my head right now. I'll also say that the rapid weight loss is addictive. It's very addictive, and my feeling that way about it is probably fueling my desire to keep it going as rapidly as possible for as long as possible. I know that you all are going to tell me that something in what I've said is messed up. And you would be right.

Luna805, for some reason I can't figure out how to quote your post. But my hospital stay was 2 nights plus the entirety of one more day. Went home at night. I had pain for a few days, the worst on the first day. But I was on my period and that made matters worse.

I was told to expect a two-night stay, and it turned out to be two nights and the entire next day. Stabilizing my electrolytes and heart rate took some extra time. I think the hospital where I was treated tells everyone at least 2 nights for bypass. But I've seen some people on here say that they stayed only one night.

I had my gastric bypass on 11/03. Although I don't want to negate the advice to definitely walk after surgery, I think I'd advise listening to your body. I wasn't able to walk after surgery because I got my period within an hour of waking up after. It was miserable because it was a particularly rough period, so I spent my entire hospital stay in bed and in pain. If you're not able to walk after, it's okay. The gas pain might hang around for a bit longer, but definitely don't try movement too early if it makes you lightheaded or if it increases your heart rate rapidly (which happened with me). My other advice is to take fluids gradually once you're allowed them. The hospital where I was treated had a fluids challenge that let me work up slowly from 1 oz of water over an hour to 4 oz of protein drink over an hour. It was hard for me not to treat that like a competition. There's no competition. Find a good pace for yourself as you begin to self-hydrate. And something I learned on this discussion board: you will be heavier for the first several days home than you were when you went into surgery. This is just fluid weight from your IV in the hospital and isn't real. So don't weigh yourself for at least your first week home.

Thanks for the input, everyone. As of today I wasn't stalled anymore... but I'm eating less than I should, and that's probably why.

I had my gastric bypass on November 3. Best of luck to all of you who are coming up on your dates!