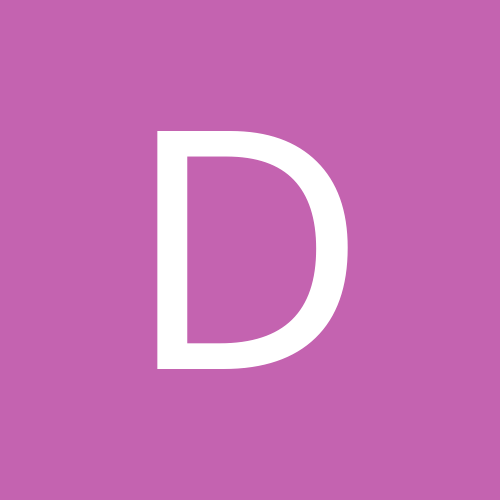 Content Count

2,106

Joined

Last visited
Everything posted by Dody
For those of us that really enjoy Splenda as a sugar substitute in drinks and such, I just heard on the news it has been pulled from all the shelves. They are saying "it is potentially dangerous"...hmmmmmmm why is it that everything we like is potentially dangerous? I wonder if they are including the soft drinks and everything else that is sweetened with Splenda. It has been the best substitute for sugar I've found. I can't even begin to imagine what health problems they are going to say it is causing. They merely stated it has been pulled from the shelves. Bummer...major Bummer!!

Lisa is a very emotional person and has been harrassed a great deal on here even when she wasn't physically present. Her name continued to be brought up all the time. She is going through a difficult time now after losing her beloved dog and needs support as much as anyone here. She has lost her band, but then so have many other members. Lisa reacted to the things said about her when she had stayed away from the board for mo. and who can really blame her. She lashes out...that is her way, but she is also a truthful and honest person, who makes the funniest posts I've ever seen in my life. She has a beautiful soul and a beautiful sense of humor. If this fiasco involved not only Lisa but a MOD I say give Lisa Bones another chance. I'm sure if she isn't followed around and picked in incessently she will be at peace. Come on MODS show a little heart. Some of you were her very best friends till things went wrong. She is simply reacting to that. I think letting Lisa back on board with just a warning like everyone else got is more than fair. I know that many people miss her. Let's give her another chance? Anyone in agreement please speak up, and the negative ones need not respond, because we know who you are. Thanks.

"grins", "sighs", and on and on....so original I could puke.

Telly told me to "consider her a friend" and until she proves otherwise I will do so. I have no problems with Telly whatsoever....are you just trying to start more of your trouble Susan?

Ah we are bringing God into this again are we? That is why I changed the bottom of my post...another thing for you to dredge up. You knew I couldn't stand you so why would you say "Are you coming back to Idaho, are we finally going to meet you"...I tried every way I could to get you to back off...telling you let it go....move on...just move on, but no you couldn't. You only got attacked on your thread for picking on 3 Loves and you know it...you think you can get away with anything and everything. Who will be your next victim...that poor girl that just signed on from Idaho looks like the latest victim. You are already wanting to meet her...God help her. Supporting alcoholism is being an enabler...ever heard that word. That is what you are taught at al-anon. You don't support alcoholics, you make them own up to their actions, and apparently you are having too much fun to admit there is a problem, even though I think your own dr. has pretty much written you off till you get help. Me-I feel sorry for you. Enough said.

Months ago I told P'Nut I wanted nothing to do with her...Nothing. She then posted to me in a thread that "Was I coming home soon and was she going to meet me"...I don't think so!! She continued with all the stuff about support meetings in Idaho I have no interest in, mostly because she is there, and wouldn't stop. I told her to move on and she didn't like it. I tried every nice way I could to get her off my butt, but she didn't budge, knowing all along I didn't like her or want anything to do with her. This continued for a whole thread...that is called stalking I think. I avoid her threads like the plague...Gone For Good and the Idaho thread. You don't find me posting to her or anyone from Idaho on there....it's a good way to feel safe. If you don't like someone, stay away from them. You I know nothing about or anything about your stalking as it is called.....your name didn't ring any type of bell to me, because I've only been stalked by one person and perhaps one of her friends. Take care.

I said I don't go to Vegas without $10,000 at the very least because I handicap horses (that is a job). Tell me when you are going and I will try and give you some locks if you play the ponies. Need to know what track you are going to play and on what day. I supply the handicapping sheets to a lot of the major tracks and do pretty well. I didn't make $10,000 on my two horses yesterday, not with trainer fees, boarding fees, and jock fees. A lot of people don't understand how many ways that money is divided up, but yes I own and handicap horses, although I don't always play anything I don't think is a lock...but it's horseracing so who can really tell...horse may get bumped, hit the gate, throw the rider, break down...you only hope for the best. You also don't have to leave home to bet the ponies. You can go to YouBet.com or TVG if it is allowed in your home state and bet right on line....legal...yes. It is www.youbet.com or www.tvg.com . Good luck. Good luck in Vegas.

Perhaps you are right. I've been up all night with a sick grandson and a sleeping pill sounds pretty good right now. My daughter has insomnia...maybe I can ask her for one. Also, yes alcoholism is a disease. I had an ex-husband die of it rather then get a cure. He died of cirrhosis of the liver. When Susan's dr. told her to get help that should have been the low point for her and she should have sought help. It's never too late.....unless you don't get help for it. Off to take that sleeping pill. I don't feel like these go-rounds today, and yes I was wrong in mentioning Susan's marriage and I take full responsibility for that one. Yeh, I'm wrong at times too. Anger makes people think a lot less clearly. That's why I'm taking a break.

Lisa wants equal treatment for everyone. What's wrong with that? She wants P'Nut to tell her why she harrassed her off this board and stalked her...so far no reason. P'Nut also followed me around a thread about coming back to Idaho and seeing me (not ever happening) when she knew I wanted nothing to do with her. She went on and on....and I'm not interested in her and she knew it. She just doesn't know where to quit. Can't see where Telly broke any rules at all. That's just the little picture. Why shouldn't Lisa want answers? That is my question. Why should a moderator remain when she has been involved in a hoax against other LBT members? Maybe those are some questions that can be answered. Shouldn't you be able to trust a moderator? Hope this answers some of your questions Paula.

What on earth made you think I was telling you not to send PM's to anyone Letha? That was said to P'Nut, who once again sent a PM to 3 Loves who doesn't want to hear from her. I personally don't care who you send PM's to and the post wasn't directed to you. I owe Susan an apology for nothing. She made my life on here a living nightmare before I finally figured out who she was and told her I'd had enough and wanted nothing to do with her, and just like Lisa she stalked me around. There was nothing for anyone in that post but for Susan.

Would you believe I've never been to a garage sale in my life Michelle. I was meaning to go with a friend, but she got very ill and died from brain cancer a couple years ago. She loved to go and picked up some really great items. I've just never got around to going, but I'm glad you got some good stuff for the boys. I really would like a stationary bike and I hear you can pick them up at garage sales fairly cheap. I would be leaving mine behind so don't want to invest a lot in it....

You are going exactly where Lisa lives. She would probably just love to show you all the hot spots in Vegas I'm feeling pretty flush myself right now, but didn't know money was an issue on this board. I had two horses win stake races yesterday...now that is money in the bank for sure. :confused: Maybe we have different concepts of flush....for me going to Vegas isn't Vegas unless I take along about $10,000 for fun, but then again I hate the slots and 21, so you would find me at Bally's playing the ponies which is what I do the best..... Try the Big Kitchen at Bally's for some fantastic food...some of the best in Vegas.

This is a part of the experiment...I said that in another thread. Don't tell me you missed a thread with me in it Donna. Shame on you girl!! A few days before surgery that was a requirement. It seemed silly at the time, but now it makes complete sense to me....not to be confused with they also are working on a way to suck the gas out after surgery, but you may be confusing the issues. The fact is I had absolutely no gas pains...so should I thank my surgeon who recommended it, or his team that sucked the gas out. Whatever it was it worked!! This subject was around all last mo. I guess you just overlooked my responses to " it was recommended by my dr"...., but don't let it worry you. We still on for Christmas?

E.mail is a much safer way to go. I'll make sure I keep on using it. Don't worry about me filling the PM box....gosh it's kind of hard to stalk you through e.mail though.

I always let Donna have her little space to make her quotes. I'm trying to establish a friendship with her so we can exchange Christmas Cards That's kind of an inside joke...but you are right it was just MY opinion and Patti (Bettina) unfortunately has not been privy to all that went on here. I kind of tried to fill in between the lines for her, so I hope she understands a little better now.

Hi Lisa. I've been up all night with a grandson with a tummy ache. PhotoNut claims she once more posted the PM from you to her, but a "nice lady at LBT asked her to remove it". I don't know when this occurred as I've been on this site keeping vigil most of the night and I sure didn't see her have the guts to put it out there again. I wonder who that nice lady at LBT is? Can you guess? It was never re-posted....of that I'm sure. Some people just stumble along for the ride because it makes them feel special, not because they know anything about any given situation....and that would be her little posse. I'm willing to bet not one of them knows how to ride a horse though and they just keep going "bang, bang" with their cap guns. This is called the Rant and Rave section for a reason. If you are here to talk about the band this isn't the section for you. If you feel compelled to read it when it isn't meant for you, then you should have moved on long ago. There truly are postings related to the band on here and some good info. It just isn't in this section.

So glad you were able to get the band again. You have done a great job so far. Best of luck to you.

I don't believe you had the nerve to post it twice. You knew the first time you were told you could be banned for it, and you went right back to delete it. I don't believe anyone at LBT told you not to paste it again....you wouldn't have had the nerve because you know exactly what it would have meant. You got Lisa kicked out of here for doing the very same thing you did.....oh no, you don't take chances like that, but please note it is in very good hands. You are so full of yourself. Get over yourself will you and take a look ithe mirror and see the real you...the mean, vicious you that people will see eventually. You have your little group (of what two or three) believing your crap, but the ones who have been here the longest know the truth about you. Ever since you set foot on this site saying "I need support" you created nothing but trouble for people....it seems to be your job in life. Why don't you let things alone and quit stirring them up. Why mention DeLarla when she wasn't even here to defend herself, why show up in all her threads...why because you are the stalker she claims you are and it is evidenced by all the posts. Whatever made you think you could PM Michelle with a very nonchalant approach to stop the bickering when you youself never stop? Michelle is to smart for you and so are the rest of the people who truly know you.... The only time you delete is when you know you have stepped way over the line and it is going to jeopardize you, not because you put any thought into the fact it was going to hurt someone. I edited my post and that was it, because it seemed like it was the considerate thing to do, not because some nice lady at LBT asked me to change it.....because I knew that I shouldn't have said it....on the other hand you don't care who you step on to get to the top. You don't run this site and you never will.....you just think you carry the power to run it by running newbies off....and yeh NoName was one of those people that you ran off. NoName was never Lisa in any way, shape or form....just another in a long line oif your victims... and I for one think you remember her well. Let the nice lady at LBT know your post is safe....FOR NOW!! Are we on for today, or are you taking a break, because I won't back down from you under any circumstances. You don't frighten me and you sure don't scare Lisa or Michelle, but I really do have other things to do then to fight with you all day. You will never come clean on the one question Lisa has asked over and over "why did you stalk me" and you won't answer it. I for one have a life outside this forum, but apparently this is your's and Dawg's quest in life to be here every minute of every day to stick your nose into everything and invade posts not meant for you. You don't see me sticking my nose in the Idaho post do you? I just figure give people the time and they will see your true colors....and they will. They don't need my help. "The nice lady at LBT", now let me think who that would be...oh yeh I think I can figure that one out easily.....someone like you that played with the emotions and feelings of others, including YOURS when you joined.

It truly was uncalled for so I changed it...it's kind of like P'Nut deleting the horrible e.mail that DeLarla wrote to her after she posted it on line...so glad m daughter copied and pasted it for future reference. There may come a time when a MOD will actually be interested in it....thank God my daughter knows how to do these things quickly. I didn't have time to report it as a bad post, but I do have it. She did the very same thing as Lisa did to her, and when the time is right...BINGO lightening is going to strike. I should have said...people are desperate to come to America and some time will go to any lengths to get here...even meeting people on the internet they have never seen until the day they arrive in the states to marry them. That is exactly what happened, and I don't find it the least bit cruel. P'Nut has told the story dozens of times. Hey, I thought you were on Lisa's side. Since when do you side with P'Nut? Here's some advise for you...don't send condescending PM's to Michelle, Lisa or I. We share our mail and will share with anyone. We want nothing to do with you and no one wants to be your friend in this group or hear anything from you. You are trying to dig up Old Bones "as Randy Travis" would say....they are better left alone.

I've heard enough from you to judge you are a bit off your rocker....so anything you have to say means nothing to me.....sorry.

Just in time for me to say goodnight to you. I think I ran them off I BAD!! Hope I'll see you here tomorrow for all the unfinished business. P'Nut probably went off to have a few drinks before nighty-nighty time...her nightly ritual. Talk to you tomorrow.

Just another lie. It says you joined in Jan 06;....wow does 2 years go that fast. DeLarla is a hoot whether you think so or not. You really don't know her well enough to comment. She hates P'Nut with good reason and feels the same way about dawg. One thing DeLarla doesn't do is lie....that much I know. She is honest to a fault and I went through the whole "be my friend" thing with P'Nut too, until I saw how manipulative and cruel she was. Mark my word...you will figure it out. Yuu're too smart a girl not too....and for now a good night.

Save your breath. Nothing you say interests me.