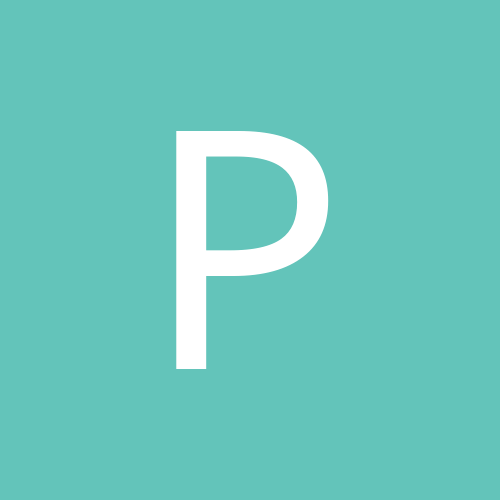 pattyrn
LAP-BAND Patients
Content Count

74

Joined

Last visited
Everything posted by pattyrn
Hello all! I have not particpated/viewed/responded/played well with others... in a couple of months and I need to get back in the swing of things. Its amazing how much support you all give, but to be honest, alot of what I was reading made me very nervous so I chose to ignore it! I have been doing very well with my band. I have a total of 8 cc's now and have slowly and steadily been losing. There has not been a week that I have not lost something. My clothes are changing too! I have gone from a size 24 to a comfy 18. My only problem is swelling over my port area. My doc isnt too concerned, so I guess I shouldn't be either??? I have been working out and we think maybe that is the cause of the irritation. I'm not willing to stop working out to see! Well, it's good to be back and I can't wait to talk more with you guys later!! PATTY

Hi Ruth, sorry to hear about your complications. Just thought I could clear up your kilo/pound issue....there are 2.2 pounds per kilo! Good luck with your math!

Hi all! I am having some problems and need some help desperately. I am a nurse and work in a busy ER. I seem to be doing ok while at work with my band, its the drive home that is killing me! I leave my house at 5:30 in the morning and get home at 8:30 at night. I do great for breakfast, I take it with me to work. For lunch, I eat whatever they have in the cafeteria, just small portions. It's supper that is making me feel horrible! I know I should just pack something to eat(I don't get to eat until I get off work at 7pm) but that would be the smart thing to do! Obviously I have trouble being smart or I would never have gotten into this situation! You see, I am obsessed with fast food. I have been going to McDonald's after work and although I don't eat near what I did in the past, I know it's not a good food choice and I can't seem to stop it. I will order a 4 pc mcnugget or a grilled chicken sand and just eat the chicken. Nothing else, no veggies, no nothing! Please help me! I know I should be doing better after going thru all of this work to get my band, I just can't seem to stop myself

Thank you soo much. I just needed someone to remind me that I'm OK! I, like most of us here, probably suffer from some poor self esteem and fear of failure issues! Thanks for helping me keep my chins up!

Thanks for the reply, I failed to mentions that I work those 12 hour day with an hour and 15 minute drive each way. I do only work 3 days a week though...unless I need some extra $$$$ then its more! I just wish McDonalds would go out of business!! lol

Well guys, I had my first fill yesterday. My doc is very aggressive(at least that is what I think)! He gave me a 4cc fill for a 10cc band. He doesn't want me to return to liquids for 2 days like most docs, just don't eat anything real hard( his example was pork chops?) I did have soup for dinner last night but it was cold here and it tasted good. This morning I had scrambled eggs. I don't notice any change except when drinking. I get a pain after just a couple of swallows. I know that seems odd...how can I eat and not drink? Anyone with an answer?

Wow Margo, I am so glad to see I am not alone! Tomorrow is my first fill also! I did not eat pizza, but just about everything else! My bf brought over a dozen homemade cinnamon rolls, I think he loves tempting me! I only had half of one and felt like I had really screwed up! Then I thought about it and decided...at least I didn't eat two or three like I normally would have?? I hope for some restrictions starting tomorrow, if not I at least hope for my head to be stronger next time!

Well Kare, although I am fairly new at this, I too am a chew it up and spit it out person...Even on my liquid/mushy phase. I occasionally just HAD to have a doritoe or some other hard, bad for me food! So, I just ate one, or rather chewed one, enjoyed the taste and spit it in the trash. I always feel horrible about doing it, but I guess its alot better to taste and spit than taste and swallow??? Maybe I need counseling too, I'm sure it couldn't hurt!! lol

pattyrn replied to KRZYGIRLNSTL's topic in The Lounge

I am an RN in a very busy ER in Kansas City. Also, mother of a 14 year old daughter....not sure which is tougher??

A PT/PTT is a blood test showing your clotting times. I didn't have any kind of breast/pelvic exam. It appears to me that everything ordered was a blood test and urine, should be no big deal! Good luck!

pattyrn replied to Lioness81970's topic in The Lounge

Don't grow old regretting it! Besides, what better way to stay in shape? Good luck!

I don't have an answer to your boyfriend question, but I am curios as to how you had the surgery at 17? Were you self pay? I am looking into it for my daughter who is 14 but am being told by the doctor that it is not FDA approved for minors so insurance will not pay for it? Any help you could give me would be greatly appreciated

Hi everyone! I'm a little late getting started, Just found this thread today. If i can still join I would like to lose 20 pounds bringing me to 226....oh its been years since I saw that! My ultimate goal is 175(I graduated high school at 200!)

OK, never mind...I found the other thread!

I have been reading about weight loss challenges, I think I read somewhere about one starting this fall?? Could anyone give me some info about this?? I just love a good challenge!

It was posted in another thread, but I just wanted everyone to know that some of us will be chatting in the "chat" room of all places. We are meeting tonight at 10:15 central time. Hope to see ya there! Everyone welcome.

P.S I would love to be included in your get together!

I work in kc and was banded by dr malley 8/25/05. I think he is a very professional doctor and his staff is wonderful. I went to a seminar by him while at mwibs and followed him to his new office on north oak. Many of you may not know alot of details, but I do know there was some legal issues he endured related to leaving and taking patients (which he did not call any patient...maybe why some think he was doing things wrong). I was fortunate enough to have a friend who clued me in on where he was and why. I think things were not going to well at mwibs and he left while it was still good??? Just my opinion, nothing factual about it.

My doc tells me that I can have diet coke "in a couple of months" I too have had a few sips, it foams soo much in my mouth, I cant imagine what it would be doing to my stomach??? I do have a Dr friend who was banded 3/05 and she sips diet sodas every day and is doing great, almost to goal already!

I dont think the chat room works, if it does, nobody is there with me??

I am also a newly banded person, but my guess is you didnt chew as well as you thought. Also, canteloupe is not an easily digested food, maybe the problem actually started with that? I dont know the correct answer, just my guess.

Wouldnt it be nice if there were some standards of care?

Is that common to stay on liquids/softs for a couple days after every fill? I have my first fill the 26th and I just want to be prepared!

Sounds great! See ya there!