Content Count

33

Joined

Last visited
About Me
Gender
Interests

Costuming, Movies, Video Games,

Occupation
City
State
Zip Code
Hello! I am Korinne (though I go by 'Quinn'), and I found BariatricPal by googling questions that I had about contact sports after the lap band procedure.

I had weight loss surgery because I have never felt comfortable in my own skin. I'm 24 years old, and I have been dieting on and off since I was 13. I've tried nutritionists, I've tried exercise, but nothing really ever worked. Growing up, I did a lot of sports, but nothing really stuck, and I've always suffered from having low energy and practically no stamina... largely because of my weight.

March 2013 I went to Cancun with my family, and I've never felt more uncomfortable with myself. April of 2013 I stepped on a scale and realized I was at the heaviest I'd ever been in my life, and that was it. I was dedicated to doing whatever it took to turn my life around. I attended a seminar for the Lap-Band immediately, led by Dr. Jessee (who would become my surgeon), and the ball started rolling quickly.

My insurance explicitly excluded any type of bariatric procedure, so the procedure was paid for out of pocket.

I had my surgery on June 5, 2013, and I have never been more excited about a decision I've made. I hit the ground running, aggressively getting tightenings every 4-6 weeks, sticking to my diet, and working out like a fiend. My weight loss is pretty steady at about 10 lbs/4 weeks up until this point, and that trend isn't slowing just yet.

Exercise: Running mainly(I've started doing 5ks!), andI bike once in a while and whenever I'm watching anything on TV, I try to do some form of easy workout like sit ups or crunches just to keep myself active.

I enjoy video games and cartoons; I love tattoos and piercings and I am starting to do some alternative modeling. I'm also trying something new this year: I want to join the local[url="http://www.tampabayderbydarlins.com/j/"] Roller Derby[/url]. It's something that I've always wanted to do, but I've never physically been in a place to try it.

My goals for 2014 are to meet my 150 lb goal (29 lbs to go!!), to join the roller derby or actively work towards getting myself into derby shape, and to complete the [url="http://toughmudder.com/about/"]tough mudder[/url]!

Weight on Day of Surgery:
251 lbs
Surgery Status:
Post Surgery
First Dr. Visit:
04/16/2013
Surgery Funding:
Self Paid
hayllyn's Bariatric Surgeon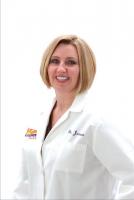 900 Carillon Parkway
Suite 401
St. Petersburg, Florida 33716