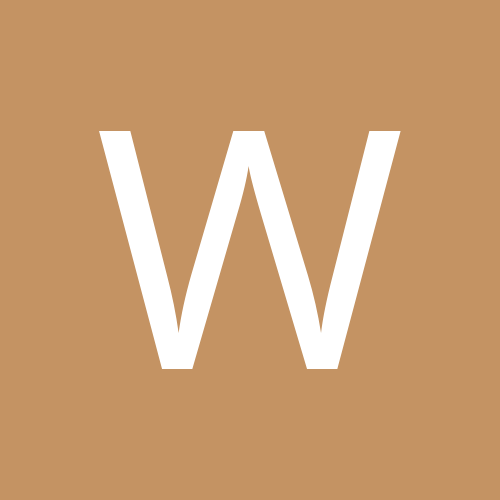 w1770w@gmail.com
LAP-BAND Patients
Content Count

34

Joined

Last visited
Everything posted by w1770w@gmail.com
Hi all,Hope everyone is doing ok. Had my surgery on Monday the 16th so I am three days out. Minimal pain and almost feel like myself. I was so prepared for pain but my tummy hasn't been very bad I have a a lot of severe headaches though. I am so happy I have been sleeved, I'm ready to start a new life! The hard part right now is getting in enough fluids, I get full so easily. And I am NOT hungry at all, I really wasn't sure that could happen for me. My hubby is baking for the household and it just doesn't look so good and any thing with any fat in it looks kinda gross to me right now. They are all skinny and so it is great for them, glad I don't feel tempted in the least. Everyone is very concerned if the food might bother me. TO those recovering i wish you smooth sailing and to those who are waiting, just know that it isn't too bad really and you will be here feeling the promise of a new, better, healthier and more active way of living!

I go to the hospital at 6 am, I am crazy with nerves excitement and anticipation. I met with the anesthesiologist and handed over the money to the hospital yesterday. After a huge setback last year I can hardly believe it it nearly time, seemed like I'd never get here---and I've gotten weird about food, doing ok with the diet but I am fixated on my family having delicious meals, where a week ago I told them they'd be on their own I wasn't going into the kitchen _eveyone is very capable and over 16 i know its just my anxiety coming out but very strange to experience this change in outlook suddenly. folks, its all happening, we're on our way best of luck to all!

what a great birthday gift you will have! you will be able to do it--good luck, we all have such exciting times ahead of us--change can make us freak a little but its gonna be the best thing we have ever done for ourselves, for once in my life I am putting my needs first, and I don't mean to sound selfish, but I think we all deserve it and I know my family deserves a more participatory wife and mom. Can ya tell I'm ramping up for this?? Can't wait....

My surgery is Jan 16, I just got all the dates for my cardiologist, pulmonologist, type and cross and anesthesiology and of course the appt with the hospital for the up front copay! I feel a little surreal, I've been waiting so long and now it feels like it will be time and I won't be ready. Just decided to start ahead on the pre op diet so I have a little room to get used to it before it is critical, no enlarged liver for me to have them back out at the last minute, right? I'm down 9 lbs in just a week so I'm psyched. Yea, for us jan sleavers, Happy new year to all and to our new lives!

I'm starting about where you did, you look absolutely fan-tabulous! Thank you so much for sharing pics it truly inspires me to see the changes that are possible!

Hi I am a 54 yo mom of 5 my oldest is 33 my youngest 16, I have what is commonly called in my office the (initials of our company) spread. A lot of us that work night shift just can seem to get rid of the weight. So last spring I opted for the lap band procedure and was very gung ho did everything up to aneseolgist appt but ended up backing out due to unexpected expenses. I was very heartbroken and frustrated and felt like it was my only chance. I had done well on the pre opt diet losing 32 lbs before surgery. But being bi polar my depression got the best of my and i spent the next mo wanting to die because of my lost opportunity--then i pulled myself together and ended up meeting a friend of my daughter who went through my dr and had had the sleeve procedure. As i watched her progress and describe her journey i decided this was the way to go, The silver lining in my black cloud so to speak. I have circumvented the cost problem and had my new appt with my surgeon yesterday, after receiving approval from my insurance, independence BC/BS,for the new procedure. It seems a little surreal at this point, but I am so thankful that my first choice fell through. Now I am ready to ramp up again and will start working on my weight now. I want my liver to shrink as much as possible. My best friend and I are coordinating our surgeries and are assured that a January date '12 will work out great. Now we wait to talk to the coordinator to contact us to make that appt. Wish us luck--our preferred date is Jan 16. Don't let any obstacals hold you back fight for what you want even if you have to get a new dr.

I take a combination of wellbutrin and zoloft, it works well for me the wellbutrin I take befor I go to work as it raises my energy level, and it does help with my libido somewhat. do not take it at bedtime.

hi, I'm Willow, we have the same surgery date-April 18. I started my pre op diet a little early, 2-3 protien shakes a day w/ a small protien meal. And of course crystal light , sugar free Jello, popsicles, broth and I sometimes have a light yogurt. I,ve been doing this 1 mo and I got on the scale and am down 30 lbs as of today. Just keep at it your gonna get there, in my first 2 wks I dropped 18 lbs, of course everyone is different but I wanted to share and offer you some hope and support. Its such an emotional roller coaster at this juncture, I got a call from my cardiologist and they said my insurance wasn't going to cover my chemical stress test and it was so hard to stick to my diet that night as I sunk pretty low but I just told myself to wait it out and see if my doc could work it out with billing--well the option that i have is a treadmill stress test which scares me I am at 288, but I already started walking a few weeks back and I can stationary bike about 4 miles in twenty min. Sooooo, i,m hoping it will be ok, I go for the test on april 1. I just can't let myself think that I won't be able to do it and get my clearance. I,ve wanted this surgery for 5 years and finally made up my mind that it was going to happen this year last summer. I am so happy that I have found the this site with so many supportive ppl willing to stick together, good luck on your journey, keep in touch I'd love to hear how your experience is going....

Hi, I can't say I am experienced yet, I am new like you, my surgery is comming up in april, but I was so worried about this as well. I have already started the pre op liquid and 4 oz protien ( usually chicken) a day, in just 12 days I have dropped 26 lbs. My dr didn't put me on any pre diet to loose weight, just the liquid protien to shrink my liver. My official start day for my diet is the 18 of this mo. I am glad I practiced first, I have a better handle on things and any ooops in eating I just chalked up to a learning experience. I feel ready now to really buckle down. I want this so much. I just wanted to offer you some encouragement. I too look forward to experiencing more of the fun and physical aspects of life instead of having all my good times centered around eating. Good luck -- willow

Hi my name is Willow--Mine is on the 18 of april at 10:45 am! Just got my date last week. I am so excited, I have a couple of weeks with not much to do except get used to the liquid diet--I started early in case I have trouble at first I want to be able to go into the "real" preop diet with sucess, what else can I do anyway but get ready for my new life habits, right. In just less than 2 wks I'm down 26 lbs. Then in the 1st week of april I have my preadmit, my cardiologist appt, my pulmonary appt, final visit with my primary care dr and then the big day!! I wish you and all of us, a journey filled with insights, hope, joy and a new appreciation for the people we are and hope to become. congratulations!!--

I use muscle milk lite also. At first it didn't seem like it would hold me but now I do feel full after a shake sometimes its even overfilling to drink a full serving. I'm on day 12 of the pre op --I started early to give myself time to adjust to it, I have 2 muscle milk lites and one very small protein meal. Most of the time the drink holds me just fine for about 6 hrs. I started at 318 and am now at 292 lbs--I feel very encouraged with my loss and it helps me stay on track cause I don't want to gain any and then have to loose it again. I know it sounds silly, but my seat belt used to be so snug that it aways stayed locked and wouldn't move with me---now it doesn't do that anymore......count your small victories they help me...I hope you will find the encouragement you need, so many nice folks on this site.

I got my date yesterday--april 18, its an emotional time, you wait and wait and wait and then when it happens its like, is it really real? I am giddy with excitement one minute and a little nauseas the next. I figure its just another phase of the process, Hang in there you're not alone!

its been 12 days--Im down 26 lbs--I can hardly believe it!

april 18 at 10:45 am!!! I have so much to do for my pre op, saw my surgeon yesterday---its a little overwhelming and a bit surreal, I've been planning this since last summer. And now its really happening. I started the pre op diet on feb 28 cause I figured it would take a little work to get used to it, its been hard a couple of times but I'm getting the hang of it--I am down 26 lbs already and that feels great. Good luck and hugs all around!

Hi everyone! Just met my surgeon yesterday and my date is the 18th--scheduled for 10:45 am. I started my preop diet on feb 28 and am already down 26 lbs. I was so excited to see this post I've been anxiously awaiting my date since my approval on Feb 18---whooowhoo its happening!!!

hi, I"m new also. I'm at 318, and I decided I was interested in getting the lapband about 5 years ago. Last summer I had an experience that sealed it for me and I and a friend went to an information session by the surgeon my dr recommended. I had to wait to get started in jan due to my insurance benefits card being loaded with a higher limit. I had my initial consult to have my dr write the letter for surgery and my mental health eval befor I went to the dietitian consult, then 2 wks later got my approval from the insurance. I go for surgery befor and after care session on Mar 9 and am currently awaiting a call from my surgeons office to go in an schedule a surgery date. They tell me it will probably be early april as he is booked up through march. I just started my preop liquid diet to day. Like you I am very excited at this juncture. I just want to offer my support as we are in about the same place, I'm 53. Search a local support group as well as this site. But I gotta say this site keeps me on track and is a good reality check for me, Good luck on your journey!!