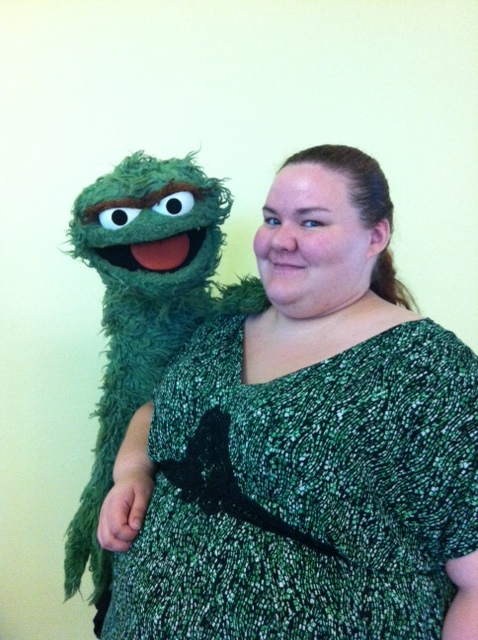 I'm going to start blogging my journey as a way to A. hold myself accountable for the negative thoughts and feelings I have towards myself and my weight B. to map my emotional journey in a way that photos alone can not. So here goes.
I am 23 years old. I have been fat my entire life. I was a fat child who was promised that I would "grow out of the baby fat one day" but alas I have only grown into a fat adult. I have an odd relationship with my weight. I must say that as a fat girl, you know who your friends truly are. Because of the negative stigma associated with my size, only the people of true character and kindness stuck around. I have a group of fiercely loyal friends who I wouldn't trade for the world, and they love me regardless of my physical shape. I have been interested in theater for as long as I can remember. I was a force in my community theater troupe, and while I was never chosen as the ingenue I always had a fantastic character role in everything I auditioned for. Never the star, but I had a ton of fans. My weight directly influenced my choice of profession. You see, I am a theatrical costume designer and puppet builder. I was taught to sew at an extremely early age, but I only began to pursue my talent because my community theater's designer didn't know how to sew anything for a plus size woman that didn't resemble a tow sack. I began to costume myself, and I must say that I looked fabulous. But the thing is...I WANTED to be the lead. I WANTED to be the ingenue. My size kept me from it, and I developed a deep seated self loathing over it. I developed a social anxiety disorder because of it. So in college I enrolled directly in design and never once attempted to audition again.
Last year I was looking for an internship. I wanted to work as a puppet designer and builder, so I applied to all of the usual places. Jim Henson, Puppet Heap, Puppet Kitchen, Sprout, etc. But I also applied to late night TV shows like Conan and Colbert for their props making internships. Well, I was called back for everything I applied for...except for those applications that asked to include a picture. Maybe it was coincidence...but I don't think so. Eventually I decided that as a life long Henson Fanatic they were the company I wanted to peruse. Everything was going perfectly...I had every skill and experience they were looking for but there was one last hitch in the giddy up. They called and asked for an in person final interview!! Now, I live in Alabama. The Creature Shop for Sesame Street is in NYC...that's a long way to go and an expensive train ticket just to be shot down because of my weight. Those old insecurities creeped in and almost made me cancel the interview. So many opportunities had already been lost because of my appearance. But my mom MADE me go. She said that Jim Henson company celebrated people of all shapes and sizes in their body of work, why not in their employees? And she was right. The hired me for the semester and I had the absolute best time of my life!!! That's where I began my weight loss journey...on The Street. I lost 30 pounds just working my tail off for that amazing, AMAZING company. I met people that changed my life and my perspective on everything...Only problem? I discovered that a few of the AM puppets did not fit my obese arm, and that's the kind of character I hope to one day puppeteer. So I made up my mind. WLS happened about 2 weeks after I returned home.
I am 70 pounds down total at 2 months out. My arm fits most of my puppets now. I still have 100 pounds to lose, but I already feel like a different person. Sometimes I just don't actually SEE the change...more on that next time.