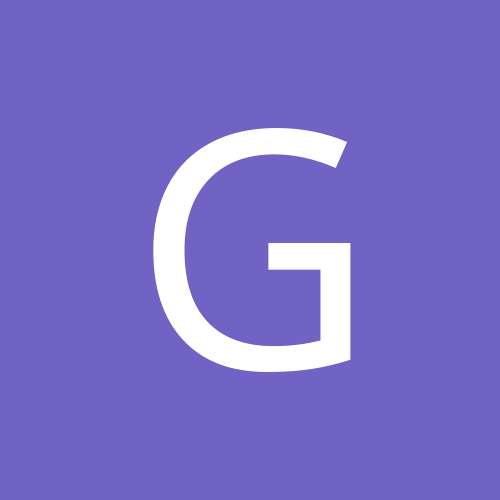 Graywolf
LAP-BAND Patients
Content Count

82

Joined

Last visited
Everything posted by Graywolf
Hey All! Thanks for thinking of me! I got home yesterday afternoon and pretty much slept all night. I didn't get any sleep in the hospital and I'm still pretty much wiped out today, though I gotta keep pushing the fluids to stay hydrated. The surgery wasn't so bad but the medication they gave me made me loopy and nauseous so I was in bed for most of the afternoon. Yesterday I had a nasty nurse who gave me Protein shake with milk Proteins *which make my stomach hurt real bad, even before the surgery* so I couldn't drink as much Water as I would have liked to, less I throw up which that wasn't a gamble I was willing to take. Got some more nausea medication and got soy shake for lunch. That made me feel better and was able to drink the amount of water she wanted me to. Even then she kept ridiculing me about how I wasn't drinking as much as she wanted me to. I just wanted to slap her. So now I am home, and drinking lots of water, and getting up and moving around, walking on the treadmill. I might take a morning nap soon, I was up every 2 hours last night drinking water and walking around. Got to take lovenox injections 2x a day for 14 days because of my clotting issue. I hope that tomorrow I feel better, just got to take it one day at a time. Thanks again for thinking of me! I'm glad there's so many wonderful people out there, it makes me feel better

Thanks for the big list Karen! My name seems to have fallen off all the others. lol.

yay! Thanks for the well wishes Karen & Sarah. My surgery is at 12:30 tomorrow afternoon, but I will be at the hospital at 10:30 for prep. I'm a little nervous, but I think I'm ready! I'm looking forward to actually eating stuff instead of just shakes every day. I'll be staying overnight for observation because of my history of blood clots, I'll be on lovenox injections for 2 weeks. Not looking forward to that, but better than getting another PE. Thanks again for all the support! I'm ready to start this chapter!

Graywolf (Liz) ...............................Aug 3 nancyjean.....................................Aug 4 mommy2gabby (Elisha).................Aug 4 seckerto8 (Sarah)......................... Aug 4 trirpletmomma (Karen)................. Aug 6 Mom2boys3 (Cora)........................Aug 7 formerfatchick............................ ..Aug 10 abbypoo.......................................Aug 12 morphiend (Sarah) .......................Aug 17 summeragain .............................. Aug 17 kwright (Kim)................................Aug 17 viprvenm (Jason) .........................Aug 20 Shouldbeworking (Sally)................Aug 26 SanDiegoKate (Katie)....................Aug 26

Great pics ladies! I can't wait to see the change in you two! Oohh Karen, I'm totally going to do what you did in your pic! Now to just get hubby to take them!

LOL Thats awesome Jacquie! Best of luck to you! Hope this semester isn't too incredibly stressful for you. The first time I graduated College I didn't want to walk cause the robe didn't fit me very well, this next time, I'm totally walking! And getting lots of pics! It'll be great and I hope you look fabulous! LOL Thanks on the pic. Its a bandito, using the lap band as a lasso. I got bored and decided to tinker with photoshop. My skills are a bit rusty, I haven't used them in a month or so. Very cool, I haven't heard of that app, course i don't have an iphone. I have had the same phone for about 4 years now. LOL I want to get the Google Android but T-mobile doesn't service the area where I am. We're hoping Sprint will soon carry a G1 or G2 device in the fall. Hang in there! It got better for me, so I'm sending you all my good vibes in that it does the same for you.

Just got off the phone with Hubby. Insurance FINALLY approved my surgery for next Monday. I'm kinda relieved, and then again, very nervous. I've been on the pre-op diet since Friday. The weekend was bad, I was hungry all the time. Today doesn't seem so bad. I've lost about 7 pounds so far, I'm sure most of it is Water weight. I'm hoping the rest of the week goes by smoothly. I have my pre-op apt on Thursday. I've been using my Fitday.com account every day. The food journal in it is really nice. I've also been tracking my weight and setting weight goals. I'm hoping I can meet them in a year. Hope all of your insurances and pre-op diets go off without a hitch. Let me know if you also use Fitday.com and how well you like it. I'm curious.

LOL what a great read! I hope you are feeling better today! I think I would go INSANE on a liquid diet that long. You give me hope! I am sooooo tempted to weigh myself daily, but I try to hold off for a few days between weigh ins. Sometimes I can't help myself and sneak one in, and of course I get grouchy too, especially since my scale: A: sucks, and is hardly ever accurate. B: only likes one particular spot on the floor, everything else gives errors. C: can give false readings at my weight. So until I get under the scale's limit I just average the widely varying numbers until I get something that I like. I suppose the only thing that matters is the scales at the drs office, so until I get weighed there, I'll be happy to crunch the numbers and let them lie to me. :biggrin:

Hi Ladies, Not sure why I haven't gotten any emails saying that this thread was updated. I didn't even notice I had replies until now. Lisa, lol no girl, I don't think you can ever bother me. Thats what these forums are for, support! I'm getting really anxious, its probably just the surgery part. Its kind of odd how fast I accepted the diet and now I'm not even that hungry anymore, yesterday I only ate about 650 calories for the whole day. I think my dr. allows about 800 or so with the 3 shakes and one small meal. I lost about 10 pounds so far since Friday, most of it is Water weight I am sure, but it still feels good to ese the scale's numbers go down. Hi Jacquie. Your the same age as I am, I just turned 31 on the 7th of July. Hang in there! Mine started to disipate after 3 days and by the 4th day *yesterday* I hardly felt hungry or the need to eat much at all. Keep your mind occupied! Thats what I've been trying to do. YAY For you getting your approval! Thats great! I don't know whats up with insurance companies waiting till the last bloody second, but I'm glad it went through for you! I must be crazy, my August is starting to get PACKED with schedules. I'm starting school again in the Fall, and Violin lessons. My son (he's 4), he'll be going back to preschool on the 24th and my classes start on the 17th. Oye! I sure hope I have time for everything, not sure why I do this to myself. eek! Wish me luck in keeping me sane!

Hi Lisa & Jenny! Yay! Congrats Lisa! I know exactly how you feel! It feels like we're standing at the edge of a cliff with a suspension bridge over to happy thin land and all we have to do is make the long slow journey over the bridge to that happy place, but its scary at the same time, and some days, especially at night, I feel like fleeing instead. Whew. But thats why we have this great site, and good support people in our lives, to help us make it across that bridge to happy thin land! I wish you the best of confidence and luck! Hoping all goes well with your surgery! Let me know what you think about that website, I've only been on it since Friday but I think its quite good for a free site. It does the things I need it to do to track my weight loss. Jenny! We'll be band twins! yay! I hope that you start to feel better soon. Have you tried a sinus flush? I do that when I start to feel a cold coming on, and 75% of the time it knocks it out. Aks your PCP about it and see if he/she recommends it for you. I'm glad that there is a light at the end of this crazy pre-op diet tunnel. Today I'm not feeling so bad, which is nice. My dr. has me on 3 protien shakes a day, plus a small dinner which includes certain amounts of meat/starch/veggie. I'm averaging about 650-800 calories a day since I use the food log at fitday.com. To me that seems like a crazy limited amount, but I feel fine, no shaking or being sleepy. But I hope that everything goes well for you too and we will both be banded next Monday!! Good Luck! Also,I've been visiting this site quite regularly, its a recipe library for lap-band. check it out pre-op and get some ideas for when your on your liquid post-op diets. Lapband.com - LAP-BAND® Recipes: Browse, Rate & Share

I started my 10 day pre-op today. My insurance is still in pending. Gonna be mad if they deny it 9 days from now! Hubby supposed to call on Monday when they are open to see if he can expedite. Normally I do the HMR shakes, very good with a variety of additives. I usually add a drop or two of various extracts into the shake to make it taste better. Mint, Orange, Almond, Amaretto, Black Walnut, Cherry, Raspberry and strawberry go good with chocolate shakes. Orange, Apricot, Peach, banana, Cherry, Hazelnut, Maple, Lemon, Lime, pineapple, Raspberry and Strawberry go good in vanilla shakes. The caloric content varies, but its roughly about 30 calories per tablespoon and I only add a few drops for flavor so Its almost moot. Sometimes I also add instant coffee to chocolate for a mocha taste. Decaf is probably best. Anywho, I did buy some of the Atkins Advantage shakes today, they were pricey, but they didn't taste horrible. I had the Mocha made with coffee one. Not too bad for an on-the-go shake. Filled me up for a good 2 hours. Hope you find a shake that works for you! And if you find one that you can tolerate, doctor it up with a little extra flavor. Maybe you'll find one you really enjoy. My favorite is Vanilla with Maple.

Hey ladies! I decided to start a journal too. I went to this website and made an account. I haven't used it much, but so far it seems pretty complete. I don't know if any of you have tried it, or if there's other ones out there, but I think it will fit my needs pretty well, and maybe yours as well? http://www.fitday.com/ It has a food Log, Exercise Log, Weight Graph, Goals, A Journal, Mood Log, Body Measurement Log, Stats, Calendar, and more. You can even download something you can put on your computer and sync it with the website. There is a premium membership that gives you more options and makes it add free, but I'm currently using the free one. If anybody else tries this, let me know what you think of it.

Howdy Y'All! My turn to share I just turned 31 a few weeks ago. I'm 5'7 and my highest weight was 336. Currently I'm 315. I have been married to a wonderful guy for 7 years and we have a 4 year old son together. My weight problem began once I hit puberty, though my bad eating habits developed way before then. Back when everything was cooked in bacon grease and butter, I developed a taste for fried and greasy foods. Sweets not so much, but pass the french fries! My health problems began 4 years ago when my son was born. Before then, i was 27, not a care in the world, reasonably healthy for my weight, surprised that I hadn't gotten diabetes *and still haven't* as it runs quite rampant in my family. When my son was born, it was via emergency c-section after 32 hours of labor, he was pretty stuck in there. A few days after the surgery I developed 2 Pulminary Embolisms in my lungs. Suffice to say a month in the hospital and several years later I have had a multitude of problems related to my health. I've decided to risk the surgery, even though I'm not a good candidate for surgery in order to get my life back on track. I want to be there when my son graduates from high school, gets married, etc. I want to feel young again, shop at normal people stores and most importantly, I want to have another child. Am I scared? Most definitely. Am I ready for this? You bet. Will I still get cravings for bacon? Probably. But nothing can possibly taste as good as being thinner feels.

My surgeon wants us to do a 10 day pre-op diet. Mostly it is shakes, but for dinner we can have a choice of meat from the list he provided, a veggie and a starch. So an example would be 3 8oz shakes a day, breakfast/lunch/dinner and for dinner we can have 3oz of chicken, 4oz sweet potato and 1-2 cups of green Beans. Its very similar to the HMR diet I was on a few years back. We still have many of the HMR shakes left over and so far I like their taste the best. I start my 10-day pre-op diet on Friday. We do not have a set amount of weight we need to loose, basically if we follow the diet, we wont have a problem shrinking our livers so they don't get nicked.

Hi All! I'm scheduled for surgery on Aug 3rd. That is if all goes well with insurance, still haven't gotten an approval/denial letter but I've jumped through all the hoops. Going on 3 years now since I started said hoop jumping. Keep my fingers crossed.

Hi all, I just joined the forum, this is actually my first post. I am in the processes of getting my insurance together for my lap band surgery. I've done all the pre-reqs. I'm just waiting for them to approve it and hopefully set up my surgery date. I live near Colorado Springs, and I noticed that some of you all do as well. I would be really interested in meetings or support groups if there is some out there.