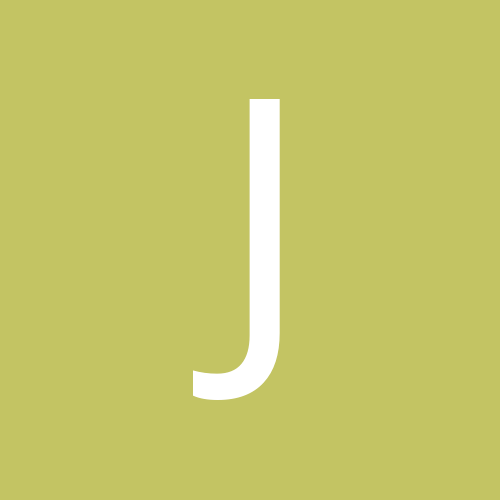 Content Count

770

Joined

Last visited
Everything posted by j.s.
I have started the couch to 5K program too - I am at week 6 now. I also have a very bad knee. I started to take the glucosamine chondroitin with MSM (my trainer told me to get the kind that has MSM in it, as it is some kind of pain reliever). Anyway it is liquid and i only have to take it once a day. I have not noticed any difference but I will give it a shot. Also since my knee is already iffy- I use my knee as my guide, I dont want to hurt myself. I stay on a week until I can master that before going to the next week. I may have to be on week 5 for a while as then next week I am to run 8 minutes straight and I know I cant do that yet.

This is funny!!! Just last week I bought a jump rope. It is actually the 2nd jump rope I have purchased! I dont know what the problem is - when I was a kid - heck a piece of laundry rope worked well enough but now I cant seem to make the rope work. I dont know if they are too long or too light weight or what the heck the problem is but I just cant seem to get it right. I thought how hard can this be but I am finding I am having a very difficult time indeed- enlighten me please.

Too, Too funny and 100% CORRECT!

I joined Curves for 1 year and after that year was up I joined a gym. I did go to curves 3 x week and that was just to get me into going, since it was much cheaper than the gym I wanted to join, I needed to test myself to see if I would go or just stop after a month or two. So after the first year, now I have been at my gym almost a year. I totally love it. I go 5x week and an extra 1 hour a week with a personal trainer who has been my savior really. I also started a running program at home on my treadmill. So I guess it really is up to you, are you motivated to do it yourself at home? Do you have stuff that will keep your interest? If not, check into the gym thing or another exercise route such as curves, etc.

Lochnager, I think that is totally great! WHoohooo for you! I wish I could do something like that. I actaully just started the couchpotatoe to 5K running program. I am just starting week 4. I find it a huge accomplishment when I do finish my 20 minutes but let me tell you running for 90 seconds and then catching my breath the next 60 seconds....I dont see myself really running anywhere anytime soon. I am hoping this gets easier as I go along. Right now it is pretty hard. But when I say couchpotatoe, I really mean it.... so we will see where I am at in another two months... KEEP up the good work!!!!

About a week ago I went to my inlaws house and when we walked into the living room my FIL said to me "My you sure are pretty today". He has never said that or anything remotely resembling a compliment like that. I was totally shocked, it made me feel really good and so I just told him, "well you just made me feel really pretty, thank you"! That was by far the nicest compliment I have gotten, I think because it was so totally out of the norm.

My biggest tipping issue is at the State Fair. My sister and I go every year and a couple years back our state started this tipping in the bathroom thing.... they have a table with a tip jar there. When you get up to the front of the very long line the stalls all have numbers on them and the attendant in the bathroom will say whatever number is open. WEll I too can see as the person in stall #3 comes out so I KNOW stall #3 is open and that lady really does not need to tell me. If they actually provided me with some sort of service that would be one thing but this is tipping gone wild in my opinion. - I dont tip the bathroom ladies. p.s. Are the bathrooms any cleaner you ask..... a great big NOPE to that.

I am back to my usual exercise routine. Mon- elliptical 50 minutes, level 8 for about 30 of those minutes. Couch to 5K program- on the 20 minutes where I run for 90 seconds walk 60 seconds (think this is week 3). Tues elliptical 50 minutes, level 5-8.

I have another little thing to add to this mix. Besides just starting to do something....as anything at all is better than nothing.... I got a exercise ball. I blew that up and that is what I use to sit at this computer and type. I told a trainer that I had the ball and that was really all I did with it and she told me that is actaully really good, that it takes more muscles to sit on that ball and balance than if you use a chair. Then as you get used to it, You automtically start to bounce on it and play on it (its kinda like an adult hippity-hop, its fun). So what I wanted to get out is something that sounds like nothing at all, actually IS a form of exercising when you really are not even planning on it, and this goes back to every little bit helps.

I chose other because my cardio of choice is the elliptical beast. At first it was quite the chore but I totally love it now. I mastered the beast and now I just push myself further and further on it. I put on my music and just kick some butt.

areelady, I know exactly what you mean. I think I am part of that club too. It is too, too easy for me to just slump back into "no exercise" land without even being aware it is happening that is why I am really trying to keep on this. My back is feeling much better and I am thinking that maybe on Friday I will get back to the gym and give it a try.

Yeah, I was on such a roll too! I called my trainer today and he agreed that we take this week off. And I have my regularly scheduled appt for next week. I told him I was walking the treadmill, not over-doing it tho and he said that was fine. I was able to do 45 minutes last night and I kept my heart rate above 140, so not my normal but at least did get some exercise in. I figure this week I will stick with just the treadmill and get back to regular exercise next week.

I have been wounded in exercise action.... I had a training session thursday in the p.m. and by friday morning my back was totally kicking my butt.... I think I must have pulled/strained something in my lumbar spine probably when I was doing the abductor/adductor leg things. I had a hard time when I was doing them and I think in trying to rush through them, I hurt my back. I have had a terrible weekend being on the heating pad most the time. I went for a massage sunday afternoon and that was none too pleasent, I paid that girl good money to make me miserable. tonight I am going to try to do 1/2 hour on the treadmill, nothing wild tho, gonna keep it light.

ok here is my worst thing... mine comes with a story: My husband to be and I were out on a lake in a huge 10 person rubber raft that we owned. We were paddeling around happy as can be. I decide to get into the water as he said it was "really easy" to get back into the boat. Well not being the fat girl... He has no idea that his "really easy" way to get into the boat really sucks bigtime. He tied a rope across the back of the boat that i was to put my foot on to sorta heft myself up into the boat but he tied it so loose that all it did was put my leg underneath the boat. I could not get back in no how! So here we are screaming at each other in the middle of the lake and I am swearing like a truck driver for him to heft me back into the boat (did I mention there was a snake in the water?) and he says to me "OHMIGOD it is like trying to beach a whale!!" Well that was it. He did not say this in jest he did not say it trying to lighten the mood.... he was pissed and he said it for real. I have never - ever let him forget that. Every now and again I will just say.... like trying to beach a whale huh? He knows that was just not right. I also have to say this happed about 20 years ago or so, (we just had our 17th anniversary yesterday). Since then he has apologized for his behavior many times over but I still feel the need to let him know that cut deep and that is not allowed from him.

Last week I didnt do anything at ALL! I was protesting all this exercise and no scale loss - I WENT ON STRIKE.... well nothing happened. Still didnt lose anything and just felt bad about being on strike. So this week I am back at the gym with renewed vigor. I also started the couch to 5K running plan this week. So I work out one hour at the gym every day for cardio and then do my 25 minute running thing (did it monday and today (wed) so far) and I am still alive to talk about it. I dont know if I will be able to run for more than a minute at time (sure dont feel like it right now) but I am willing to give it a good college try! Wish me luck.... I want to be a runner (and a little scale loss would go a long way too right about now).

Here is some of my favorites for the elliptical: Gnarls barkley-crazy 311 - Dont tread on me The killers - somebody told me smash mouth- walking on the sun John mellencamp- Wild night Bon Jovi - Its my life (on of my favs at this time) - Livin on a prayer modest mouse - dashboard papa roach -forever three days grace - Animal I have become (this one sums it all up for me and exercise) Then throughout it all I have a smattering of disco- gotta love the old disco (great workout tempo) I have a completely different list for when I ride the bike and another for treadmill. Dont know how I ever lived without my Ipod.

ok, spinning seems a bit daunting to me - just by your description. I will see what kind of damage I can do with this running first - then maybe I will be brave enough to give spinning a shot.

I too have just started running. I was one of those people who always said "I would like to run" when I lost enough weight. Well I have been doing the elliptical for a year now and can do an hour on that very easily now and after checking out that website listed above, I read that over and said - HEY I CAN do this! Last night was my first time. I thought about dying several times over, sweated profusely but I finished it and it felt good. I didnt die. I was able to get through the entire 20 minutes and I actually feel pretty good today. I was worried that I would be sore but i went to the gym this afternoon and did my regular elliptical work out and was fine. My thighs are a bit tight this evening but nothing really even to complain about. I am excited! I think I too may be able to run.... WHO KNEW! 1 quick question for you guys... when you do the 90 second walking how fast do you make your pace for that? I was doing a 3.5 speed which is brisk pace for me.

I go to the gym 5/wk and do a full body work out with my trainer 1 hour a week and just started the couch to 5K running plan last night (thanks for that link babygirl, I really think I can do this!). I cannot remember the last time I drank a protien shake. I am 2 yrs out but I do have another 50 pounds at least that I want to get rid of. I am working out like a dog but I really have to, to keep motivated. I find if I skip the gym today it is too easy to skip the gym tormorrow and so on. I am trying to make this exercising become a way of life for me, if that means every day.... then every day it shall be. p.s. WHAT is spinning????

Thurs-5/24- 1 hour personal trainer session, full body work out with cardio intervals. 100 crunches. Fri. 5/25- 1 hour elliptical, 100 crunches. I hope these stinking crunches are actaully doing something for me! Lily - what is spinning?

wed- 5/23 - Elliptical 50 min. 100 crunches on the ball.

Tues - 5/22 - Elliptical 50 minutes. Upped the tension to 8 today for the entire workout forwards and backwards! (wonder if I will be able to walk tomorrow). 100 crunches on the ball.

I have had a bike for years and seem to go in bursts with the bike. This last weekend I went on my first ever bike path- 14 miles. I liked that a lot. It is nice not having to worry about traffic and being able to just go. I may try a couple others that are in my area. I have to drive to get to them but if they are fun, that is okay by me.

You made me chuckle.... thinking back to my first time - it was terrible!! Now I only get a little sore for the next day or so and really not even very much. My trainer has become my new drug - Just love him!

I just found this thread, hope nobody minds if I chime in here, this will be good for me. 5/19/2007 14 mile bike ride, great day for it, loved it but knees hurt like the dickens when I got home. 5/20/2007- nothing formal, lots of house cleaning today tho. 5/21/2007- 50 minutes on the elliptical, 100 cruches on the ball.