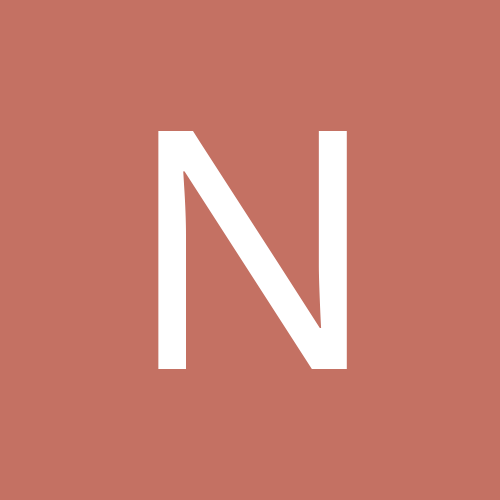 notmeanymore
Gastric Sleeve Patients
Content Count

1,134

Joined

Last visited
Everything posted by notmeanymore
Havent been on here in a while but wanted to check in and let everyone know Im doing great! Still 101 pounds down. Ive been so busy and am currently looking into becoming a certified yoga teacher Hope everyone is doing well.

If you find out, let me know because sometimes Ive got a symphony going on inside lol. We've actually embraced it though. My husband wanted a stethascope just so he could listen to what the heck was going on in my little tummy lol. He's a goof ball but in all seriousness, if there was something to quiet it down Im in!

What did it for me was when my husband put a 100 pound weight in front of me and said "lift it". I couldnt even budge it. Thats how much extra weight I was carrying around. I lost 101 and dont understand how my small frame was able to carry that extra weight around. It put things into perspective for me. I like RJ's butter idea. Thats A LOT of butter! Celebrate your victory my dear, youve done awesome!

Any pharmacy sells pill crushers. I got mine at Walgreens. I just got the cheap one that you twist to crush the pills. I suppose you could use a morter and pestal (I think thats what its called) but the pill crusher was a few dollars and crushed the pills like a boss

Another thing that made my life easier when I got home from the hospital was a heating pad for your sore tummy and a pill crusher because you probably wont be allowed to swallow large pills. They had me crush mine for a week or two. Good luck DONABOSS and FSU GIRL. Just remember what everyone has been saying, sip sip sip, walk walk walk. The gas pains were helped tremendously by walking but I couldnt get the energy to do all the walking without sip sip sip. Check and let us know how everything goes. Yay for you both!

That sounds great. I live on those chickens. We always have one in the fridge.

I remember this exciting time right before changing my life for the better. Dont worry about Mother Nature. They will give you a pad and these really sexy disposable undies And do not be shocked if you get 'natures gift' very soon after this cycle stops. The body goes into shock and hormones are having a party and if affects your cycle. Mine didnt become normal again until about 3 or 4 months out. One packing tip that really helped me, if you are bringing a cell phone or kindle/tablet, bring an extension cord so you can charge it and have it laying near you. Other than that, the hospital gave me everything else I could need. As for the tummy grumbling, chicken broth did it for me. Before and after surgery actually. After surgery I couldnt tolerate cold liquids well, my new tummy would spasm and I couldnt get my liquids down in the hospital for the first day or two. Once I tried warm decaf tea and warm broth, no problem. Good luck, we will see you on the losers bench soon.

Illinois here. Surgery at Alexian Brothers in Elk Grove Village. Live near Hoffman Estates. Almost 13 months out and 101 lbs lost so far. Best decision I ever made besides marrying my husband. Even my husband brags about me and loves to show me off. I feel like a trophy wife now lol.

Great photo on your license. I cant wait to get mine redone. I always lied about my weight on my license but now I can actually tell the truth and it will actually be 10 pounds less then what it says currently! But in answer to your question about recent NSV's...when my sister in law saw me yesterday she was seething with envy and that just tickled me to death

I used to use the seseme oil religiously. I found that I went thru it so fast and because it was on the expensive side I tried coconut oil and never turned back. I use either Skin so soft in my bath Water (Avon) and it helped tremendously. I also use the neutrogena rain bath sesame oil stuff. Both work really well. My skin gets really dry in the fall and winter so I have to find something to use. Good luck!!

Im with you on the coconut oil. I use it for everything! My skin, my hair, eye makeup remover, I cook with it, I even use it to grease squeaky doors. The stuff is amazing! It really works for me.

Pasta, rice and bread were weaknesses for me so I dont partake at all now. I CAN tolerate them, I just CHOOSE to make better decisions on what to put in my tiny tummy. Im so concerned with getting in all my Protein that I usually never have enough room to put any pasta, rice or bread in my tummy. If I do end up with a little room left I will typically eat a veggie instead of a carb.

Well thats awesome that you got to do it in the comfort of your own home. If I decide to get re-tested Ill definitely look into that option. Please let me know how the results come out. And thanks for giving me a heads up that home testing is an option! Im not dreading it so much now. I have my one year check up with my surgeon in a week or two so if it comes up Ill make sure to bring up the in home evaluation.

One year ago today I was laying on the operating room table having 85% of my stomach removed. As scared as I was, I was more scared to stay heavy and unhealthy. I was only 42 and more unhealthy than some 60 year olds I knew. I started at 242. On my 5'4 frame, that was a lot. The list of ailments I had at age 42 was sad. I felt sorry for myself and didnt like the person I had let myself become. The only thing I could be happy for myself about was that I married my dream man 3 years prior. It was with his support and love that I came to the decision to be sleeved. It all started with being diagnosed with sleep apnea. My husband was very scared that he would come home one day and find me dead in bed. So I began researching sleep apnea treatements besides cpap. I looked into a surgery that was not covered by insurance and didnt actually have a very good success rate. As I kept researching, I started reading literature about bariatric surgery. Not as a cure for sleep apnea but in my case, with my apnea, my metabolism had pretty much stopped because I wasnt getting a recurperative sleep, I would injure myself exercising, my body was in pain from carrying around all the extra, etc. Therefore all the damage I had done to my body with the unhealthy eating I would most likely have to live with and life wasnt getting any better. Much to the contrary, it was continually getting worse. A year ago I had the following: SEVERE sleep apnea, back problems, planters faciitis, migraines, allergies (even to make-up), short of breath, high blood pressure, blood sugar issues (pre-dia betic), high cholesterol, anxiety attacks, night sweats, eczema, aches and pains, skin tags and depression. Im sure there are more to list but you get the point, very unhealthy for a anyone much less a 42 year old woman. A year later I DO NOT have the following: SEVERE sleep apnea, back problems, planters faciitis, migraines, allergies (even to make-up), short of breath, high blood pressure, blood sugar issues (pre-diabetic), high cholesterol, anxiety attacks, night sweats, eczema, aches and pains, skin tags and depression. I have discovered an intense love of hot yoga which is my main source of exercise, I eat healthier than Ive ever eaten in my life, Im happier than Ive ever been in my life, Im healthier than Ive ever been, my blood work comes back great, I take no medication except for a Calcium supplement and nexium, I am able to do all kinds of physical things I only dreamed I could do, Im not obsessed with food any more, I have so much energy, I cant sleep past 8am now (I used to sleep until 1 or 2 on the weekends), I dont need to take naps anymore, I can curl up in ball in the movie theatre seat lol, my clothes are so tiny now that they all fit in my drawers lol, I get to shop in the juniors section, I take pride in my appearance, our food bill is cut more than in half, I can wear makeup again, I went from a screaming size 18/20 pants - 2xl tops to a comfy size 8 pants and a medium top, so many positive things. When I see my surgeon I hug him because bottom line is, he saved my life and what a great life it is! Happy Surgiversary to me!

Hi there, I actually did not go back for another study. My hubby is my barometer actually. He was the one that actually alerted me to the fact that I would stop breathing about once a minute which prompted me to get tested. But now he says I dont snore hardly at all and I dont stop breathing at all! So Im comfortable going by his observations. Plus, I wake up early and refreshed, cant sleep late anymore and I dont require naps. It may be necessary or better advice to get another study but in my case, Im comfortable with what hubby says Good luck to you whatever you decide to do,

Congrats on shedding that big comfy robe! I know how you feel about still having to make mental adjustments. Just yesterday I was doing laundry and had to make sure I put everything in the dryer on high because most of my newer clothes are getting big on me. What a foreign concept to me because a year ago everything had to be washed in cold and air dried because I couldnt afford for one thread to shrink. I am still amazed when I look at my pants that Im little enough to fit in the tiny pants! I usually think Im some kind of magician for fitting my mental fat @ss in those tiny pants but miraculously, they fit and look darn good

I took FMLA to have my surgery. I was out for 3 weeks. I had to either use vacation time for the first week or no pay for the first week then was paid at 80% for the remaining 2 weeks I was out. Talk to your HR representative at work. You dont have to tell them why you are taking FMLA.

I also have BCBS Federal but was submitted around the Thanksgiving holiday and was approved within a week. I would think that it shouldnt slow down any approval progress even though its a holiday. If anything they might be closed for one day (Christmas) but even then I dont know how they can. I mean people get sick every single day so someone has to be there to help them. My positve thinking says youll be fine

The day before surgery I had to drink a bottle of magnesium citrate then only liquids for consumption after that.

Good Luck and we will be saving a seat for you on the losers bench!

Good for you! Thats a great feeling. I know how you feel. Im 43 and have a little wrinkly skin but LOVE being naked around my husband. Needless to say, he's a pretty happy camper lol.

What a sweet smile. Congratulations on your awesome success!

Ever since day 1 post-op I havent tolerated cold liquids well. Its a little better a year out now but warm liquids go down so much easier for me and Im able to take down a lot more than a cold drink and since Im always cold now, its perfect lol. I drink from a 15 ounce mug so its easy for me to drink 5 mugs a day to get my 64+. Even when Im at hot yoga my Water is so luke warm in class that its perfect for me. Cold liquids make my tummy spasm a little. I think that's the problem I'm having with fluids right now.. Winter. I am very regimented. I drink my 32 oz poweraid zero a day then fill it again with water and flavoring drops... done deal 64 oz and any other liquids I get through the day just put me in a better spot. Well, winter I'm FREEZING! I don't want to drink my cold drinks so my whole tightly wound regiment is screwed up.. I'm drinking mostly hot teas now, but the measuring is not the same and I know I'm not getting in as much as needed because I can only drink so much tea in a day. I think my liquid intake always fell off in the cold months so it definitely a chore to keep it up now.. Ok everything you didn't need to know about my drinking habits

Besides my husband, sleepytime tea is my best friend, Its the only way I can really get in all of my fluids. Love it!