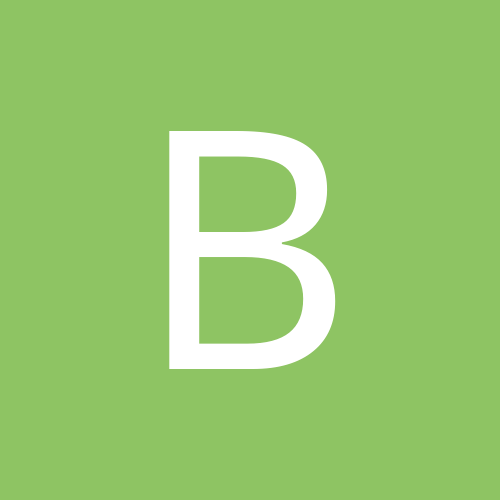 Content Count

12,923

Joined

Last visited
Everything posted by BJean
I'm 7 months out and I agree with several of the others... don't worry! You'll experience more than one stall and if you just hang in there with doing the right thing, you'll have a good loss before you know it. Then you'll feel great and keep losing for a bit and then stall again. It's part of the process. I know it feels crazy when you aren't eating hardly anything compared to pre-surgery but there are these adjustment periods and there's not a lot you can do about it except keep on keeping on. And that pays off, big time. Now if I could just figure out how to get my hair growing again. I thought I was going to escape the dreaded hair loss problem but at exactly 6 months it started falling out and my hair is so thin now I hardly have any. OMG, Tiff does it ever start coming back?

leroys, that's surely the truth. Cleos, we shouldn't be surprised at the election outcome. The one thing that Republicans are good at is winning elections even when it makes no sense that they should. They have (since I've been voting) willing to do and say anything to run down their opponents, even put out lies and swear they're the truth. It's ironic that the party that talks about religion and being Christian and wanting a theocracy, religion taught in schools, In God We Trust on our money, etc., when they've proven that it is the party of the most dishonest, dirty dealing politicians in the country. It's been this way since I can remember. I'm sure you were around when all the Nixon stuff went down. After that expose, they became even sneakier and even more dirty. It shouldn't work for them, year after year like it does. But voters want to elect someone who they think really will do the things that the Republicans talk about. The Democrats just come out with what they think is best for the country and they actually tell Americans what they plan to do. They think that voters are smart enough to understand - and some are. But mostly, Americans want something for nothing. They think that they can get what they need from the government without having to pay for it. They think that the schools are good enough, that medicare and social security should pay for themselves and they latch onto the idea of a government that is just taxing them way too much. And so it goes. It's depressing and even worse, it may get much worse. One way it could get drastically worse is if people keep jumping on the tea party bandwagon and actually allow Sarah Palin to become a serious candidate again. People laugh at the thought, but afterall, she was the actual vice presidential candidate 2 years ago. And the Republicans have shown what they're capable of in an election. They will stop at nothing to be in power.

I'll bet just about everyone who comes to Lap Band Talk has a similar story to tell about insurance companies controlling their health care. I've told mine more than once. And I've lived in Canada, one of the countries that has a system that so many Americans scoff at and fear. It was 15 years ago and it was better than what we have - even with their problems. People fear universal type health care for all Americans because they think it's going to cost them more money. The insurance companies love that because they are making countless billions on us believing the fallacies and blown out of proportion negatives about health care reform. Isn't that amazing? Mostly they have no experience with health care in other countries, but they cling to the idea that we have the best system in the world anyway. With all our own personal negative experiences coming out of the insurance run health care industry in America, we still fight change.... Interestingly, if you ask specificially what they're afraid of with this administration's health care plan, they recite the things they've heard that are generated by the insurance and pharmacutical lobbies, like robots.

I'm about 13 lbs to goal and I'm excited too. I don't know if I will even have a great BMI when I reach it, but the doc says it's the correct goal weight for me. Maybe one day I will be like kartman and get my percentage of fat down below 15%. You're awesome for getting the job done! And for sure you feel great - both physically and mentally.

I actually thought I was being quite decent about the whole thing. Then I get a PM accusing me of being an ignorant right wing conservative. I don't understand why someone would think that's okay but to actually say it on a public forum is wrong. dude, if you can't say it in a public forum you probably shouldn't be saying it. And Cleo's and loserbob, Cleo's has just posted something very relevant and important. Let's not allow someone to come on here and de-rail the topic since election day is fast approaching. You all know as well as I do that many of these people refuse to expose themselves to the truth. They just join the tea party and blindly swallow the tea. :blushing:

Atta girl, Cleo's. Keep the political information coming. Even if someone is not a progressive, doesn't think that this administration is trying to get this country on the right track, it is good infomation that you provide. It is important for us to be knowledgeable about both sides of the issues, not just the ones we instantly think we agree with.

I am totally unaware of the Chamber of Commerce's actions in this. It is shocking. I am often surprised at the sources of money behind the most outrageous political campaigns. But not always. Usually you just have to follow the money trail and learn that all the bellyaching people do about America becoming "socialist" and "marxist" is steeped in the lies that are perpetrated by the richest among us. When are people going to stop, look and listen and figure it out? When are they going to question what they're being told? I know they make things sound like if you don't believe that paying taxes is completely socialist then you're probably on welfare. Do we really have to watch the country come crashing down on our heads before we figure out what's happening? We bailed out the banks and those lousy stinking arses are refusing to make loans to regular Americans who can afford to buy houses. They're manipulating the housing market so they can continue to keep their money in their greedy little pockets. Look around people... before you go out and vote, you better be darned sure that you know what you're getting!

Well that's the way it went in the presidential election. But I have to disagree that the direction that the nation should go is in the direction of the party that can garner the most votes every time. Especially when there has been fraud perpetrated during an election - remember Florida, for instance in the 2000 election? And when the party that garners the most votes has been putting out false information I don't think they should win. And when the party has done everything it could to keep from reaching across the aisle to work with the opposition party in order to solve America's problems and they have done so under false pretenses, then no, I don't think they deserve to win. If voters have been given all the real information, not tricked out mumbo-jumbo, then whoever the majority elects is duly elected, fair and square. Nobody can argue with that. But we seem to have really hard time in this country having truly fair elections. It's amazing to me that Jimmy Carter and his group have been tapped to monitor elections in other countries to ensure there is no fraud, but we don't seem to be able to have independent people come in and monitor ours. Why do you think that is?

If Democratic voters were more vocal and let people know they support this administration and congressional actions, then there wouldn't be so much hype going on about the tea party and how much power they have. As it is, that's about all we really hear everyday in the media. And yeah, it's worked in some states and I can understand Dems running scared. But it doesn't have to be that way. For instance, one of my neighbors has a sign up for the Demo who's running for governor. ONE neighbor. There are several signs for the Republican incumbent. I'm intimidated and won't put up a sign in my yard. And I'll bet there are lots of others too. But our governor has been a complete disaster and totally in the pocket of big business. But the tea party and conservatives still back him because they think he's cool for talking about seceding from the union and swapping evolution science with creationism in textbooks. And those folks are very outspoken and whipped into a frenzy by the media which makes them scary. Democrats may stay home rather than vote for a guy they think is going to lose. Nobody likes to vote for a loser. Which is bad thinking, especially this year.

We KNOW what the Republicans will do - what they say they will do is not always what they actually do. But we've seen them in action. For many years they've made decisions resulting in cutting environmental considerations, education programs, cutting tax on the wealthy, giving tax incentives to corporations who perform badly with those incentives, and providing no help whatsoever in increasing jobs, or giving consideration to the middle class. They've created no disincentives to corporations for taking jobs overseas. They've even allowed them to do business overseas in order to avoid any taxes to the U.S. The government's job is to oversee and incentivize ALL Americans not just the wealthy. This discrimination against the working class has to stop. This president and the majority in congress want to try something new and different - making the wealthy individuals and corporations pay to right this listing ship, which actually could sink. The wealthy have had their long run of power. Now it's time for the people to have a go at it. So far, the wealthy haven't been hurt by this administration. In fact, in some cases they've actually been helped. Now lets cut to the chase and make these folks who have been sucking this country dry, step up to the plate and put some of their massive profits back into the American economy. How in the world anybody could see it any other way is completely astounding.

Please don't take that as a slam against the president or Congress who caused the so-called "Obamacare" to happen. I'm amazed and mystified that they were able to get anything done at all with the Republican obstructionists in the mix. I'm just sayin...

I feel like a sap assuming Devana (of all people!) would give Cleo's and me a hard time. You know what they say, just because you're paranoid doesn't mean... :-)

You know one of the key points that the president made was that the "overwhelming majority" of Muslims are peace loving and are interested in the same things that all Americans are interested in. If all of us truly believed that, we wouldn't have any reason to demonstrate or speak against having a mosque built near ground zero. But Americans are basically ignorant about that. We have 9/11 imprinted on our minds and we have heard how the Koran preaches that Muslims should ultimately rule the world. These are the things about the religion that we are most familiar with. Most of us don't know any Muslims personally. We have no personal experience that refutes all the hatred we've heard and seen toward Muslims in the press. We're flat out ignorant of the truth about that religion. We haven't studied it in school or even on our own. We're victims of our own ignorance. And that's the primary reason why we feel so threatened by this entire subject. If we knew that terrorists, like the 9/11 Islamic terrorists, were absolutely NOT representative of the Muslim faith, then we would be able to rationally decide the merits of a mosque near ground zero vs. being intolerant of the plans of those people for that facility. We speak from ignorance when we shout hate slogans and burn books.

Lots of people have been incited into a frenzy of "throw the bums out" because of (fill in the blank) and they'll vote an incumbent out for miriad reasons that may or may not be valid. If the Democrats do their job of getting their message out, including exposing the Republicans for what they have NOT done for them, then they will not vote Republican. Many folks won't like either choice and will vote for some outsider, who by the way, often aren't good candidates but they just want change so they'll vote for them. Ralph Nader is a good example of that. And freaking Ross Perot. OMG! So just pray that the good guys do a good job of getting the message out and the bad guys are exposed and then pray that people use their heads and vote in a sane and reasonable fashion.

Hard to relate, I'm afraid. But isn't pot an appetite stimulant? And what the people said above, about smoking hindering blood flow and lung capacity is something you should be concerned about. If I were you, I would definitely tell my doctor about your habit. It is something that your anesthesiologist should be aware of too. And smoking can cause you to heal slower and I haven't heard a thing about there being a difference between nicotine and weed in that regard. Or you can just pretend you don't have that habit and throw caution to the wind and hope that you don't get into some life threatening situation that your medical staff has no idea what they're up against. Nah. That would just be foolhardy.

shellbell64, I know, right? We need to just manufacture more and bigger bombs and go over there and wipe out the entire middle east, right? We're right, they're always wrong, right? Besides, we need that oil they're selling us - in fact they're keeping us hostage by the oil prices - so like Bush and Cheney and their friends seem to think, we're bigger so we get to have what we need and if that means just bombing the heck out of them, then that's what we need to do, right? I mean the very idea of Muslims near ground zero. What ARE they thinking? That our president Obama and Bloomberg think they won't bomb us again if we let them have their mosque? Why do we need to make friends with middle eastern people anyway, right? We're the biggest country, as far as bombs and fire power go, so why do we have to be nice to the "little" people, right? Are you out of your freaking mind, shellbell64? You think by being intelligent and using diplomacy with other country's leaders that we are taking it up the butt? (To use your venacular - "bend over some more") Ugly Americans, indeed. You speak well for them. But count me out of that group. Just because I oppose what I thought was a mosque on the site of the World Trade Center bombings does not mean that I oppose diplomacy and friendship between nations! And I thank God every day that we have someone in office like President Obama to represent us rather than that bumbling idiot Bush and the Cheney people who pulled his strings. What we Americans need to do is to stop being so darned greedy and stop pretending as if our addiction to cars and oil is all right. It isn't all right. It's wrong and what we need to do is suck it up and do whatever it takes to get off foreign oil and we need to learn how to be smarter than our enemies, not play into their hands like we've been doing. Don't make this mosque issue something negative about our President. That's just stupid.

What a welcome problem, Jolanda!

I wonder if stomach acid is the culprit? Have you tried a little Mylanta - just half a teaspoonful helped me when I felt like curling up in a ball because my stomach hurt and I thought it was because I was hungry.

If you're getting this information from the polls, don't give up yet. So many of the polls are biased and the questions they ask are posed in such a way as to illicit the answers that support their bias. Of course you know this, so I'm probably off base here since you know a lot more about the political climate than I do. However the decision of Democrats to concede that there will be big losses in November could also be a ploy on the part of the progressives to jolt Americans who are in support of the current administration to get out and vote. It is easy for us to not show up at the polls if we are happy with the way things are going. We don't feel the threat. But you can be sure that the people who are unhappy will definitely go to the polls, in large numbers. I'm impressed that someone is finally organizing a rally in support of the actions that have been taken by the Democrats to do the things that they promised. I wish I could brag on the Congress as a whole, but we all know that the business that has been taken care of is in spite of the Republicans inactivity, not WITH Republicans working to fix America.

AMEN, Cleo's!!!!!!! I'm happy to quote you on this. It can't be said too often! Republicans have been trying to dismantle Social Security as we know it and public schools for 30 years! And they've worked long and hard to keep us from having a decent health care system for all. Just think what would have happened if Wall Street was in charge of our Social Security dollars in the past 8 to 10 years. Like things aren't bad enough right now for people reaching retirement age! Many of us had IRAs and other accounts that were invested in Wall Street and lost our shirts. If we didn't have Social Security to fall back on, you'd be seeing aging people living on the streets in spite of the fact that they held good jobs and worked really hard all of their lives. Not that Social Security will totally keep us flush, but it might keep people from bread lines and sleeping in cardboard boxes. I sent my kids to private schools quite a few years but I always supported the public school system. Always. I believe in it and I believe that if people want to send their kids to private schools, they can pay extra to do that. And we as a nation should be ashamed that we don't have a universal health care system for our citizens. It's obscene that corporations and individuals are making huge profits from people being ill. They are motivated to keep Americans sick and taking every new medication they can come up with. It's a sad, sad situation.

Well now you're talking... a free health clinic. That's a great idea! I'd certainly donate $5 for that. But no attempt to answer my question? Why are the Muslims so intent on building a mosque so close to the World Trade Center rubble? Do you think that it is just coincidental that the location is in such close proximity to ground zero?

Let me ask a question. Why do the Muslims want to build a church or recreation center for themselves there? Why there? Why so close to ground zero? Why is it so important to them? Why has this become such a defining issue for them? Do you think it is because they are wanting to demonstrate to U.S. citizens and the world that they are proud to be a part of this country which is so hated by Islamic extremists? You think they want to erect a center or church in the United States at that site so that they can show respect for this country and the diversity and understanding and freedom that it stands for? Do you think that is what motivates them? Do you think they just want to become good Americans, with love and tolerance for every individual's beliefs, whether Jew, Christian, atheist, or individuals who don't believe in anything at all? Do you think there's a chance they are somehow paying tribute to this great country by building a mosque near ground zero? Really? When it is ever time for America to represent itself? What in the world about OUR identity? Do we even have one? Or are we just a blob of humanity with no real identity of our own? Sure being a melting pot is a good thing. Respect for others is fantastic. Freedom is what the United States is all about - freedom for all! But what about those of us who would like to enjoy freedom from the reminders of the hate and mudererous activity of 9/11 on that site - committed by Muslim terrorists? Are we not due some respect and freedom to enjoy life in our own city without feeling conquered yet again by having a constant reminder of the horrors of 9/11 with a building on that site built by a religion whose fundamentalist extremist faction did the deed and vows to continue to do us harm? I believe in freedom for all. I believe in this country. I hate discrimination. I do not hate the Muslim religion. I do not hate Muslims. But I have to ask, why build a mosque there? Why right there? Why is that location so important to them? And why is it so unreasonable of us to want them to build it somewhere else, somewhere AWAY from the site of the former World Trade Center?

Well see, I'm getting educated about this topic. That's why I come here. I had only heard the fire that erupted about building a mosque where the World Trade Center was. Now that I've heard that Rupert Murdoch is behind it (it's nearly always his big money machine that causes fear and hate in America over political non-issues) and come to find out it isn't even on the site of the WTC, I'm calming down on the issue. Do you all know who Rupert Murdoch is? Are you aware of his background and everything he owns in the U.S.? Good thing we have Cleo'sMom here to bring the real story to light. And Cleo's you could have also listed the Kerry persecution that wrecked his campaign for president that was backed by the same kind of right wing extremism and money. I should have known what was going on but I frankly do not watch a lot of Faux news broadcasts or even the other ones. So I usually only get bits and pieces of the story. When I am confused on an issue or dismayed by something I've read or heard, I usually check it out for myself. This time I didn't. And I'm really glad that this topic came up on this thread and I had an opportunity to learn more.

sagreenia, I didn't read your post until after I wrote mine, above. I didn't mean anything I said as a slam toward conservatives - especially those who are now Independants. In fact, I respect someone like you who has real experience and intelligence about this whole mess. I also believe that many Americans know what you're saying is true but we are controlled by the extremely wealthy who control congress. But their P.R. campaigns are falling on deaf ears these days. We know what is going on because we live it everyday. They don't.

What many middle class Americans who have conservative values just don't seem to understand is that the very wealthy have control of their party and the middle class is simply a means to an end for them - the end being a means to increase their wealth, not middle class Americans' lot in life. If the very wealthy cared one whit about middle class Americans they would put them to work. That's what the Republicans have promised Americans for years and that's what they sell as a pledge when they run for office: "Vote for us. If you ensure that we control the wealth, we will take care of you... we won't make you pay more taxes and we won't take away your guns and we will value your Christian beliefs and get abortion banned." Guess what? They seriously could have done all that but not only did they not do it, they did just the opposite. So why anyone listens to them anymore and even worse, that anyone actually believes the rethoric, is a real mystery. And the Republicans who are smart enough to see through it are now claiming they are Independants. And who can blame them? Too bad it doesn't help anything for them to vote that way in the elections.