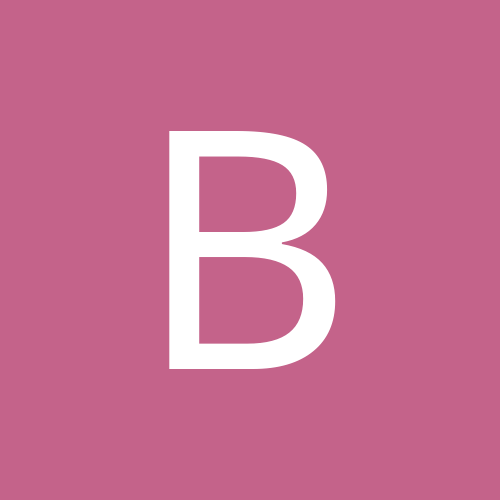 babygrl1234
LAP-BAND Patients
Content Count

7,537

Joined

Last visited
Everything posted by babygrl1234
Got the bike out today and took advantage of the warm weather!!!! Love my bike.

Thanks B! You will get your confidence back. J did not want to ride for a long time after she kept getting stuck in her pedals. I know it is not as severe as having an asthma attack, but it gave her a lot of grief for awhile. You will get it back buddy. Keep the inhaler close at hand and rock it.

Congrats and welcome Lauryn.

I was pretty disturbed by the scale for a better part of 2 years. I got to my lowest adult weight of 187 in early 2008 and then I just gave up. Or maybe it is better to say I got comfortable. But it wasn't very comforting when I found myself back at 225 at the end of 2009. I spent the better part of 2 years yo-yoing back and forth and continually discouraging myself. I have gone into this year with a better attitude. Instead of focusing all of my energies on the scale and weight loss I am focusing on two things. The first is not eating sugar. For the simple reason that it is like crack to me. I don't want to go through life with an addiction and that is how I feel with sugar. The second is training for a triathlon. I have always talked about doing it but never actually trained and done it. It's been a little over a month since I have implemented those two things and I am feeling mighty good about the 205 I saw on the scale this morning. I never even broke 210 in all of 2009. We can all get back on the wagon and do it.

Going on a "chili" ride Sunday. Not thrilled about the cold but excited for the chili at the end :sad: Plus it is a free ride which is my favorite kind of ride.

Okay, okay. I am back in as well.

babygrl1234 replied to haveaniceday's topic in The Lounge

babygrl1234 replied to TerriDoodle's topic in The Lounge

BG strolls in.... ...and strolls right back out.

babygrl1234 replied to TerriDoodle's topic in The Lounge

So far behind here that I can't even focus long enough to read all the posts I missed. But I will say that we do have the Firefly Sweet Tea Vodka here in the ghetto and it makes for a mighty fine alcoholic Arnold Palmer.

:thumbup: And second, and third......

I got pregnant with an IUD.....

I would venture to say that you were just as protected as you were pre-op. But when in doubt there is always :thumbup: or :thumbup:

babygrl1234 replied to TerriDoodle's topic in The Lounge

Personally I would like to thank the police officer who wrote me a ticket last week.... She listed my weight on the ticket well over 50 pounds less than I actually weigh. I don't mind paying it so much any more.

What I find more interesting is the fact that she has a real life, close to home, personal story about every single one of these controversial issues in R&R. Smells a wee bit :tongue_smilie: to me. Which is why I totally *heart* the block feature.

babygrl1234 replied to TerriDoodle's topic in The Lounge

I know that budget very well...........

Glou- from what I have read those kids were not biologically his. And Beth please don't be jealous of me because you are *almost* old enough to be my Mom. :thumbup:

In June my church is doing a series where the members get to ask questions the the pastor, and he will be answering them during service. I know there are many non believers around here that make some interesting points when debating religion and I was just wondering if anyone would be willing to list them here so I could submit them. For example one statement I remember reading on LBT was along the lines of why bother praying when God already has his plan-it's not like you can change it. That is certainly something that I would be very interested in hearing an answer to. Anyhow I know there are some very intelligent people aruond here and I would totally be interested in hearing what you had to say. And no I am not looking to take anykind of credit for any questions as it is an anonymous thing. Again, I am NOT looking for any kind of debate (you know who you are and I have you blocked anyhow) on this thread. I guess I am just trying to look at why people don't believe in a higher power.

Here ya go: Yum Yucky: Feed Your Fat Cells Domino's Pasta Bread Bowls

:thumbup::thumbup::smile2::thumbup::laugh: Though I thoroughly enjoyed your entire post, this was the line that made me spit the coffee onto the screen. Loves it.

Yeah I knew eventually she would bring her venom filled diarrhea of the mouth in her eventually. Because she can't just butt the eff out. But like you I can't read whatever her holiness wrote because I blocked the canoe* *see pjtp thread for further explaination.

100 Grand Ride That would be about the best I can do. 2.5 hour drive for me

babygrl1234 replied to TerriDoodle's topic in The Lounge

Beth-congrats Fanny- Holy effing crap. I would vomit being up that high. PJTP- my boss is a canoe. And by canoe I mean a word that rhymes with punt.

Drink the Koolaid I tell you. Drink it.

babygrl1234 replied to TerriDoodle's topic in The Lounge

Well they are probably not hard to pee in but probably hard to remove to get the pee outside of them.