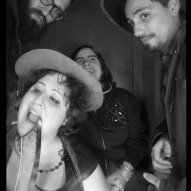 I've been watching videos of the VSG surgery, and I am fascinated.  It is really helpful for me to actually see what the procedure is, what is involved, what it looks like afterward, and to get a view of the anatomy in the area.  I think I would recommend these videos if one isn't squeamish, I think it is good to know what's going to happen to help one make the best decision for oneself.
It is really a big hassle to be having the surgery so far away - it's a 1.25 hour drive each way to my surgeon's office, and I find myself having to make that journey sometimes two days in a row.  Not easy on my elderly vehicle, but at least I have audiobooks and podcasts to listen to while I go.  I do have to say, before I got this surgeon, my PCP told me I could get a surgeon anywhere in my Northern California area, which could have meant driving 4 hours each way in some cases, so I AM thankful; in fact, I'm pretty sure this is the closest surgeon I could have had.
How hard is it to go to a party when one is on a diet?  So difficult.  I went to an annual Fried Chicken Day party on Saturday, and, boy, it was hard not to graze.  I even made an Apple Cheddar Pie for the occasion, and I had to taste that, of course.  I have been steadily losing weight over the last month or so, and I only have 4 more lbs to lose to meet the requirement, but things like this may set me back quite a bit.  I need to buckle down.  I have a little less than a month to lose that 4 pounds, and I can't keep using special occasions as an excuse.