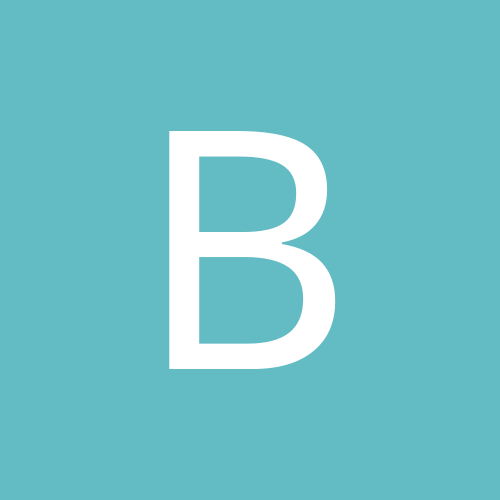 Bettina
LAP-BAND Patients
Content Count

1,402

Joined

Last visited
Everything posted by Bettina
Oh yeah I know that stuff...they are coming out with a new formula that will have 42 gms protein. Have you tried soy protein shakes...lower in fat and carbs. Muscle milk is too fatty and too many carbs. (that is why it tastes decent..lol) What stage are you working on? My bad, I didnt check before I replied. Regular liquid diet, right??

Isopure is nothing like the stuff you are drinking...it is not a powder mix. It is clear like apple juice...comes in many flavors has an after taste while you are drinking it, but not when you are finished. No biggie though if you are used to consuming diet products...Isopure is the only think drinkable I have found that has 40 grams of protein...you found something with more?? What is it called? You can buy Isopure at GNC, The Vitamin Shoppe, or any place that sells body building supplements. Good luck!!

I was wondering...why are you drinking Muscle Milk? I also read someone else is drinking Sport Pharma Whey. I have to tell you to be very very careful drinking these .....they are for weight lifters....you will bulk up on these...way way too high in fat and carbs. Also.....protein produces gas...and these drinks def produce gas. (have you ever been to the guy and smelled the room where the guys are working out...omg...eggs too make you stink ..just a little added FYI. If you need to drink a shake go to GNC and get their brand of liquid supplement...it comes in Strawberry flavor, you can make it as thick or thin as you want...it is all vitamins, minerals, protein. It is a thick vitamin shake (for those of you who need to drink shakes as a meal to fill you up). I also recommend Isopure...it is pure protein..40 grams...but get the carb free or you'll be in trouble. I cringe everytime I see someone post that they are drinking weightlifter shakes..you will not lose as fast as you want. :omg: Good luck to all and please please be careful what you are drinking!

I put steak in the Magic Bullet.....looks like catfood...ummm yum. Seriously, it tasted good...and did look like catfood..It's whats on the menu after banding...lol...................Little Friskies anyone??

He is emotionally dislocating himself. As long as he is not abusive, you'll be okay. Everyone has to deal with things there own way...so you really can't say he has no right to behave this way. You wouldn't want him to tell you that. He needs some reassurance right now. He is scared out of his wits. In his mind, you have already left..until he sees that you are okay. Most people behave this way...we just don't always see it. He has cheated on you? He probably sees this as the big "getting ready for a date...make over... and watch out I am getting even with you" If you want it to work out with him it will. Best of luck to you with everything!!

ha ha that is funny....wait!!!...do you look like George Cloony?? (hmmmm)

I really do think it was for the better that you told her!! I didn't know that her father died, so I now see your initial concern. But, I find the more I talk about it at home, the more at ease everyone is. If you shut them out then they dwell and worry about the unknown. Rachel even reminded me this morning that I couldn't eat something because it would make me gain weight--lol we saw cupcakes on TV and I said yum! I started grinding up my food for practice, so they see me getting ready and they are more relaxed than they were initially. Especially with Emma losing her father--it was best you told her now--in the event that something bad did happen--which we all know won't but lets just put worse case senario out there----she would understand why it happened and that not everyone in her life just up and leaves her. (morbid i know, but it has to be said) My kids know that on the odd event that I wouldn't pull thru, I was at least doing something that was important to me. So now, I'd mention it every once in a while just to make sure that she is not worrying herself crazy. My daughter did that when I had to have back surgery...I had no clue...her teacher told me! --it was when she was 8 and I had to have back surgery-this is my 18 yr old who went thru this-I would have never even known had the teacher not called!!! Kids want to protect their parents from worry so they keep it all in. I saw it happen with my first two that is why I made sure that the youngest one knows everything and we discuss it openly. Yikes this is getting wordy now..lol. I think you made the right choice!!! Take care!

Have you heard of fire hydrant- on your hands and knees and then lift one leg at a time....that works really well. Start slow! or, sit on the edge of the couch with a big rubber ball in between your knees and squeeze....that is easy enough to start!!!

Actually, you can record them for yourself, you just can't mass produce -then its illegal. I have the program Ares.com......great site! Totally free!

yup...here during the day, we get cartoons on it.

~~~~take them both~~~~~~ subliminal messaging courtesy of Bettina!

Peak Nutrition is not sold on the market, its private. I am assuming they tell you its best because they sell it, my nutritionist sells her own stuff too. Too pricey for me, there is just as good products on the market.

Yay Diva....so happy for you!!!!

Awww...poor girl, sounds like a call to the doc would be a good idea. Did anyone witness the hokie pokie???:guess

I'm game, what is it called?:welldoneclap:

mysherrijo is not a registered Pogo player. Make sure you entered the screen name correctly. hmmmm...what am I doing wrong??

I love the new carnival blackjack too! Played it for the first time last night. I've been in here so much I didn't even know that there was a new blackjack. Oh yeah please add me! I'll add you too.

they both make gas...oh yeah i forgot to mention, be careful if you overdo...it won't hurt you...but you will smell like hard-boiled eggs and we all know what they smell like.......lol......ewwww

Hi, It's not a problem per se, i chose soy by personal choice for my needs (losing weight). Did they say whey and no soy? I am sure there was a reason they say to use whey. Soy as a rule tastes better. As long as you are taking your vitamins too, i can't see that whey is better than soy. But if they are insistant on whey, don't jeopardize the possibility of being banded. I am gonna go check something...brb Okay I think they are suggesting whey because it is muscle building. Whey is better for muscle building than soy. Soy has always been considered a "feminine" protein because of this. And my guess is that because the diet is changing drastically....it has to being on liquids....they don't want you to get muscle atrophy (losing natural muscle). You know you've seen it, like Calista Flockhart--her arms, she is so skinny that she has very little muscle mass anymore, when you diet, your body looks for any source of energy it can find, when everything is depleated, it goes to muscle. This is a nautrally occuring process when we age however. Soy lower testosterone and helps promote estrogen. I know several people who had to have early hysterectomies and rather than go on estrogen, they just did the soy thing and their levels are fine. I think that anyone doing the protein shake thing should be walking everyday. (not a marathon or anything, just something to burn off the fat and carbs that comes with it). I will be doing the shakes as little as possible on the days I can't walk. ha ha look what i just found: This should be helpful. Just make sure you read labels and do what you think works for you! http://www.vitalady.com/faqs.htm

I was in London during the bombings...i was at that square..just missed it by a few hours. I was very nervous on the plane, but glad to be going to a safer place.

Papaya does not just break down protein, it does starches too. It's better at breaking down the protein, but limited to only protein.

Papaya will help. Its the natural form of rolaids.

I like GeniSoy they have basic flavors. But Spiru-Tein...omg ...Banana, Strawberry shortcake, van., choc., straw.,cookies n cream, Rasp Royale, Peaches and Cream, Cherries Jubilee, just to name a few. I'm like you, I can eat/drink anything diet at this point. The only thing I absolutely can't stomach is.....Weight watchers cereal...just can't--I'd rather eat the box! LOL.

Someone is doing it on purpose...quite clever actually. Its not a hacker...its a link.