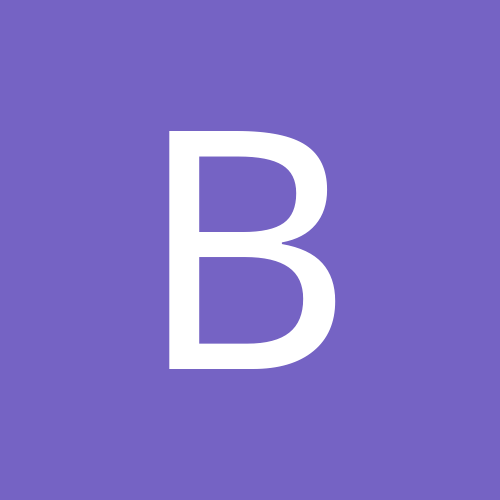 BeardedItalian48
Gastric Sleeve Patients
Content Count

268

Joined

Last visited
Everything posted by BeardedItalian48
HI--- I have been having a bit of trouble sleeping since my surgery (a week ago) and was wondering if anyone else is having this problem..... First night home slept, was beat from driving and surgery got home around 10. Second night home I actually saw the sun rise, got to sleep around 6 slept 4 hours. Third night home tired but could NOT get to sleep fell asleep around 2 (took benaeryl & another pill) slept till noon was realllllll groggy. Fourth night 3 am up at 930 this is the first night I felt that I slept 'normal'. Last night again up till past 3 almost 4 layed in the bed now getting up at 10...NOW let me state I have NEVER had a problem sleeping!! I can or could fall asleep anywhere...so this is real weird. I am gettting all my protien in and I think that might have something to do with it...feeding the fire and not enough burning it off before sleep. I actually like the stuff DF got to put in water to drink. Anyway anybody else have any thoughts on this???:001_smile: THANKS:cursing:

HI-- Here is something to consider----The exchange rate from dollars to pesos changes almost daily. THEY at the hospital DO NOT update the exchange rate....SOOOOOO my advise would be get about 40.00 exchanged to pesos before crossing and pay in pesos---that way you know the exchange rate and you can use a caculator to figure it out. Just a thought...I did love the food there when VA had her surgery!

HI--- I am one of the lucky ones that have NO problems swallowing or drinking shortly after surgery. SOOOOoo I have been able to drink/eat clears with no problems. I also have had NO change in my taste buds...YEA!! I would say I am 99% back to normal after the surgery.....1% not only because sometimes I get heartburn. Guess I am lucky----body heals quick always has.

Hmmmmm----I do exercise, NOT typical----ask VegasAngel

NOT gross--- What I would do is keep some kind of banaid on them. I slept on my side from the day after surgery. Kept all me incisions covered untill last night. Just keep them covered---that should help

OK!! We are coming your way soon I will have it with me....AND i do like to take my time measuring things!!:001_smile:

:laugh0:YEPP had a great nights sleep I have also found that getting MY protien in keeps me going! Otherwise the fire goes out early....have to fuel the machine!! I am GLAD I am back to sleeping well--- Thanks for asking!

LAST NIGHT I FINALLY SLEPT NORMAL---Bed at MIDNIGHT YEAAAAAAAAAAAA

Gives you a 'look' and says COME on in---little girllllll

Glad to see I am not the only one!! Hmmm what to do!

YES but what you did not say is that I cant sleep since I have been home---and I was up past 3 last night AGAIN...this is getting old. Going to start a thread about it.

HIIIIIIIIIIIIIIIIIIIIIII ROSE!! I vaguely remember this pretty woman sitting on the sofa with Susan....she says it was you:thumbup:. Glad your doing well. I am also....THIS journey is starting well and I can only hope that you come along with us for the ride. I was one that did not have the itching...I'm an old drugy. So I liked the morphine:huh0: But thought it was weird that my ass was pink---lol However I had a lot of nasaua the days I was in the hospital that they glady took care of with shots...Since I have gotten out NOTHING thank god. Today I actually swallowed my pills after cutting them in half. YES I DID~~~~ Seems to me that I am now able to not to feel that full feeling unless I over do it. I do not know if I like that or not....Hope to see you post more----

LMFAO-----OMG here I sit laughing so hard my drain hole hurts!! Now I am NOT a dirty old man HOWEVER I may be a dirty ole man....:hurray:

SEX----what is that? VA has like she said not been awake enough. ONE thing I know that it will improve as she feels better--WE like it way to much to ignore that part of our relationship. I keep telling her that I am going to grow 3 inches as my belly goes down....she looks at me and says 'please no' lol----hmmm wonder what that means???? In all seriousisness, once you lose weight and have less of you that is there the sex drive should come back as you are feeling better about the less of you.

RUTHI-----THAT isnt the only excerise you love.....Swimming is great excerise, and as long as your incisions are healed go for it!

I need love chocolate!! However----one can always substitute (wink) something else.....which is what I have to do (oh darn) On a serious note---back to full liquids is always good. I have always been a grazer. I am looking forward to getting on full liquids---then mushies yummmmmmm

ALISIA---I am sorry hun!! BCBS is very strick.....however if you can get 8700 up and approach the doctor maybe he would do it. Especaially after he gets your file. KEEP YOUR CHIN UP!! THINGS will work out and get another doctor to help you appeal. It doesnt need to be the same one. SMILE

Hello------ I can only speak of what I know. I know that I am glad of going to Mexico Dr. Aceves and paying HALF what the states cost. I know that the care I got there was far far superior to any hospital I have ever been in. Now regarding calories and muscle building, to maintain muscle while working out you must have protein as you stated...to me I still have a stomach not as large so again to me it would seem that if I wanted to build I would ingest protien...like before. I am no expert. Regarding the cancer of the stomach...I too am predisposed for cancer, however, I am losing the weight and doing other things for my HEALTH. I refuse to allow the thought you threw out to enter. The way I figure it is HEY I am doing better weighing less....

sleeved on 7/11 doing good now...was sore the second day and had nausea in hospital but good now!! How are you other men doing>??

Steve---WELCOME!! I also have been overweight all my life and was raised in KALAMAZOO so we have a few things in common. I was sleeved on the 11th. SO far so good, I have the added benifit of having a loving caring fiance that had the surgery on the 11th of last month. This is a great place to 'talk' out any fears or concerns....AGAIN Welcome

The low fat high protien diet is correct!! Shrinks your liver. The smoking thing for me was hard---I had surgery on the 11th and have not smoked since the 9th. GOOD LUCK

I am doing well!! I am a little tired, drinking fluids, sleeping and all but other than that doing well! They leave the stint in so in case something is needed intravenously they can do it quick....nothing else and it is not painful at all. I have no engery so I am signing off. FOR NOW

Your very welcome---I am doing wonderful now, surgery is behind me and tomorrow I leave for home..Small little drinks and I am ok...

:scared0: Vegas Angel had her sleeve about three weeks ago...she can't seem to drink anything without feeling 'full'. After anything she eats she burps real bad, most of the time she has no energy after 8pm. I mean she is ready for the bed. It seems she can't get all her protien in either becasue taste is an issue or fullness. She has the slimes now and again from or for whatever reason......:scared0: So my question is this...IS THIS HOW IT IS? I am scheduled to be sleeved on the 11th and I can tell you all that I do NOT want to live this way...THIS SUCKS! I understand about the all liquids for 20 first clear then any, I understand about 'mushies' but what she is going through is well for lack of better words BS. I do not think I can tolerate that! At my heavyist I was 310 at 23 years old, I have yo yoed all my life. Lost 110 in 110 through a liquid protien at age 24. Up to 280 at 30 and down to 179 with nutra systems, walking every day. UP to 200 over the years then in 2000 shot up to 255 275, since then flucuated down to 240 can't seem to get below that. WANT to weigh 175 again for health reasons....NO more HBP, Hate taking pills....BUT I have to admit I don't want this stuff that she is putting up with. IS she having an unusal time or is this NORMAL?